One of my favorite cities in the United States is Seattle, Washington, and I am lucky enough to visit for business (and a little leisure) a few times per year. I had heard about the uber-trendy hotel, The Thompson Seattle, for several years and finally got to try it out this August.
The property is in the heart of the city, just a block away from Pike Place Market, making it convenient for leisure and business travelers alike.
I arrived on a busy Thursday evening and, because summer was in full swing, the place was packed, including the lobby. It took me about 10 minutes to check in, but while waiting, I was ushered on to the jewel-colored couches and offered a glass of Champagne, a nice touch.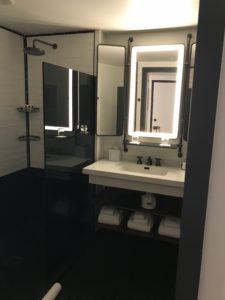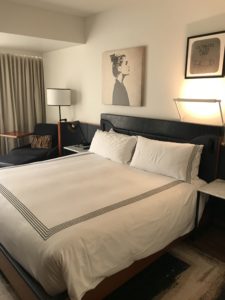 My guestroom was bright with natural light from the floor-to-ceiling window and had a unique, modern design with photo art and a combination of warm wood accents with a black leather chaise lounge and king-sized headboard. A decent-sized desk has plenty of outlets, with a 42-inch flat screen above. The bathroom is a mix of industrial modern and chic, with black tile covering the floor and halfway up the walls, dark frosted glass and black fixtures. Above the white marble sink is a three-piece mirror (perfect for any woman doing her hair!) with excellent, ultra-bright lighting. The stand-alone shower with a waterfall showerhead was large but only had the ever-popular half-glass closure, which made it a bit cold and caused water to spread.
By far the most popular and, in my opinion, the best feature of the Thompson Seattle is Nest, the hotel's rooftop bar and place to be seen by locals and travelers alike. The rooftop looks out over Puget Sound and, on any summer night, is busy with groups enjoying unique, top-shelf cocktails. I enjoyed the spicy margarita and tasted some of the bar eats, including shishito peppers and chicken satay. The Nest is a must experience when coming to Seattle!
Scout PNW is the lobby restaurant, but its farm-to-table menu, large windows and great décor take it up a notch. I enjoyed my avocado toast so much I ordered it two mornings running with a cup of chai. Trendy, I know!
The hotel boasts a nice gym; but if you happen to travel when it's not raining, I suggest taking a jog along Puget Sound or up and down downtown's many hills if you are up for a challenge.
— Carly Allen, executive vice president, associate publisher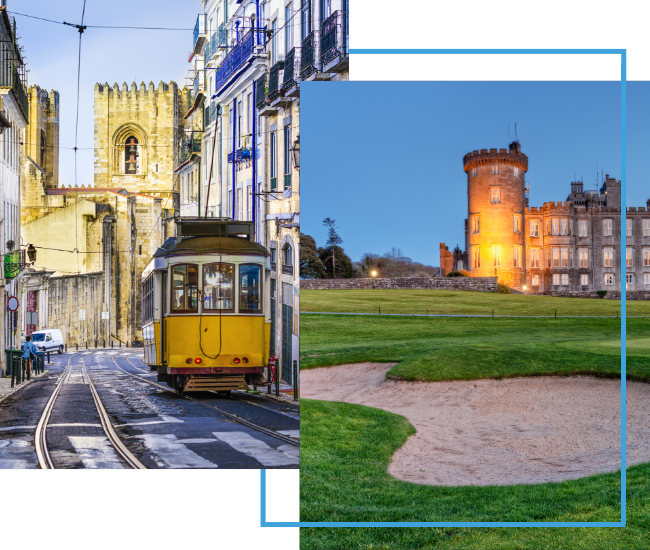 FX Excursions
FX Excursions offers the chance for once-in-a-lifetime experiences in destinations around the world.
Explore Excursions
Red Savannah launched a new series called In the Footsteps of…, which debuts itineraries of well-known figures, the first being Coco Chanel. As Chanel No. 5 celebrates its 102nd anniversary this year, the travel company invites fashion lovers, history enthusiasts and admirers of Coco Chanel to experience the new itinerary, In the Footsteps of Coco Chanel. The experience allows travelers to step into the remarkable life of one of most iconic figures in the fashion world.
Sponsored Content
Whether it's the people, the craic (fun) or the coasts, travelers always find something to love about the island of Ireland. What fills your heart?
Mazatlán, Mexico, has long been an attractive home destination for Canadian and American retirees, but, in recent years, young, digital nomads have also discovered the charms of this coastal city, finding inexpensive accommodations, beautiful weather and plenty of bandwidth for working remotely. The laid-back beach scene definitely eases the transition of relocating to Mexico's West Coast.