The first time I served my son mashed cauliflower in place of mashed potatoes, he was not fooled or amused.
In fact, my meat-and-potatoes, never-able-to-keep-the-kid-in-the-same-pair-of-jeans-for-more-than-six-months growing boy took one look at my unevenly hand-mashed cauliflower and instantly knew it wasn't his beloved mashed potatoes.
Truth be told, the fact I doused the dish with heavy cream, butter and garlic probably took away any nutritional value I thought I was providing in the first place.
But my boy's furrowed brow and trusty intuition quickly ended my culinary journey with cauliflower. Since then I've settled for a few raw chunks of the vegetable alongside my hummus and the occasional attempt at finding a frozen cauliflower pizza crust that doesn't taste like the cardboard box it came in.
That is, until I visited Charley's Steakhouse in Orlando.
One of my colleagues casually ordered roasted cauliflower as a side dish we could all enjoy together. But none of us had any idea what we were about to be served.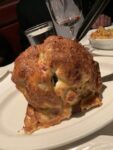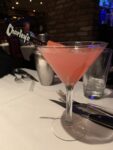 The full head of roasted cauliflower came to the table on a cedar plank, covered with cheese, creating a slight crust around the outside. Having no idea what we should do with a large head of crispy golden goodness at the table, my same colleague took the knife and began slicing through the crown lengthwise, as if we were all about to enjoy a generous cut of cauliflower steak.
And then, the real magic happened.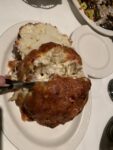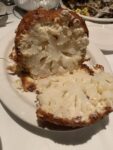 Inside, as if stuffed like a turkey, this cauliflower head was dripping with more cheese and bits of onion in between all the florets. In fact, when our server came by to see how we were doing, he said he'd never seen anyone cut into the cauliflower dish the way my colleague had — and that it looked like the perfect way to pare down such a daunting piece of produce.
I went for seconds. And thirds.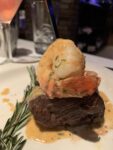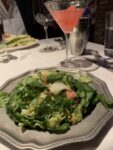 And even though I enjoyed my eight-ounce surf and turf filet; the signature house salad with Spanish olive vinaigrette; my freshly muddled Watermelon Celebration cocktail with cucumber-infused Absolute Citron, St. Germain and house-made sour; and dual desserts of key lime pie and sweet butter cake with Haagen-Dazs vanilla ice cream, the blue-ribbon winner and overall champion of Charley's Steakhouse was undoubtedly the roasted cauliflower.
Perhaps my son could be cajoled again into trying it after all.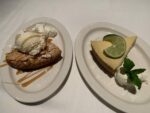 — Carrie Cox, account executive
FX Excursions
FX Excursions offers the chance for once-in-a-lifetime experiences in destinations around the world.
Raffles Hotel Singapore delights guests with curated, immersive experiences. Coming off a restoration in 2019, the iconic property welcomes back international guests with unique offerings.
Sponsored Content
Without a doubt, the pandemic changed the role of airports in the travel industry. Hamad International Airport's role evolved in many ways since the pandemic hit. Now, more than ever, airports are responsible for creating a secure passenger experience. As the gateway to Qatar and the world, the safety and wellbeing of staff and passengers has always been at the core of Hamad International Airport's strategy.
The holidays are right around the corner and it's time to start thinking about gifts for your wine-loving friends. If you or someone you know is planning an upcoming trip to a wine region, check out Argaux. The all-women-operated and -owned online wine shop and educational platform offers a series of tasting sets to celebrate and introduce some of the best wine destinations. The Gaux-To Tasting Sets are perfect for travelers to experience the wine before they travel — or without having to travel.