Our final port of call on our Princess cruise to Mexico was Puerto Vallarta, and once again we were blessed with mild temperatures and a beautiful sunny sky. The shore excursion I'd booked promised "Rare spirits and traditions at a private countryside resort," but we first stopped in downtown PV for an opportunity to stroll the Malecón and do a little shopping.
While not nearly as extensive as Mazatlán's seaside promenade, Puerto Vallarta's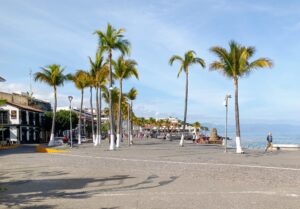 also boasts a series of sculptures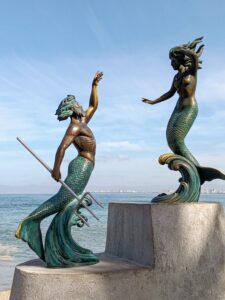 (sand and otherwise)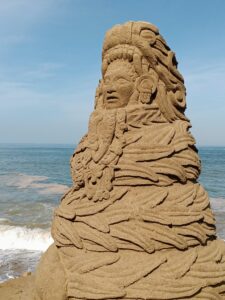 and artwork
along the seawall. The pavement also featured stonework depicting stylized versions of the local flora — such as peyote, important to the indigenous Huichol people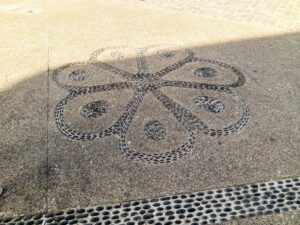 — and fauna.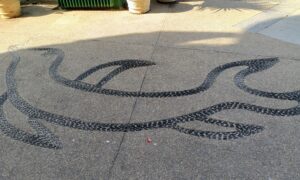 After admiring the view,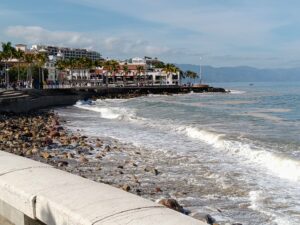 we walked a few short blocks to visit the iconic Church of Our Lady of Guadalupe.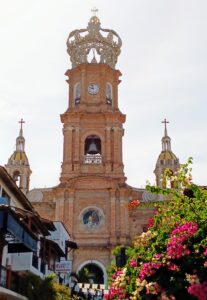 Its coral-colored bell tower, topped by the lacy "crown of angels" serves as a landmark and symbol of the city, and the interior is lovely, too, with a massive main altar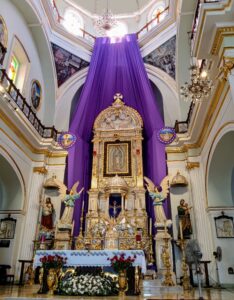 and beautiful ironwork throughout.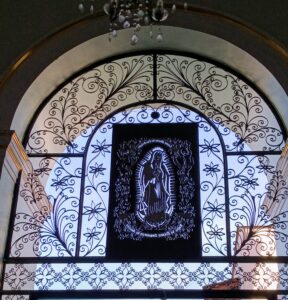 And what shore excursion would be complete without the obligatory walk through a few shops? I was pleasantly surprised by the courteous and low-key salespeople at The Opal Mine, though. The store is set up to represent an actual opal mine (for which the region is known), so visitors can get a bit of an education about the process. I was offered a cool drink and assistance in finding some lovely earrings for my daughters without being pressured to buy or spend more than I wanted.
At last we boarded our mini bus and headed to La Dulce Vista, a boutique resort nestled in the Sierra Madre Mountains outside of the city. Our guide, Alex, provided excellent narration spanning a host of topics during the nearly hour-long drive as we moved beyond the tourist center and past schools, public works and working-class neighborhoods. The roads got rougher and dustier and the buildings more rustic the farther we got from town, and at last we turned up a narrow, twisty, bumpy dirt road, surrounded by dry vegetation (March being the end of the dry season there). Finally, we headed downhill, with a small river coming into view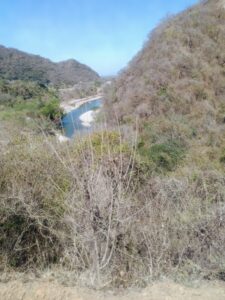 and then an orchard and some crops planted alongside the road.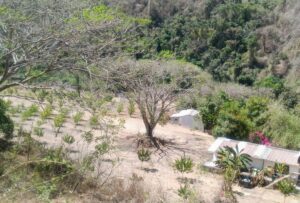 Spread before us was a true oasis, with a boulevard of palms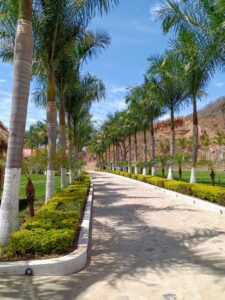 leading to the main building, landscaped grounds dotted with hammocks swaying between the trees, a shimmering pool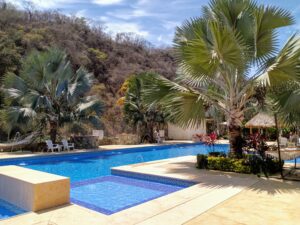 and several open-air pavilions.
We started in the tasting room trying various spirits: tequila, made solely in Jalisco state from the blue agave plant,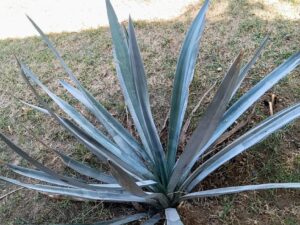 mezcal, made from the green agave plant,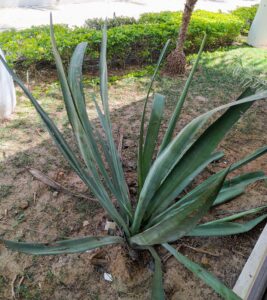 and raicilla, also produced in Jalisco and in a more artisanal style. La Dulce Vista's own version is made from the yellow and the criollo agave, a wild variety. I found it both more aromatic and flavorful than tequila, and I can see how it would be a popular base for a range of cocktails.
We moved on to tables under one of the pavilions where we were greeted by Erik "Fat Cat" Eduardo Gatto, the villa's chef/mixologist and a very entertaining host.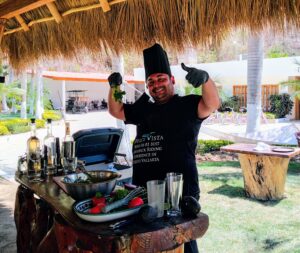 We snacked on the local honey pineapple (delectable!) and queso while he regaled us with stories as he prepared (and shared the recipe for) two refreshing, tasty cocktails: the Mo Passion, using the house raicilla and, of course, passion fruit,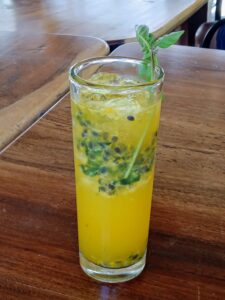 and the lovely Red Summer, with reposado tequila, red wine and hibiscus tea concentrate.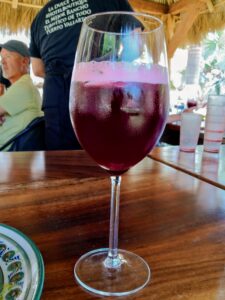 We sipped on these as we enjoyed flank steak tacos with prepared-before-our-eyes guacamole.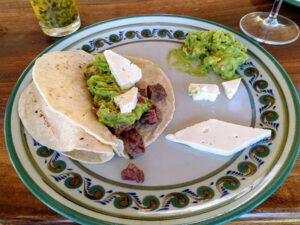 In addition to the recipe, Erik shared a great guac hack: use a sturdy whisk to mash the avocado!
We had the opportunity to conclude our visit with a dip in the inviting pool (the resort also boasts volcanic hot spring pools), but I was content to sit and visit with Erik and the other guests before boarding our bus for the trip back to the ship. I really enjoyed this excursion, beyond the touristy core of Puerto Vallarta, and the opportunity to see, taste and experience a little more of authentic Mexico.
— Patty Vanikiotis, associate editor/copy editor
FX Excursions
FX Excursions offers the chance for once-in-a-lifetime experiences in destinations around the world.
Pantone recently unveiled its color of the year for 2023. The highly anticipated announcement has become a tradition, each year introducing a new color to represent the coming year. In 2021, Pantone declared 2022 to be the color of Very Peri 17-3938, a blend of purple and blue. For 2023, Pantone's Color of the Year is Viva magenta 18-1750. A shade from the red family, this color represents a new signal of strength. Brave and fearless, Viva Magenta is rooted in nature and embraces joy and celebration.
Sponsored Content
ISN'T IT TIME? It's time to treat yourself to the vacation you deserve, and Celebrity Cruises® offers the perfect escapes. With an award-winning fleet of ships that sail to more than 300 destinations around the world, Celebrity will take you almost anywhere you want to go in style. Enjoy stunning staterooms and suites, culinary experiences imagined by Michelin-starred chefs and intuitive service. Celebrity makes sure your vacation is effortless from the start, which is why drinks, WiFi and tips are Always IncludedSM on every sailing.
The UNESCO World Heritage neighborhood of Balat rivals İstanbul's Old City for its historic significance, with an added splash of color. Its cobbled hilly streets boast a full rainbow of houses, cafés, restaurants and churches painted in pinks, reds, oranges, yellows, greens and blues — parts even surpassing my native San Francisco's steep, colorful corridors. The most vibrant stretch of homes, dating anywhere from 50 to 200 years old, runs along Kiremit Caddesi.