For the last several years, the first weekend in November has found my husband and me (and, often, several of our friends from around the Northwest) in Walla Walla, Washington, for the region's Fall Release Weekend. It's a wonderful time to visit, as the frenzy of harvest and crush are over, and the wineries are eager to share their newest releases . . . all of this against the backdrop of colorful fall foliage, the gold stubble of wheat fields and early dustings of snow creeping down the surrounding Blue Mountains.
We make it a point to visit several of our longtime favorites, including Rulo Winery, SuLei Cellars and Corliss, about which I've written in the past. We also look forward to trying the wines from new (or, at least, new to us) wineries and wine makers. On this trip, our first stop as we rolled into town Thursday afternoon was at Caprio Cellars, just north of the Oregon state line. The stylish, modern tasting facility sits in the middle of the estate vineyards with 360-degree views of the valley and mountains surrounding it.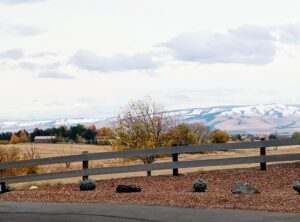 Outside, guests can charge up their electric vehicles at the charging stations, sip wine around the fire pits and play lawn games on the lush, green grass. Before we had a chance to walk through the wide wooden doors, we were greeted by staff offering us flutes of sparkling wine. Once inside, we admired the several cozy, welcoming furniture groupings — fireside,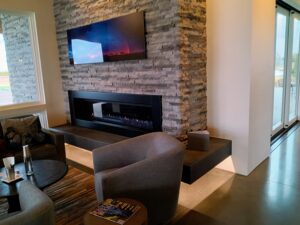 the sleek tasting bar,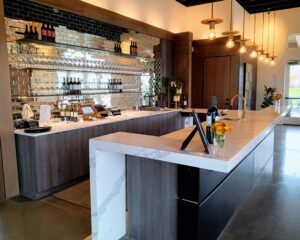 and tall tables.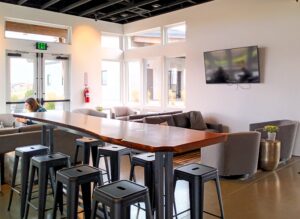 Our host, Linda, seated our group of six around one of the tables and provided us with a little background about the winery and the philosophy of owner/winemaker Dennis Murphy. It honors family and tradition in embracing his Italian grandmother's generosity and belief that every visitor should be welcomed with food and drink. Therefore, seasonal, scratch-made plates complement each wine tasted, crafted by a full-time chef and sous chef and sourced from local farmers and purveyors. Most surprising in this era of ever-increasing tasting fees (that may or may not be waived with the purchase of bottles), Caprio does not charge a fee for this gracious experience . . . really! Plus, you can feel good knowing that 5 percent of all proceeds goes to the winery's "Every Sip Changes Lives" initiative, benefiting Big Brothers Big Sisters and First Story (a nonprofit dedicated to creating partnerships and programs to provide families with opportunities for affordable housing).
We started with the featured white wine, a 2020 Século Godella from Castilla y Leon in Spain. the light, crisp, delicate wine paired beautifully with an earthy cauliflower bisque which featured local buttermilk and Yukon Gold potatoes and was topped with slices of mushroom and a drizzle of olive oil.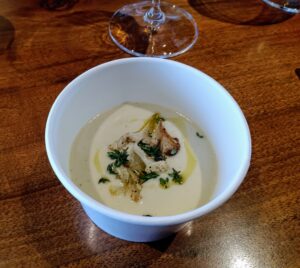 Next came Caprio's 2020 Red Label Cabernet Sauvignon, young but drinkable, as it was primarily aged in neutral oak without heavy tannins. Served with it was pistachio-crusted chevre accompanied by a beet-fennel slaw with red pepper and carrots tossed in a tamarind curry vinaigrette — a great melding of flavors and textures.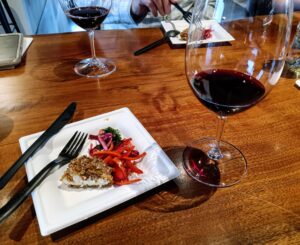 We finished with Caprio Italian Meatballs and grilled sourdough, a hearty, savory bite on that chilly, gray afternoon, served with the 2020 Eleanor Estate Red Blend (Cab Sauv, Merlot, Malbec and Cab Franc). We inquired whether the chef would share any of his recipes and learned that the winery is in the process of providing all of them on its website, along with suggested wine pairings. There are just a few there now, but check back often, as more will be added. We came away with both hearts and palates warmed and gratified.
On Saturday we visited Time & Direction Wines right in downtown Walla Walla,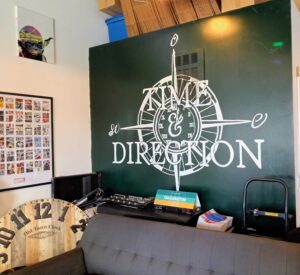 a fun, eclectic tasting room which reveals owner/winemaker and "Director of Awesome" Steve Wells's background in computer coding and interest in Star Wars,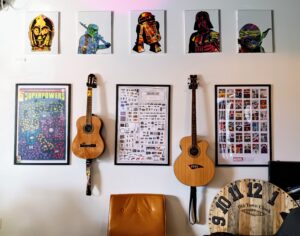 superpowers and music. There are no snobbish wine pretensions here, as evidenced in the slogan "Hey, You Could Do a Lot Worse" and a write-your-own tasting notes poster in Mad-Lib style. I completely embraced the laid-back vibe, lounging on a sofa near the window in the sun and sipping a white, a rosé and a few reds and taking not a single note, so I can't wax poetic about any of them. I can urge you to stop in and enjoy a chat with Steve, his wine and the friendly atmosphere.
Our final stop of the weekend was at the shared tasting "lounge" of Proper Wines and House of Bones,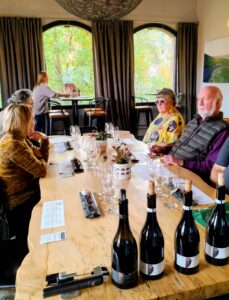 two wineries which benefit from the experience and talent of Sean Boyd, winemaker to Walla Walla standout Rotie Cellars. From House of Bones and co-winemaker Kevin Masterman we sampled the 2020 Chardonnay with fruit from the Celilo Vineyards in the Columbia Gorge. Hints of pear and apple came through, but I would not call it overly fruity nor steely, just very well-balanced and smooth on the tongue. We also were treated to a barrel taste of the 2021 Celilo Vineyard Pinot Noir, due to be released in 2023. It's a light wine still needing more time for the fruit to develop, but it is silky and refreshing.
We tasted three Proper 100 percent Syrahs from the 2018, 2019 and 2020 vintages, the grapes grown on the 6-acre estate vineyard in The Rocks District of the Walla Walla Valley, known for its Rhône wine grape varietals. All three vintages spent 18 months in 20 percent new French oak and feature the Phelps clone. Each of the three wines was served with a local artisanal chocolate from Petit Noirs created to specifically match that one wine. Each wine proved distinct, reflecting, perhaps, the unique weather conditions from each year: the 2018, a great vintage, enjoyed ideal conditions during the growing season and harvest and proves balanced with rich, dark fruit; 2019's hot summer and cool harvest delivers a savory palate and juicy, dark fruits with a velvety finish; and the very warm 2020 season meant lower yields but concentrated flavors of dark berries and meaty umami and smooth-as-silk tannins. It was a great finish to our weekend and a reminder of the great red wines this region produces.
Each of our "new" finds on this trip proved delightful in its own way and worth a return visit in the future.
— Patty Vanikiotis, associate editor/copy editor
FX Excursions
FX Excursions offers the chance for once-in-a-lifetime experiences in destinations around the world.
Recaro's new CL6720 business-class seat with doors took off recently on Iberia's Airbus A350 cabin, flying Madrid (MAD) to Buenos Aires (EZE), with a total of 31 of the seats in the aircraft's business-class cabin. The premium-economy and economy cabins also feature Recaro seats.
Sponsored Content
Europe is more fun with a Portugal Stopover.
In a city where new hotels, restaurants and experiences emerge seemingly every day, it's expected to feel overwhelmed when deciding where to dine. London consistently sees delicious and top-notch restaurants appear, but how can one possibly keep track of all the new and updated restaurants?