Oregon's governor just announced that, with a statewide vaccination rate nearing 70 percent, the state will fully reopen (meaning no capacity restrictions for gyms, restaurants and theaters) on June 30. We've been seeing a gradual easing of restrictions over the past few months as more citizens have been vaccinated and deaths, hospitalizations and infection rates have come down. My husband and I recently have enjoyed the benefits of the easing of those rules at one of our favorite local wineries.
We've been wine club members at DANCIN Vineyards for several years,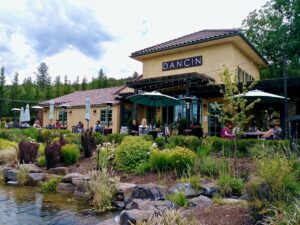 and it's a spot we always share with out-of-town guests. Dan and Cindy Marca specialize in Pinot Noir and Chardonnay and have built a most beautiful winery in the hills just outside of Jacksonville, Oregon, conveniently located a short drive from our home. Visitors are encouraged to get comfortable, linger and savor the wines and the wood-fired pizzas and other tasty bites from the kitchen. The wines are outstanding, but the ambiance, genuine hospitality and gourmet-quality menu all combine to make DANCIN's the best tasting experience I've had anywhere in the States or abroad.
The DANCIN crew worked hard throughout the pandemic to make their wines and food available, and after the first few months of strict lockdown they offered contact-free wine pick-up at the winery and made some menu items available for takeout. As restrictions eased last summer and fall, they opened up for tastings with reservations required and limited capacity. Fortunately, most of their tasting spaces are open-air, adding a level of comfort to the experience. One aspect of the DANCIN experience we missed until recently was the events they held quarterly for wine club members to pick up their allocations.
When new bottlings were set for release, members were invited to come to the winery over the course of a few days for a light meal accompanied by tastings of a few of the wines being made available. It offered a chance to try what would be going into your cellar, chat with the owners and winemaker and enjoy a little camaraderie with fellow oenophiles . . . and the tasty food. Because of the number of wine club members who regularly availed themselves of this nice perk, these events (as well as more elaborate special events and multicourse dinners) had to be suspended over the past year. The team at DANCIN came through, though, making it possible for members to drive through to pick up their wines and prepackaged food for a meal at home, complete with a salad, dessert and a main course and instructions to prep them. We really appreciated those valiant efforts, but we did still miss the chance to savor them at the winery.
Last month saw a return to the traditional member pick-up event, and we were greeted with an extra-generous meal that heralded this return to normal.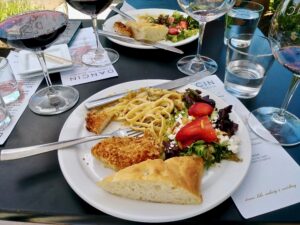 We enjoyed a prosciutto and melon app followed with housemade focaccia bread; a refreshing mixed green salad with goat cheese and strawberries; and the main course of chicken Milanese, housemade pasta with a Parmesan cream sauce and summer squash. DANCIN's fabulous chocolate chip-coconut-cranberry cookies completed the meal, and we celebrated with a glass each of two different Pinots in addition to the complimentary tastes we received.
A few weeks later we entertained my brother- and sister-in-law in their first visit here from Texas in over two years, and we brought them back to DANCIN for lunch and wine. As I mentioned, the grounds offer several outdoor seating options, including a grassy lawn with picnic tables arranged around a huge, shady black walnut tree.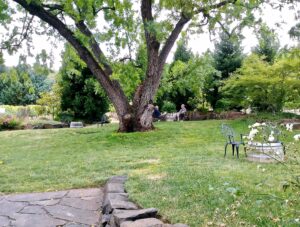 This is a great space for groups with kids in tow, as it adjoins the chicken run and a corn hole game and gives the young ones a chance to run and play. There's also the Piazza, which can be closed off with glass sliding walls and heated or cooled as necessary,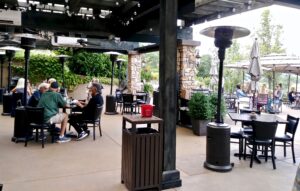 while the Terrace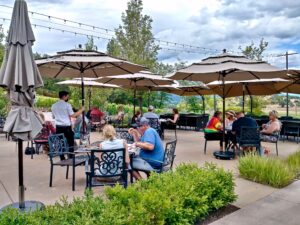 offers great views over the vineyards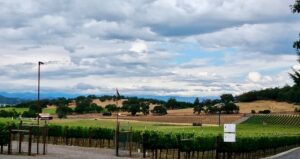 to the mountains beyond.   We sat under an umbrella on the Patio, adjoining the koi pond and just outside the tasting room.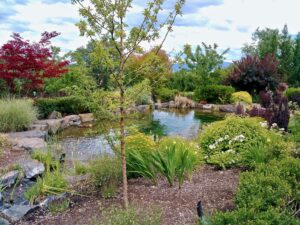 You really feel like you're in Tuscany!
Each couple ordered a pizza and a salad to share; Harry and I had a mushroom and chèvre pizza with a goat cheese bechamel, caramelized onions and arugula — sooooo good.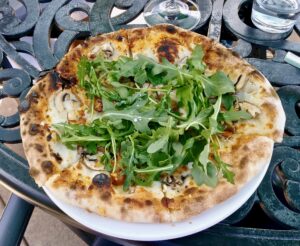 The wood-fired pizzas here are just the right size for two to share (or for one hungry individual) and feature the perfect crispy thin crust. Salads come in two sizes, and the large arugula, snap pea and ricotta version with a light and refreshing lemon vinaigrette gave us both a very generous portion.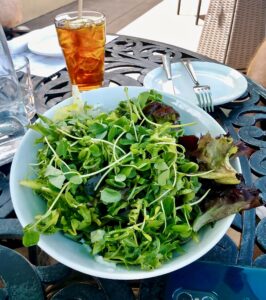 We sat and chatted and sipped and just reveled in the joy of being together in that lovely spot with good food and wine. We're looking forward to more such ordinary and once taken-for-granted experiences in the coming months.
— Patty Vanikiotis, associate editor/copy editor
FX Excursions
FX Excursions offers the chance for once-in-a-lifetime experiences in destinations around the world.
With the autumn in full spring, now is time to start planning your fall weekend getaway.  Whether a relaxing weekend on the lake, leaf-peeping or hiking, check out these fall travel trends from vacation rental management company Vacasa.
Sponsored Content
GBTA's Convention 2021 will bring the business travel industry together for the first time in a long time. Once again, you'll learn and connect with experts and each other, along with discussions with leading thinkers, entrepreneurs and change makers addressing the issues that matter most.
I imagine that when writer Hans Christian Andersen mused, "Life itself is the most wonderful fairy tale," he was standing at the edge of Copenhagen's historic Tivoli Gardens, one of his favorite haunts, enlivened by the swirl of human happiness that surrounded him: children laughing; carousels spinning; games of chance played for prizes; lovers holding hands; hungry people whispering over sweets, hot drinks, beer and towering, open-faced smørrebrød, Denmark's quintessential sandwich. That fairy tale lives on today at the second-oldest amusement park in the world, a spectacle of folly architecture, bakeries, gardens, rides, restaurants, puppet shows and joy ... and which also happens to be one of the city's most storied places to convene for business.