After enjoying a big family barbecue on Saturday of the July Fourth weekend, we decided to take the youngest members of the family to Portland's Oregon Zoo Sunday morning. Having not visited it for probably at least a decade, I think I was almost as excited as the kids to see all the changes and new exhibits. It was founded in 1888 as the Portland Zoo, located in the leafy West Hills just a few miles west of downtown, and is the oldest zoo in the country west of the Mississippi. It gained international fame in the early 1960s with the birth of Packy, the first Asian elephant born in the Western Hemisphere in 44 years (and lived until the ripe old age of 54) and the first of many born to the zoo's successful breeding program.
We reserved our tickets online for a specific entrance window, as the zoo is still regulating the number of guests even as COVID restrictions are easing across Oregon. Shortly after 9 a.m. on a beautiful sunny morning (promising to be quite warm later in the day), we passed through the gates and headed for the Cascadia exhibit. Masks were required only as we checked in and in enclosed indoor exhibits. We crossed over a heavy wooden bridge and began a descent down a paved path surrounded by a lush forest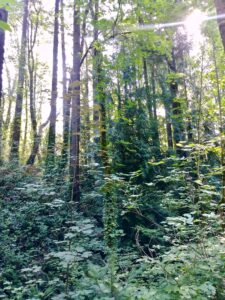 and displays explaining the ecology of the Pacific Northwest woods. This refurbished exhibit just reopened in March, and I loved how artworks were incorporated throughout. Some were created with the help of young artists,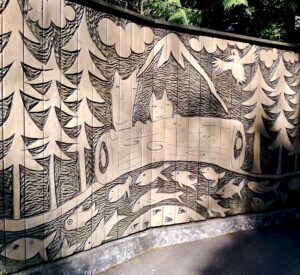 and their whimsicality contrasted delightfully with other, more professional installations. As the path took us further into a woodsy ravine, we passed by a sculpture of salmon struggling to scale a waterfall (minus the water)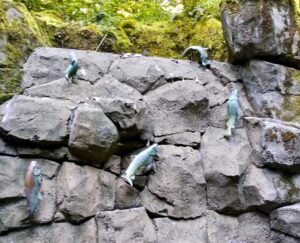 and stepped around a beautiful medallion depicting the life cycle of sockeye salmon.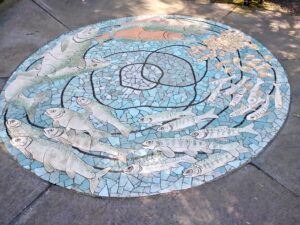 Passing ponds and viewing windows where we could watch river otters and ducks swim and play, we entered an enclosure which held the enormous nest of a bald eagle pair, passing within 10 feet of one of the magnificent birds — with no mesh between us!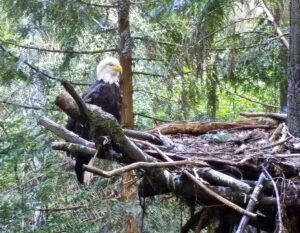 We also peeked in at some very laid-back brown bears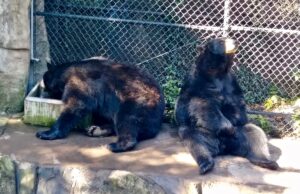 and a rather elegant mountain goat.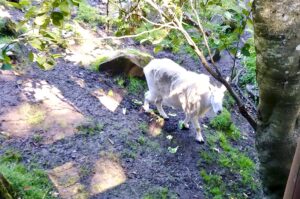 My 7-year-old grandson was most taken with a cougar sitting just on the other side of a large glass viewing window which was vigorously gnawing on a deer carcass. I'm sure Sean could have watched for hours, but we hustled him along (and I chose not to share those images with you!).
I found the final exhibit in the Cascadia zone very fascinating, as it housed two immense California condors.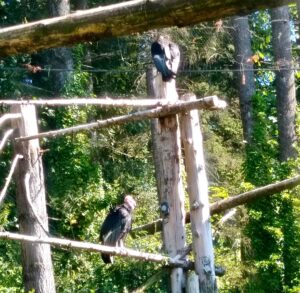 Brought back from extinction through breeding programs in zoos such as this one, they are now rebounding in the wild. I learned they once ranged from British Columbia south to Baja California. Someday I hope to see one soaring over the mountains of Southern Oregon.
We were disappointed that the polar bears were not out enjoying their new expansive digs and pool; in fact, even though it was still cool and early in the day, we found several empty exhibits or many animals sacked out in the shade. We checked out a beautiful cheetah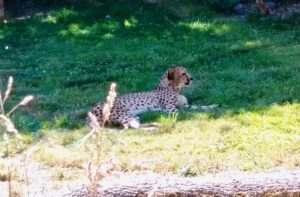 and took a quick peek into the chimpanzee's new enclosure (again, most seemed to be hidden from view or sleeping)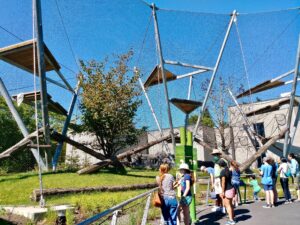 before making our way out through what was made to look like a passage through a great, hollow, old-growth Douglas fir log.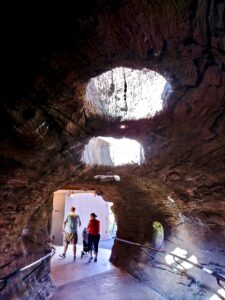 Of course, we had to visit the elephants;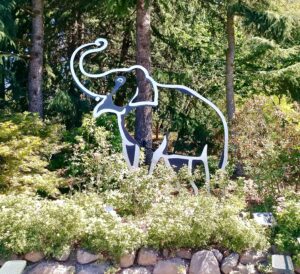 their enclosure is made up of several enormous paddocks with huge tractor tires, piles of sand, logs and watering holes to keep them entertained.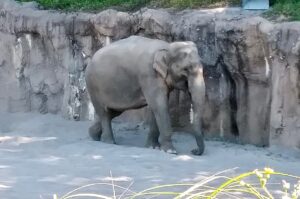 After checking out the giraffes,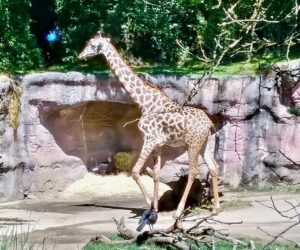 some bats and other creatures of the African plains, we decided the kiddos were about at their saturation point. Although we'd planned on grabbing lunch at one of the on-site restaurants, we learned that, due to staffing shortages and the partial shutdown of some of the venues due to COVID, we would have to go elsewhere. No matter, the kids were happy with a quick ride on the zoo's carousel before we headed to the parking lot.
We plan on going again and catching some of the exhibits we skipped over this time (so much to see!). It proved a great way to celebrate the Fourth.
— Patty Vanikiotis, associate editor/copy editor
FX Excursions
FX Excursions offers the chance for once-in-a-lifetime experiences in destinations around the world.
With the autumn in full spring, now is time to start planning your fall weekend getaway.  Whether a relaxing weekend on the lake, leaf-peeping or hiking, check out these fall travel trends from vacation rental management company Vacasa.
Sponsored Content
Without a doubt, the pandemic changed the role of airports in the travel industry. Hamad International Airport's role evolved in many ways since the pandemic hit. Now, more than ever, airports are responsible for creating a secure passenger experience. As the gateway to Qatar and the world, the safety and wellbeing of staff and passengers has always been at the core of Hamad International Airport's strategy.
I imagine that when writer Hans Christian Andersen mused, "Life itself is the most wonderful fairy tale," he was standing at the edge of Copenhagen's historic Tivoli Gardens, one of his favorite haunts, enlivened by the swirl of human happiness that surrounded him: children laughing; carousels spinning; games of chance played for prizes; lovers holding hands; hungry people whispering over sweets, hot drinks, beer and towering, open-faced smørrebrød, Denmark's quintessential sandwich. That fairy tale lives on today at the second-oldest amusement park in the world, a spectacle of folly architecture, bakeries, gardens, rides, restaurants, puppet shows and joy ... and which also happens to be one of the city's most storied places to convene for business.