It's a chilly 35 degrees in Seattle this morning as I sit with my espresso and the city still recovers from a rare snowstorm last week, with more to come. Luckily, I arrived at Sea-Tac last evening with clear skies and sunshine scheduled today, despite the cold.
I am lucky enough to try a new boutique property on this trip, Hotel Theodore, located downtown and in the middle of great shopping and restaurants, with just a few blocks to Pike Place Market. The property was built just over a year ago and has a great modern-but-homey feel that I love when I travel.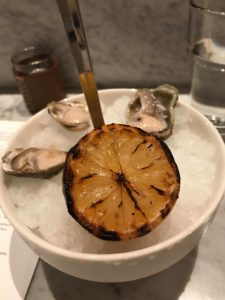 I was lucky enough to check in during happy hour, and a bar cart and mixologist served me a yummy gin drink that warmed me instantly. Although there are plenty of couches surrounding a large lobby area, I chose to take my drink up to my room on the eighth floor.
My room is a large, open space surrounded by windows overlooking the bustling street and offering plenty of natural light. Right off the small entryway is a fully stocked bar with an espresso machine and an electric tea kettle for your morning beverage service. A small seating area with club chairs and a large marble table sat to the left, with a small, window-facing desk and plenty of extra electrical outlets. A wardrobe sits in the corner to house the safe but has virtually no real space for hanging up clothes and no robe. (Poor me, I love my robes!)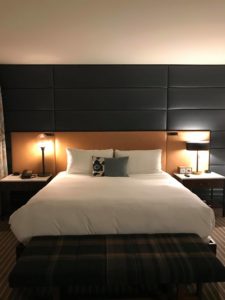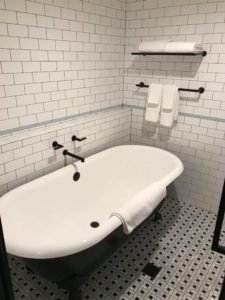 The king-sized bed dominates the far end of the suite and offered a comfortable sleep. Two marbles side tables were large, offered extra outlets and held uniquely shaped lamps that were bright and modern.
The bathroom is separated into two rooms, the first has my favorite: bright white subway tile with black metal and white marble accents. The lighting in the toilet and vanity room is excellent, with plenty of space for my personal effects. The second room has a metal and glass door that opens into a subway-tiled large shower room with a great clawfoot tub sitting within the shower area, giving everything a spacious feel.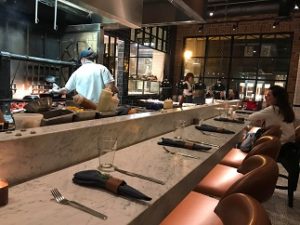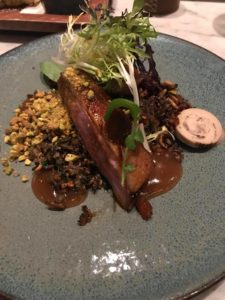 While making dinner plans for your stay, try the hotel restaurant, Rider, located right off the lobby and housing a full bar. Last evening I sat at the chef's bar that faces the kitchen and is also the main grilling area for meat and seafood dishes — a perfect place to sit if you are a solo traveler. Being in Seattle, I had to taste the local oysters and the house pull-apart bread with crab butter! For my main dish, I had the Duck Three Ways: seared breast; confit leg; and wild rice hash with toasted pistachio, pomegranate, pineapple quince and foie gras torchon. Probably the best duck dish I have had in the last few years.
This hotel is a little gem, and I look forward to my next stay!
— Carly Allen, executive vice president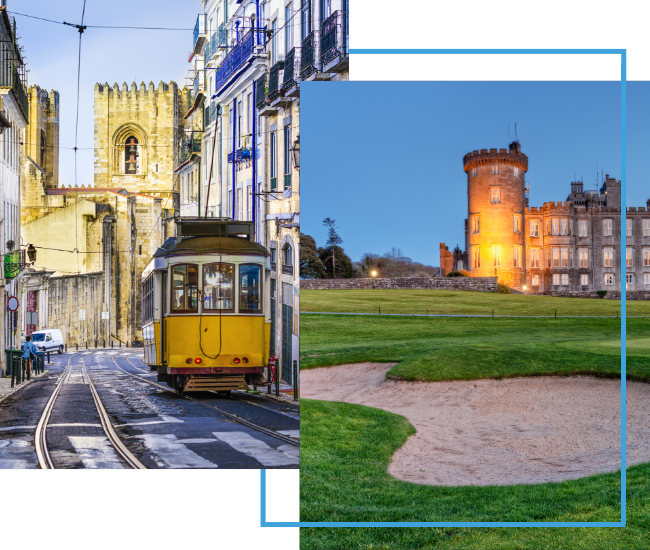 FX Excursions
FX Excursions offers the chance for once-in-a-lifetime experiences in destinations around the world.
Explore Excursions
Red Savannah launched a new series called In the Footsteps of…, which debuts itineraries of well-known figures, the first being Coco Chanel. As Chanel No. 5 celebrates its 102nd anniversary this year, the travel company invites fashion lovers, history enthusiasts and admirers of Coco Chanel to experience the new itinerary, In the Footsteps of Coco Chanel. The experience allows travelers to step into the remarkable life of one of most iconic figures in the fashion world.
Sponsored Content
Nashville's once-modest skyline continues to evolve as its luxury market grows. Lavish hotel properties are added to the landscape while acclaimed chefs stake claim in the robust culinary scene and premier cultural offerings round out the city's repertoire.
Mazatlán, Mexico, has long been an attractive home destination for Canadian and American retirees, but, in recent years, young, digital nomads have also discovered the charms of this coastal city, finding inexpensive accommodations, beautiful weather and plenty of bandwidth for working remotely. The laid-back beach scene definitely eases the transition of relocating to Mexico's West Coast.