We were like kids in a candy store.
Our good friends Carol and Jim were visiting from Indiana in early April, and with Easter approaching, my husband and I decided to take them to a local treat — Munson's Chocolates Factory Store.
After our move to Manchester, Connecticut, it didn't take long for us to discover the legendary chocolate factory, located in the town of Bolton, just a few miles from our house. (It also operates six other storefront locations in the state.)
Founded in 1946 by Ben and Josephine Munson as The Dandy Candy Company, the first store opened behind a tailor shop in Manchester, where they made batches of wafers and ribbon candy from sugar rations they received following the end of World War II. Soon after they moved their operation to a horse barn, which they converted into a kitchen and a retail store.
Ben started each day by mixing batches of creams and caramels from his secret recipes, hand-dipping each piece in chocolate. Josephine carefully packaged the assortments and prepared them for sale. Today the recipes may have changed with the times, but Munson's — now a third-generation candy family — retains its popularity and remains Connecticut's largest retail chocolate manufacturer.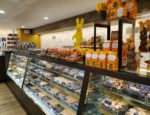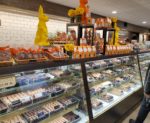 As we walked through the door into the storefront, the luscious aroma of chocolate greeted us, along with the eye-popping display of row upon row of everything from creams and caramels to truffles and nut barks, coated in milk chocolate or dark chocolate. (My favorites are the dark chocolate truffles.)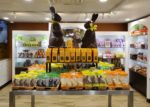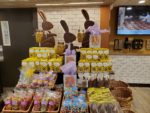 Every season brings special treats to Munson's. At Easter, enormous chocolate rabbits dominated the scene, accompanied by the traditional foil-wrapped chocolate eggs, solid and hollow chocolate bunnies in various sizes and unique treats like caramel marshmallow-filled bunny ears. They even make special Camo Easter Bunnies in pink or green camouflage, donating 20 percent of the sale of each to Blue Star Families to help support military families.
Any true chocolate fan will tell you the best chocolate comes from the best ingredients. As a small-batch chocolatier, the factory can control the quality and freshness of its products. Munson's sources local raw materials from Connecticut companies and farms. All the milk, butter and cream originate at a small family farm down the road in Bolton. The chocolate beans come primarily from West Africa and Indonesia, and Munson's requires its chocolate suppliers to follow fair trade policies with respect to the harvesting of cocoa beans. Its chocolate is never made with the use of illegal, abusive or enforced labor.
We like to support local businesses whenever possible, especially those businesses with a sense of community responsibility. To reduce its environmental impact, the factory repurposes all scrap generated during the process of candy manufacturing. It drenches each day's scraps of nut pieces, broken pretzels and caramel edges in chocolate and sells them at a reduced price as factory seconds. Items that cannot be repurposed are donated within the community. Munson's Chocolates also partners with organizations from schools to nonprofit groups and charities.
And the good news is you don't have to live nearby to enjoy these delectable confections. Munson's will ship just about anywhere (special warm-weather shipping includes heat-resistant packaging with ice packs to prevent the chocolate from melting). The store also puts together great business gifts. You can even order a Picture Perfect Chocolate Business Card, imprinted with your company logo.
— Jan Hecht, senior editor
FX Excursions
FX Excursions offers the chance for once-in-a-lifetime experiences in destinations around the world.
It's time to start dreaming of your next trip. Here's some destination inspiration for you. Take a visual journey through Austin, Texas, with us.
Sponsored Content
This holiday season, escape to the Caribbean with Celebrity Cruises and reconnect with family and friends in luxurious accommodations that make you feel right at home. Savor globally inspired cuisine designed by our Michelin-starred chef, paired with the most awarded wine collection at sea. Elevate "me time" with a soothing spa treatment sure to renew. With both long and short cruises to celebrate in December, and even three special Ultimate Holiday Cruises that sail over Christmas and into the New Year, the time to gift an experience and create unforgettable memories is now. Celebrity Cruises' Always IncludedSM pricing — drinks, WiFi and tips — ensures a seamless, carefree vacation with the ones you love.
The world's first and highest 360-degree infinity pool will open in Dubai's Palm Jumeirah. One of the region's most anticipated attractions, AURA SKYPOOL will begin welcoming guests in mid-November.