We've heard it all before, "Go West, young man." "Follow your dreams!" "You only live once." "It's now or never." And my favorite, "Fortune favors the brave!" But how many of us really lay it on the line and go for it? Talk is cheap, right? Very few have the guts to give it all up for a chance to live their dreams and open up new opportunities. Well, my twin boys did just that! They recently quit their comfortable and secure jobs in Orlando and moved to Los Angeles. They sold all their possessions, scrounged up all their savings and packed their cars with a few remaining articles of clothing, plus their camera/film gear and headed west.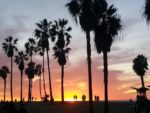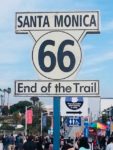 But let's back up a bit to the precursor that led to this migration. Ryan and Tyler graduated from University of Central Florida with degrees in film. Film-making and all the elements involved in the process had been a passion of theirs since they were fourth graders. I'm a strong believer that the gift of travel is priceless. Upon graduation from college, I allow my kids to choose any destination in the world. I take them for one week to explore and experience it. Their older sister, Tisha, chose Japan. Fortunately for my wallet, they both chose the same destination and stayed in the United States. So off we went to California!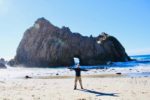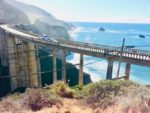 We started our journey in San Francisco. The City by the Bay is one of the coolest cities to visit. Our first order of business was visiting our Filipino relatives and reconnecting with our roots. We then made our way to the Mission District, Embarcadero area and Chinatown. The boys are avid skateboarders, and a big part of this trip was for them to visit all the great local skate spots. And, of course, one cannot visit San Fran without a stop at the Golden Gate Bridge.
From there we headed toward Yosemite National Park. Driving late into the night with no hotel reservations nor any knowledge of hotels in the area added an element of excitement and a lot of anxiety for me. Sure enough, hotels (if you want to call them that) were few and far between. We were at the point of pulling over and sleeping in our rental car when we stumbled upon a motel that had a group of small "cabins" available. It was late, we were cold, and we were tired.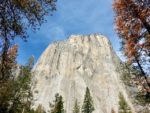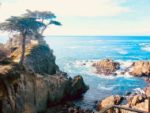 After a fitful night with the occasional sounds of dueling banjos echoing in the darkness, we got up early and made our way to the entrance to Yosemite. Here's a tidbit about Yosemite: If there is snow on the ground, you must have a four-wheel-drive vehicle or snow chains on your tires. Well, guess who had neither!! And wouldn't you know it, parked at the entrance was a guy selling snow chains. Oh my, miracles do happen!! And for the cost of round-trip airfare to Tahiti, you can get a set of snow chains.
And for an additional fee (surprise, surprise), he'll install them. Being a frugal D.I.Y. kind of guy, I opted to put the chains on myself. Six hours later (or so it seemed), we were driving into the great Yosemite National Park. Yosemite in the winter is amazing. Half Dome and El Capitan did not disappoint! We explored the park for a few hours and then headed to Monterey to start our journey along the famed Pacific Coast Highway.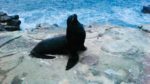 If you have never driven the PCH, please put it on your must-do list. It is by far the best scenic drive in America. One would think it would be difficult to keep your eyes on the road and look at the views at the same time, but it isn't. As the road curves along the coast, the views unfold in front of you. From Monterey, we drove through the breathtaking, 17-mile drive to Pebble Beach. We then continued southward toward Santa Barbara. We made many stops along the way: Big Sur, Pfeiffer Beach, Bixby Bridge and Elephant Seal Beach, among others. And every stop was just as amazing as the last. The pictures you see don't do it justice. The normally four-hour drive took us all day. But it was worth every second. We arrived in Santa Barbara late that evening. We stayed in the historic downtown, where we grabbed dinner and hung out with a group of entertaining street kids. It was a great way to end the day.
It was off to L.A. the next day. Once again, we drove along the PCH to Malibu then finished up at Santa Monica Pier. The next few days in LA were spent visiting Warner Bros Studios, Hollywood Boulevard, the Sunset strip, Long Beach, the Griffith Observatory and the eclectic Venice Beach. If you think you've seen it all, you haven't until you've been to Venice Beach, trust me.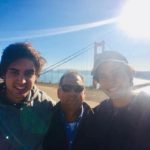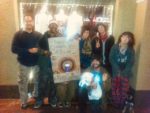 The last leg of our trip was the short drive to San Diego. We got up close and personal with sea lions in La Jolla, skated a few "rad" skate spots and cruised along downtown's waterfront. The vibe of San Diego was relaxed and unpretentious. I can see why people love this city.
The trip for Ryan and Tyler was a defining moment in their venture into the real world. It spurred a fire within them that set their dreams in motion, a dream they are now realizing as they settle into their new life in Los Angeles. Their adventure has just begun. Not many of us can live our dreams. They are doing just that … living their California dream.
— Bill Lodzinski, director of sales
FX Excursions
FX Excursions offers the chance for once-in-a-lifetime experiences in destinations around the world.
First opened in 1742 by George William Wilton, a seller of oysters, shrimp and cockles near Haymarket in London, Wiltons continued drawing diners with its delicious food for more than two centuries. This summer, Wiltons celebrates its 280th birthday and its place as one of London's most beloved fine-dining establishments with a unique dining experience.
Sponsored Content
TAP Air Portugal, or rather Transportes Aéreos Portugueses, was founded 77 years ago, March 14, 1945, and flew its first commercial flight September 19, 1946, inaugurating service from Lisbon to Madrid, Spain, aboard a Douglas DC-3.
Resting on the edge of Reykjavik's Old Harbour next to the soaring, sparkling glass edifice of Harpa concert hall and conference center, the brand-new Reykjavik EDITION brings a new level of swish lodging to Iceland's capital city. Steps from Laugavegur — the city's main shopping street — and an easy walk to a wide selection of museums, restaurants and cafés, the newly opened hotel delivers high on luxury and service in a location ideal for becoming fully engaged in the energy of this spirited capital city.