Yesterday was an exciting day for me as an account executive at Global Traveler. While it feels like I have been part of the team for longer than six months, it really has only been a half a year of countless Zoom calls and meeting people from all over the world from my home office. While I appreciate the accessibility we have to reach each end of the world via our computer screens, I think I speak for most when I say there is nothing like an in-person, collaborative conversation with like-minded people.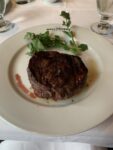 Long story short, Global Traveler's publisher, Francis X. Gallagher, and I traveled to the Big Apple to have lunch with a long-time client at Gallagher's Steakhouse (no familial connection there). We decided to drive in around 10 a.m. to beat the morning traffic and arrived in just an hour and 20 minutes! I haven't been to New York City in more than 1.5 years, and the beautiful weather and traffic-free drive only added to the sense of freedom and delight I had as we made it through the Lincoln Tunnel.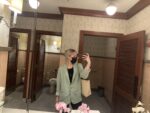 A quick stop to check our emails before lunch, sponsored by Diet Coke from Shake Shack, was our first mission, followed by a lovely afternoon (and juicy filet mignon) with a friend from Turkish Airlines. While New York was quite low-key in terms of foot traffic and vehicles, I saw a great deal of hope from the Broadway signs that read "coming back soon" and from the pedestrians in business apparel, telling me some people are back in offices and out of their makeshift home offices. All in all, it was a wonderful day for business travel, and I can't help but look forward to my next business lunch, and neither can my belly!
— Haley Fogarty, account executive
FX Excursions
FX Excursions offers the chance for once-in-a-lifetime experiences in destinations around the world.
With the autumn in full spring, now is time to start planning your fall weekend getaway.  Whether a relaxing weekend on the lake, leaf-peeping or hiking, check out these fall travel trends from vacation rental management company Vacasa.
Sponsored Content
The Global Business Travel Association's (GBTA) Convention 2021 will be unlike any other convention before it, as we come together in person for the first time since the business travel industry drastically changed and look forward to rebuilding and reshaping the future. GBTA Convention 2021 will bring all of us together to learn from experts and each other, in-person at Orange County Convention Center in Orlando, Florida, Nov. 17–19. The safety of our attendees is our top priority. View health and safety protocols.
I imagine that when writer Hans Christian Andersen mused, "Life itself is the most wonderful fairy tale," he was standing at the edge of Copenhagen's historic Tivoli Gardens, one of his favorite haunts, enlivened by the swirl of human happiness that surrounded him: children laughing; carousels spinning; games of chance played for prizes; lovers holding hands; hungry people whispering over sweets, hot drinks, beer and towering, open-faced smørrebrød, Denmark's quintessential sandwich. That fairy tale lives on today at the second-oldest amusement park in the world, a spectacle of folly architecture, bakeries, gardens, rides, restaurants, puppet shows and joy ... and which also happens to be one of the city's most storied places to convene for business.