As we enter 2022, many of us have the same health goals in mind, which is, nine out of 10 times, going to be to lose weight. Easier said than done, as shedding pounds can be tricky and takes a lot of prioritizing, dedication and self-control. As an individual who has suffered from both obesity and anorexia, I am here to reiterate that depriving your body of suitable nutrition is not healthy; so as you begin to make your diet plans, it is important to use apps, like My Fitness Pal, to make sure you are consuming enough calories, protein and carbohydrates. Opposingly, it is okay to deprive your body of simple carbs and added sugars.
One of the wisest men I've ever met, my grandfather, a well-known research doctor specializing in diabetes, once told me there is absolutely no benefit in consuming added sugars. Added sugar and simple carbs are proven to cause weight gain, along with increasing the chances of Type 2 diabetes. Yes, drinking a Diet Mountain Dew is better than drinking a bottle of cranberry juice. The sad and crazy thing is that just about any salad dressing, sauce or condiment contains a  significant amount of added sugar. So here are a few tips I have found to help me lose body fat percentage, keeping bad weight off long-term.
If something has more than 1–5 percent added sugar, DO NOT EAT IT! Sugar adds no nutritional benefit; it only causes negative effects.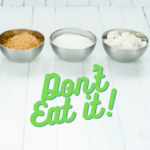 Replace condiments with vinaigrettes, natural citrus and spices.
Replace coffee creamer with sugar-free alternatives.
Avoid juices that are not freshly squeezed. Yes, 100 percent Tropicana orange juice has added sugar.
Avoid eating dairy, as it contains a lot of sugar. Switch to unsweetened almond milk or unsweetened oat milk.

Avoid cereal; most of it contains added sugar and simple carbohydrates.

Replace chips with rice cakes, carrot chips or, if needed, pretzels.
Avoid high sodium (it bloats you and causes weight gain due to water weight).
Utilize calorie and nutrition apps such as My Fitness Pal, Noom or Lose It.
Avoid mixed drinks, as they contain sugar. If you do not like it on the rocks, add a splash of soda water or diet ginger beer.
Avoid beer.
Avoid white wines.
Try to do 30–60 minutes of cardiovascular exercise five days a week. Yes, walking counts; however, in my opinion, if you are going to walk you should double the time or walk at a mild to high incline.

If you are trying to tone up, this is not done by running, walking, biking or swimming; lifting and doing bodyweight exercises multiple days a week is important!
If you are worried about your form, utilize tutorial videos on YouTube or speak to a specialist.
Hate working out? Try attending a group fitness class at your gym. Trainer-led classes are much more fun and are a great way to meet new friends and build a community.
Don't know what gym to join? Try Class Pass. It is a credits-based application that allows you to attend several different gyms in your area as opposed to investing your time and money into just one.
F45 is a great option for individuals looking for a quick, 45-minute lift or cardio session. These stations move quickly, so it is hard to get bored.
Orangetheory is my favorite because it offers a 60-minute full-body workout, normally consisting of 50 percent cardio and 50 percent weighted exercises, which helps shed pounds and tone up. They have a great program that allows you to utilize any gym in the world as long as you pre-book your classes. I have found there are all different age groups and skill levels in these classes no matter what city I am in.
Make sure you are taking vitamins, probiotics and antioxidants.
Drink water. Our bodies are like cactuses: If we deprive them of water, it will cause us to puff out into survival mode, retaining as much water as possible since we fear drought.
Avoid stepping on the scale and pay more attention to body fat percentage. Weight is not consistent, as water and muscle add weight without necessarily affecting our health.
I hope these tips help! As long as you are eating clean and healthy, you can consume as much as you'd like … especially if you are active.
— Christyn Pek, business development executive
FX Excursions
FX Excursions offers the chance for once-in-a-lifetime experiences in destinations around the world.
Manchester, a city already buzzing with energy, welcomes some exciting new additions, from boutique hotels to highly anticipated culinary destinations to historic venues. Plan a trip to Manchester to not only indulge in your favorite soccer team but also to enjoy delicious food, both charming and luxury accommodations, and lively events and venues.
Sponsored Content
THE MOST EXCLUSIVE TOURS OF EGYPT EVER OFFERED
Porvoo, Finland, only an hour from Helsinki, is a medieval coastal town and a cultural haven, well known for its exciting culinary scene, colorful wooden houses and cafés. Here, you will discover the new Runo Porvoo Hotel, a family-owned landmark building and business blending Finnish traditions with contemporary Nordic design, world-class artwork and the rustic-meets-modern allure of American Shaker-style furnishings.