PACK THE SUNSCREEN, flip-flops and cover-ups: The warmth of the rays you'll find at these summery locales is matched only by their hospitality and a welcoming vibe that beckons you to their sun-drenched shores. Whether you crave a zillion diversions, outdoor pursuits or memorable dining — or need nothing more than a lounge chair and good book — you'll find it in these U.S. coastal spots offering a shore thing.
THREE MILES OF PRIME OCEANFRONT opening up to the Chesapeake Bay at the mouth of the Rudee Inlet gives Virginia Beach, Virginia, the distinction in the Guinness Book of World Records as the "longest pleasure beach in the world." Most of the hotels, resorts and high-rise condos in this family-friendly, Mid-Atlantic beach town boast incredible views of the surf and sand and sit alongside a paved boardwalk perfect for taking a jaunt with a tandem or family bike.
Though set back from the beach, the historic Cavalier Hotel, dating back to 1927, features a storied history and counts Frank Sinatra and Judy Garland as former guests. It recently underwent a massive renovation and now sports a luxury beach club and Tarnished Truth — the only distillery housed in a U.S. hotel.
Sure, the city sports the expected T-shirt shops, ice cream parlors and amusement piers, but somehow here they come across as charming rather than ticky-tacky. You'll find other surprises here, too, like a brown spirit and burger spot called Whiskey Kitchen and elevated sips at craft cocktail den Civil Libation. Every August the city hosts the East Coast Surfing Championships, the second-longest-running surfing contest in the world, now evolved into a week-long sports and entertainment festival.
IF YOU'RE NOT FROM THESE PARTS, you might forget The Yellowhammer State even has a coastline. That would be a shame, as the 32 miles of turquoise-blue Gulf Coast beaches feature sugar-fine sand made up of quartz grains washed down from the Appalachian Mountains to the Alabama shore over thousands of years. The beaches at Gulf Shores and Orange Beach beckon with the scenic beauty and windswept vistas beachgoers crave.
Outdoor buffs will be giddy to fish in the Gulf of Mexico and bike Backcountry Trail, and a new dive area offers three spots for snorkeling. Spot crabs at Alabama Point jetties; explore the Whiskey Wreck, a dive spot featuring a 1920 Spanish rum runner shipwreck teeming with marine life; and look for colorful tropical fish and sea turtles at the 33 sections of Perdido Key Snorkel Reef.
A thriving art scene includes local glassblowing at The Hot Shop at the Coastal Arts Center of Orange Beach, and the entire family can learn how to construct intricate, Instagram-worthy structures at Sand Castle University. The Gulf Shores' and Orange Beach's steadfast commitment to the environment encompasses a new education center at Gulf State Park and the greenminded hotel The Lodge at Gulf State Park, a Hilton Hotel.
Foodies can slurp down plump oysters or nosh on sautéed or batter-fried pompano at the casual Doc's Seafood or Tacky Jack's on the water. Go a little more upscale at Fisher's at Orange Beach Marina, overseen by a James Beard-nominated chef.
WE SAY QUINTESSENTIAL BEACH TOWN, you say San Diego. In fact, it's pretty difficult to think of anything but palm trees, endless sunshine and afternoons spent on laid-back beaches in SoCal's outdoor playland with a whopping 70 miles of coastline. Average precipitation comes in at less than 12 inches per year; and while admittedly the city does get its fair share of partly cloudy days, too, think of it as a chance to keep the UV rays in check.
No matter your personality or interest, there's a beach with your name on it. Take your canines to frolic at Coronado Beach or Ocean Beach (the former is also home to the tony, historic Hotel Coronado); cart the family to Pacific Beach; spot adorable sunbathing sea lions amid the cliffs of La Jolla Shores; surf and SUP at Tourmaline; and bird-watch at Imperial Beach, the southernmost beach in California. Just minutes from downtown lies Mission Bay Park, a 4,600-acre playground edged by 27 miles of shoreline and bordered by several communities that are always hopping.
Everyone has an opinion on where to get the best fish tacos in SD: Try shrimp at Tacos Mimi; smoked marlin at El Comal; and anything at Fish 101, considered among the best seafood spots in the country. After the sun sets, make a pilgrimage to the apothecary- esque Polite Provisions and new speakeasy Realm of the 52 Remedies for some of the most creative libations anywhere.
GOIN' DOWN THE SHORE? That's what visitors to Wildwood, New Jersey, have asked one another for decades. This Mid- Atlantic playground comprises four communities: North Wildwood, Wildwood, Wildwood Crest and West Wildwood. The area offers plenty of distinctive features, including its five miles of free beaches, measuring a staggering 1,500 feet wide in parts, and a two-mile boardwalk. Its amusement piers are jammed with water parks and roller coasters for thrill-seekers; arcades and carnivalstyle games for those trying their luck at monster plush toys and other prizes; and souvenir shops and eateries with beloved specialties like pizza by the slice, fried dough, Lime Rickeys and Philly cheesesteaks. Don't forget the saltwater taffy and fudge from rival shops Douglas Fudge and James Candy Company.
Though you can book a room at a smattering of larger hotels and resorts, in Wildwood it's all about doo-wop motels. This collection of 200 mid-century renovated properties is located mostly in Wildwood Crest, each with its own unique themes, signs, vivid color palettes and purposefully kitschy design.
With 160 events annually, there is always something going on, like the New Jersey State Barbecue Championship and Anglesea Blues Festival, vintage car and motorcycle beach drag races and monster truck races on the beach. And long after you "walk the boards" and are back at home with your memories and souvies, you'll still have that iconic phrase piped out of the boardwalk trolley stuck in your head: "Watch the tram car, please."
IT'S A LITTLE SLICE OF HEAVEN in this northern part of Florida: laid-back, quiet, natural and miles away from other coastal regions in the state. Amelia Island — a barrier island with 13 miles of pristine beaches — only sports a few full-service resorts, making it feel exclusive and in-the-know, but in an approachable way.
The sprawling Omni Amelia Island Plantation Resort features a huge and inviting poolscape, thoughtful cuisine at several dining concepts and even a poolside Rum & Tequila Experience with flights and high-end bottles. The Ritz-Carlton focuses on holistic wellness, emphasizing mindfulness and healthy living, while its culinary program highlights a bourbon and rare bar in the lobby and Salt, a fine-dining restaurant. Its salt sommelier works with the chef to incorporate the more than 40 house-infused varieties into the menu.
Amelia Schoolhouse Inn is a new boutique hotel housed in a historic schoolhouse. A short drive away find former Victorian seaport village Fernandina Beach, a casual town with eclectic shops, eateries, a new butterfly garden and upcoming minigolf experience. Grab a table at the Salt Life Food Shack for grilled redfish, fried grouper or a beach boil.
Jacksonville is also just a short ride away, or you can search for (and frolic in) the Fountain of Youth in St. Augustine. After a relaxing and restorative week on Amelia Island, though, you might already feel 10 years younger.
BOASTING AN AVERAGE 361 DAYS of sunshine a year, warm Gulf of Mexico waters and the most beautiful stretches of white sand in the world, Tampa Bay, Florida, has a beach for every mood. Within a short drive of downtown Tampa, you'll easily find a dozen coastal treasures to explore, from family-friendly Clearwater Beach with cabanas, water sports and restaurants to the peaceful, natural, barrier island beaches of Caladesi Island State Park.
Fort De Soto Park not only has a beach laden with seashells but also a tidal pool perfect for kids to splash in and a historic fort to explore. Book a fishing or a dolphin-watching or shelling tour at John's Pass Beach and stroll the charming, turn-of-the-century village peppered with unique shops and restaurants.
Relax at the undeveloped public beach at Pass a Grill Beach, then stop by to tour the massive pink Don CeSar Hotel and luxuriate at its ultra-posh Spa Oceana. The list of area beaches goes on — whatever type of beach day you desire, Tampa Bay is your oyster.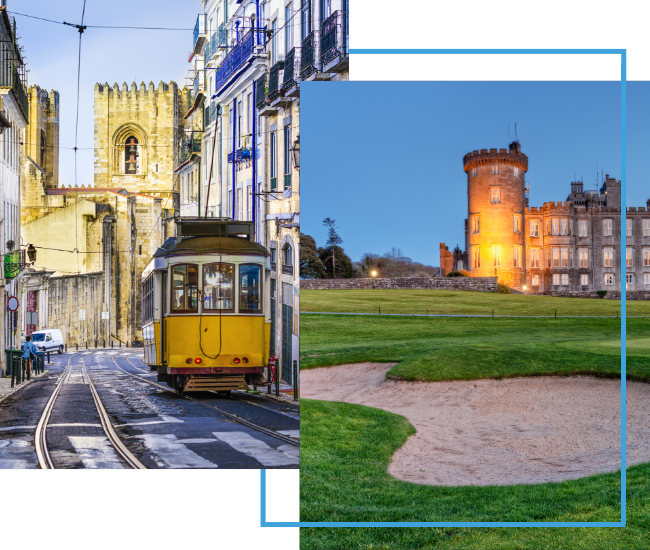 FX Excursions
FX Excursions offers the chance for once-in-a-lifetime experiences in destinations around the world.
Explore Excursions
Ever since opening in 2021, Nobu London Portman Square has served as the focal point for many gatherings, stays and experiences. This fall the hotel's Nobu Bar adds four more reasons to visit with an exciting array of offerings, menus and events.
Sponsored Content
One affordable plan can protect an entire year of trips: business or pleasure, short or long, domestic or international.
There's no doubt the northern lights are awe-inspiring and spectacular. Unfortunately, they're also fickle and fleeting, and despite your best-laid plans of checking this item off your bucket list, sometimes Mother Nature's luminescent show just doesn't cooperate. But one cruise line has a new fail-safe in place.