Air Canada
Voted Best Airline in North America by the readers of Global Traveler for many years, we need to be reminded of Air Canada's international service to Asia from gateways in Toronto and Vancouver. Their Executive First Suite (business class) is roomy and comfortable; connections through Canada are an excellent option for those who do not live close to a major U.S. hub and must connect. Air Canada made this process simple on my recent flights between Philadelphia (PHL) and China via Toronto (YYZ). The service on board is professional and friendly, and the seat has every function you require for a long trans-Pacific flight.
— Francis X. Gallagher
All Nippon Airways
I took an afternoon flight from Los Angeles (LAX) to Tokyo (NRT) on All Nippon Airways' Boeing 777-300ER. It was my first time flying ANA, and I was impressed with its promptness and service. The flight attendants were pleasant without being overbearing, offering me my favorite green tea preflight and promptly refilling the cup throughout the flight. My Japanese-style dinner included classics such as miso soup, sashimi and a great piece of black cod. My flight attendant offered to make up my bed while I got ready to sleep; when I returned to my seat, it was fully prepared, with an extra water bottle and a second pillow. The fully flat seat/beds were staggered, offering me privacy and extra tabletop space, which I took advantage of to charge my iPhone and iPad. Best of all, we landed 40 minutes early!
— Carly Allen
Asiana Airlines
I have had lots of best flights in the past 10 years; I cannot tell you how many times I've crossed the Pacific Ocean on Asiana Airlines, and each time the service and flight attendants were outstanding. Once you board, Asiana flight attendants look out for your every need with their award-winning service. I particularly enjoy the caviar service in first class; it's something really special. The Korean cuisine is also a wonderful option to prepare you for your destination — I usually order the bibimbap on one leg of the journey. They just launched a new first-class suite, and I cannot imagine how they will improve upon the Asiana experience. Incheon International Airport (ICN) pairs nicely with Asiana. The first- and business-class lounges there equal the onboard experience — plus, you can always pick up a copy of Global Traveler there!
— Francis X. Gallagher
Brussels Airlines
I recently flew Brussels Airlines' business class from New York (JFK) to Brussels (BRU). I was going for a weeklong stay in London. Since Lufthansa owns Brussels Airlines, passengers can use its lounge, which is one of the nice ones. On board, I greatly appreciated the lie-flat seat and all the state-of-the-art technology inherent in lie-flats these days. All of the people I dealt with — from the staff at check-in to the flight crew — were friendly and accommodating. The cuisine was some of the best I have had on a plane, as were the award-winning wines; and best of all (for a chocoholic), they served Belgian chocolates after dinner. Entering Europe through Belgium is a good alternative to the larger congested airports like London Heathrow, Paris Charles de Gaulle and Frankfurt. At the less-crowded Brussels Airport, passport control is a cinch, and there are easy connections to high-speed trains to London and Paris. I flew to London on a Brussels Airlines short-haul flight.
— Richard T. Evans
China Airlines
I flew China Airlines from New York (JFK) through Osaka (KIX) and on to Taipei (TPE). With my background in marketing, I find what sets airlines apart is often how they maintain their brand experiences throughout your travel. The China Airlines experience, like its logo, was, for lack of a better word, beautiful. From the soft pink and purple interiors to the textured carpets, flight attendant uniforms and bedding, every piece complemented the next. The seats were comfortable in the upright position, which is not always the case, and also when reclined, though they were not fully flat. I enjoyed the "East-meets-West" food and wine options and extensive entertainment selection. My transfer in Osaka was also quite enjoyable. Business-class passengers with connecting flights were directed to the Sakura Lounge, just next to my gate. Here I enjoyed a small snack and tea before boarding my next flight. In each phase of my travel with China Airlines, I felt very well taken care of and completely comfortable and relaxed. I look forward to the opportunity to experience China Airlines again in the future.
— Danielle Hudena
Emirates
If you could hear the music in my head, you'd recognize the opening notes of the theme song to I Dream of Jeannie, the 1960s sitcom about an astronaut who finds, and falls in love with, a genie in a bottle. I found myself humming the tune on and off throughout my 12-plus-hour flight from Dubai (DXB) to New York (JFK). Seated in first class aboard an Emirates Boeing 777 in an exquisite private cabin, I felt like I was tucked inside the confines of Jeannie's fantastical bottle. Each of the eight suites, arranged in a 1-2-1 configuration, was a private enclave more like a mini hotel room than an airline seat. Done in tones of off-white and cream with blonde wood and brass accents, my cabin featured a large video screen mounted on the front wall above a desk that opened to reveal a vanity with a lighted mirror. A brass table lamp on the desk enhanced the cozy feel of the space, and a wall vase held a fresh flower. As I settled in, a flight attendant explained the at-call service, noting that attendants would not approach my suite unless the door was open. If I craved privacy, I had plenty of on-demand entertainment options, a basket of snacks and even a built-in cooler drawer stocked with cold beverages. An attendant was just a push-button call away ready to fill an order from impressive menu offerings including canapés, assorted entrées, several desserts and a selection of à la carte items. I napped soundly for solid intervals throughout the flight. Coming from someone who has trouble sleeping under even the best of circumstances, that alone is the highest praise.
— Lisa Matte
Etihad Airways
I flew Etihad Diamond First Class on my return trip from Abu Dhabi (AUH) to Dulles (IAD), and the experience was nothing short of amazing. My only regret was that I didn't leave enough time to relax in Etihad's lounge. Going through the check-in process, it is clear every employee wants to go above and beyond what is expected to make sure each customer walks away satisfied. Once on board, I couldn't wait to start mining their collection of movies using the first-rate entertainment console. By the time I was ready to load Skyfall into my movie playlist, the in-flight manager handed me a crisp glass of Champagne. He introduced me to the cabin and his staff of attendants and first-class cabin chef. The entire flight was akin to a 5-star hotel experience, and the meals were prepared masterfully. The lie-flat seats were easy to use and gave me ample room to stretch out (I'm 6-foot, 1-inch). The lighting inside the cabin was soft, and the cabin was made up of neutral tans and whites with gold accents. It was a nice environment to be in, and I knew immediately that even a 14-hour flight would pass by quickly in such a comfortable cabin. No sooner did we land than I was already looking forward to my next trip with Etihad.
— Mark Branle
Finnair
Upon boarding my flight to Helsinki (HEL), I was immediately introduced to Nordic-style efficiency and modern Finnish design. Wearing dark navy uniforms designed by renowned Finnish designer Ritva-Liisa Pohjalainen, members of the cabin crew swiftly took my coat, situated my carry-on baggage in the spacious overhead bin and handed me a pre-departure beverage of Champagne in chic glassware from Iittala, Finland's iconic glassmaker. While the paper amenities bag was no-frills and the meals weren't particularly fancy, the service from the flight attendants was spectacular. Without being overbearing, they always seemed to be near when I needed something. Their swift food and beverage service allowed me to take advantage of the fully flat seat (which will eventually be rolled out across Finnair's entire Airbus A330 and A340 fleet), watch a few movies and sleep soundly. From takeoff to landing, Finnair offered an authentic Finnish experience: minimalist but stylish, functional and comfortable.
— Monique Barrett
Lufthansa
This would be my second business-class flight with Lufthansa, but this one was special. I was flying from Frankfurt (FRA) to New York (JFK) on the inaugural Airbus A380 flight. Fanfare awaited at the gate, and despite the size of the aircraft, boarding was a breeze with the two-tiered jetways. For business-class passengers on the second deck of the aircraft, everything is exclusive and swift. Everything was new and untouched, making for an extremely unique experience on board an equally fresh aircraft. At the time, Lufthansa's business-class seats were not fully flat; however, with an afternoon flight where I was not necessarily looking to sleep, it was a non-issue. I enjoyed tasty meals and watched movies comfortably, all the while taking in the newness of the moment. It was truly a "this will only happen once" type of flight.
— Kimberly Krol
Qatar Airways
My experience flying Qatar Airways from New York (JFK) through Doha (DOH) and on to Dubai (DXB) was top-notch. Every member of the Qatar team that I interacted with, on the ground or in the air, was attentive and helpful. On board, I was offered a pre-flight glass of Champagne, pajamas and an amenity kit as I reviewed the many dining and wine selections offered. The entertainment system was extensive, and after a filling meal and a movie, the Qatar attendants turned down my seat to its lie-flat position and I enjoyed a peaceful sleep. One of my favorite parts of the trip was the transfer in Doha. It was my first trip to this airport, which was undergoing a transition, and I was not sure what to expect. However, Qatar planned for it all. Unbeknownst to me, each passenger had a color-coded ticket. A short, animated video upon landing showed us that we would be directed, based on ticket color, to a shuttle bus, which would take us to await our connection. In my case, I was welcomed in the first-class lounge. As soon as I walked in, I regretted having only one hour until my connection. The design rivals the lobby of a 5-star hotel, and the spread of food and wines was so extensive, I spent most of my time walking around exploring. Soon enough, I was shuttled on to the second leg of my trip — a short, 90-minute trip to Dubai, not nearly enough time to truly enjoy the Qatar experience. By the time we landed and I headed toward Customs, I was already looking forward to my return flight on Qatar.
— Danielle Hudena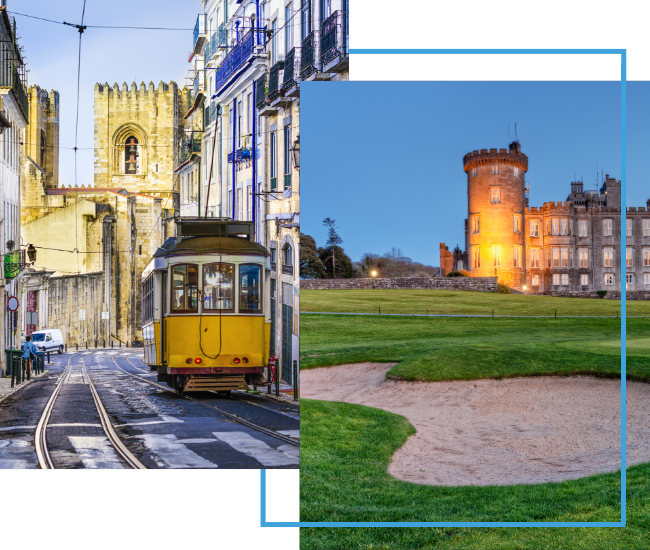 FX Excursions
FX Excursions offers the chance for once-in-a-lifetime experiences in destinations around the world.
Explore Excursions
There is something magical about sipping a glass of local wine while watching the sun slip into the Aegean Sea as the afterglow tinges traditional, white-washed Cycladic houses with glorious shades of rose, purple and gold. Ancient Greeks believed Helios, the Sun God, caused sunsets by driving his fiery chariot into the sea. Standing at water's edge in Mykonos, watching the sky slowly turn from purple to inky black, you almost believe it.
Sponsored Content
In an increasingly digital and interconnected world, the Global Business Travel Association (GBTA) Convention remains an indispensable platform for business travel industry professionals seeking to make the most of the power of face-to-face connections. Taking place August 13–15 in Dallas, the 2023 GBTA Convention provides the unique opportunity for professionals and companies to join visionaries, thought leaders and industry experts for meaningful networking, cutting-edge insights and inspiring innovation.
The prospect of a post-visit treasure hunting session inside the shops of landmark museums such as the Louvre in Paris, the Uffizi Gallery in Florence and The British Museum in London can be irresistible. However, some of Europe's smaller and more unusual museums boast retail spaces with a surprising "wow" factor, often as well-curated as the galleries.