WHEN A FEW UNDERWATER volcanoes blew into the sky, a confetti of colors landed to form what became the 138 British islands of Bermuda. Or so it would seem when one looks around today at the pristine communities that spread from those explosions in the heart of the Atlantic Ocean, about 600 miles or a two-hour flight from most of the U.S. East Coast. It is the translucent blue of stained-glass ocean, the pale yellow of hanging fruit, the fiery orange of coral reef into which Caribbean settlers later dipped their paintbrushes to color their houses, bridges and buildings. Then they cropped their pants, of the same colors, to create their namesake shorts. Not to be outdone, Mother Nature continued to flash her hues above and below the mint-green tropical blanket she used to cover her island.
You can best appreciate this land by bike or a walk on the historic Railway Trail; the tracks are long gone, but the 18-mile disjointed route connecting the nine parishes of Bermuda still spans its length. The dirt path sometimes gives way to stairs and bridges as it slips through sapphire coves, canopies of juniper and ribbons of sea. Social Cycles will rent you a mountain bike and take you as far as you want to go.
If you'd prefer to see the island on foot, a two- or three-hour walking tour with humorous and insightful British transplant Tim Rogers or his native wife, Mary, of Bermuda Lectures and Tours, offers a great way to explore one stop on the trail, Fort Scaur. The fort once protected the Bermuda Naval Dockyard from pirates and marauders with its hidden cannons.
"Although nations kept discovering Bermuda when their ships sank around it, no one claimed it until some British colonists sank their ship sailing to America and decided to stay," Rogers told us. He showed us one of the original gray, drab homes built by the British. Rogers described the labor entailed for building a home from this porous volcanic rock, which involved taking whole slabs from the earth, drying it for months and then curing it. This process sounds so complicated and taxing, it explains why it took so long for people to make a commitment to the island. Rogers also talked about the connection between methane hydrate and the Bermuda Triangle, and may have solved the mystery.
Take a break from your tour with a picnic lunch served on a grassy plateau next to Fort Scaur. A mosaic of blue ocean, bobbing boats and swaying fronds greets you, while gentle winds cool your exploratory efforts. You can request delivery of picnic baskets full of sandwiches and salads from various local restaurants like the exquisite one by Karsten Krivenko, head chef at Utopia, while Novel Tea may quench your thirst. These are the makings of a unique romantic excursion or a great way to relax with friends and colleagues.
If you'd rather learn about Bermuda on the fly, Segway Tours of Bermuda operates at the Royal Naval Dockyard. Although the British Navy pulled out of the dockyard in the 1950s, visitors can watch the reenactment of historic battles around remaining garrisons and fortifications. After your war games, stop for craft beer, dinner or dessert in one of the specialty restaurants. Or shop for diamonds rivaling those found on the midnight ocean, blow your own glass souvenir or indulge your inner Gucci in one of the many high-end shops.
If you're staying in Hamilton and can tear yourself away from the six world-class golf courses on the island, the Hamilton Princess can arrange for Island Tour Centre to cruise you over the water on a yacht tour. Choose from whale-watching in the winter or a tour of famous homes and hideaways. In the summer catamarans take you to play on secluded beaches. Along the way, the tour company supplies an island favorite, the Dark and Stormy — much more fun to sip than the weather for which it's named — as it steers you from shore to shore.
Another wonderful area to explore is the Bermuda Aquarium, Museum and Zoo. According to Dr. Ian Walker, principal curator, only rescued animals live in the zoo. Dr. Walker shared this after coming back from administering first aid to an injured duck. Although some animals are born inside or come from other zoos, they are released back into their natural homes if they recover. A guided tour fills you with cocktail party trivia such as the fact only flamingos remain outdoors during a hurricane. They stand, single file, beside a tree from largest to smallest and rotate with the wind as it shifts direction. You can also meet Galápagos tortoises Crooked Nose and Sally, who are 100 and 50 years old, respectively. You'll be happy to learn Shirley Temple rode Crooked Nose when she was 10, and Sally is finally old enough to get busy with her man. Just a short ferry ride from the zoo, the BAMZ also owns the private, seven-acre Trunk Island, where zoologists hold summer camps for visiting children and locals. It's also available to rent for conferences.
In between the island above and the island below lies a three-mile system of caverns called the Crystal and Fantasy Caves. These formed about 2 million years ago. As ocean levels rose, much of the enclosures and surrounding stalagmites and stalactites became submerged. A couple of local boys found it when they lost their ball playing cricket. You can imagine their bravery as you descend into the once-dark caves. Today you can take stone stairs onto a pontoon bridge that rises and falls with the tide and share some dramatic Instagram selfies.
Once causing tragedy for ancient shipwrecked sailors, the hidden reefs surrounding Bermuda offer passage into a kaleidoscopic wonder world for snorkelers and divers. If you stay at the Fairmont Southampton, a hotel shuttle can take you to its private beach to snorkel offshore through blue-tinted water, or book a dive trip through its on-site Dive Bermuda shop. A good location to revive your ocean skills is Southwest Breaker, which is like sinking into an aquarium with the payoff only 30 feet below the surface. Or explore one of those unfortunate wrecks, with arguably the best-preserved being The Hermes, a World War II U.S. Navy ship resting on a sandy floor only 70 feet underwater.
As the sun loses its light, explore a middle world inhabited by those who cannot rest. Hear their stories in the port town of St. George's. With rays of street lamps stabbing through drifting fog, visit graveyards with the team at Haunted History and watch as actors lament their fate. Then try not to scream as you accidentally bump into some of those restless spirits.
Whether your own spirit is drawn to the multilayered landscape of Bermuda for a long weekend or an extended trip, arriving is like stepping out of a black-and-white world into a Technicolor tapestry. And nothing needs to explode to see it happen.
Bermuda Info to Go
Flights take a little more than two hours from the U.S. East Coast to L.F. Wade International Airport in St. George's, Bermuda. Visitors cannot rent cars in Bermuda but can rent scooters or electric two-seat Twizy vehicles. Taxis are regulated by the government.
Where to Stay in Bermuda
FAIRMONT SOUTHAMPTON Tee off at award-winning Turtle Hill Golf Club or visit the private beach to ride a stand-up paddle board and observe rainbow sea life clear to the bottom of the protected cove. 101 South Shore Road, Southampton $$$$
HAMILTON PRINCESS Enjoy a drink from the infinity pool bar while waving to friends sailing the harbor. Walk the posh interior to enjoy the extensive art collection. A favorite of Mark Twain, who read his stories to fans here. 76 Pitts Bay Road, Hamilton $$$$
THE LOREN AT PINK BEACH European elegance meets chic Bermudan style in this new oceanfront boutique hotel. Each room has a private balcony to savor those ocean hues. Tucker's Town $$$$
Restaurants in Bermuda
MARCUS' Created by Marcus Samuelsson of New York Red Rooster fame, the restaurant occupies a former ballroom where Bermuda high society mingled. Ocean views, an open kitchen and a central bar make for a fun, casual evening. Hamilton Princess, 76 Pitts Bay Road, Hamilton $$$$
VILLAGE PANTRY After visiting the Bermuda Aquarium and Zoo, grab an organic bite at the outdoor patio. With plenty of gluten-free and paleo options, it offers a tasty way to stay healthy on your trip. 8 North Shore Road, Flatts Village $$$
WOODY'S SPORTS BAR This relaxing, local hangout serves one of the best fish sandwiches on the island. Order it on raisin bread, the Bermudan way. Only local fish is served, so the menu changes daily depending on what is caught. 1 Boaz Island, Somerset $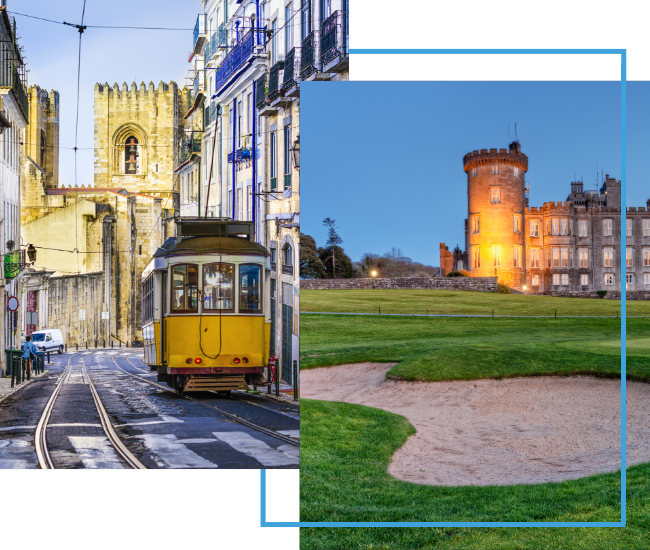 FX Excursions
FX Excursions offers the chance for once-in-a-lifetime experiences in destinations around the world.
Explore Excursions
Mazatlán, Mexico, has long been an attractive home destination for Canadian and American retirees, but, in recent years, young, digital nomads have also discovered the charms of this coastal city, finding inexpensive accommodations, beautiful weather and plenty of bandwidth for working remotely. The laid-back beach scene definitely eases the transition of relocating to Mexico's West Coast.
Sponsored Content
Learning more about our readers' travel habits and preferences ensures Global Traveler delivers the content you desire. As the travel industry has adapted and changed over the last few years, it's more important than ever to connect. To best meet your short- and long-term travel content needs, please help us!
For its third year, Global Traveler awards the airline, cruise line and hotel brand best representing diversity, equity and inclusion within the travel industry. Over the past year Global Traveler analyzed many airlines, cruise lines and hotel brands to determine which companies prove most committed to changing the world through diversity and inclusion.