In terms of popularity, culture and sheer feistiness, Barcelona is Spain's most vital city, a European standout and a worldwide source of municipal inspiration. Lacking the staggering physical history of top-shelf Euro-destinations such as London, Paris and Rome, Barcelona has nevertheless catapulted into a legendary tourism and business destination, pulsating with potential and instilling wretched envy in cities of comparable size.
Pre-history details of Barcelona, capital city of the autonomous Catalonia region, still elude historians. The city is known to have evolved from a small colony into a Roman military camp around 15 B.C. near the area where City Hall sits today on Plaça de Sant Jaume (Saint James Plaza). A steady period of growth ensued, driven in part by the city's excellent harbor. Being party to the same regional shuffling of power and occasional uninvited conquerors that enlivened the Iberian peninsula for 1,000 years, Barcelona nevertheless soldiered on and occasionally thrived until an ambitious dynastic movement — ultimately including territory in parts of present-day France, Valencia, the Balearic Islands, Sicily, Sardinia, Malta and even Athens — peaked in the 15th century. A regrettable union with the kingdom of Castile, banking failures, fierce market competition from the Genoese and a series of peasant rebellions devastated the region thereafter.
Though a slow recovery through trade with the Americas started in the late 1700s, wild prosperity didn't occur until the turn of the 20th century when the city's already churning industrial revolution kicked in the afterburners. The city's population doubled between 1900 and 1930, exceeding 1 million inhabitants. After languishing under Franco's boot for nearly four decades, Catalonia's regional identity swelled with talks of independence that resulted in the Statute of Autonomy — enacted in 1979 and renewed in 2006 — a victory that didn't nearly satisfy hardliners, but over time seems to have found large-scale acceptance.
Barcelona was seeing a modest upturn in tourism and investment before the 1992 summer Olympics — arguably any Olympic host city is going to show a surge in investment, business and visitors — but Barcelona took its moment at the sporting center stage and turned it into a perpetual-motion growth machine. The city's $8 billion worth of infrastructure improvements sparked a steady stream of hotel and tourism investment, including the development of one of the Mediterranean's principal ports and of Spain's second-largest airport. Visitor numbers nearly doubled in the ensuing decade (3.5 million in 2002) and almost doubled again by 2006 (6.7 million), about 52 percent of whom entered the country for business purposes.
Diversified, fashionable and well aware of it, Barcelona is pounding the economic indicators out of similarly sized European metropolitan areas. Contrary to the stereotypical Spanish propensity for casualness and repose, Barcelona enjoys a cherished aura of professionalism and efficiency. Highly specialized manufacturing sectors have emerged from the ashes of the 19th and 20th century industrial heyday, focusing on the automotive, consumer electronics, chemical and pharmaceutical, food and energy industries. Most of Barcelona's products are made for export, an effort that, by pleasant coincidence, has been vastly streamlined. Much to the chagrin of Marseilles and Genoa, Barcelona's port has re-established itself in the region with the recent passing of the Spanish Ports Law, granting more control and independence to the Port Authority. Meanwhile, stalwarts such as tourism, trade, medical services and advertising are going strong, with highly qualified workers streaming into town to fill positions in rising sectors such as aerospace, biotechnology and audio-visual production
And it's not just the big boys who are cleaning up. The region's varied small and medium-sized companies, or SMEs, are among the "pillars" of t he economy, according to City Hall. There are more than half a million SMEs in Catalonia, which represents 99.79 percent of all the companies in the region, providing 75 percent of all employment and contributing 65.6 percent of the area's earnings. Not surprisingly, 77 percent of all SMEs in Catalonia have hunkered down in Barcelona.
And why not? According to Cushman & Wakefield's 2006 annual survey of Europe's top 33 cities for business, Barcelona edged out Brussels for the No. 4 slot, after London, Paris and Frankfurt. This, after leapfrogging Amsterdam to take the No. 5 position in 2005. (Barcelona was ranked No. 11 in 1990, the survey's first year.)
With Barcelona's might, Catalonia has become the most important industrial sector in Spain as well as leading in strategic, high-tech sectors. In 2005, Ernst & Young's European Investment Monitor pegged Catalonia fourth among Europe's top-performing regions. In the first quarter of 2007, Catalonia's gross domestic product grew by 4 percent, crowning a period of steady growth that started in 2001. Leading the charge was the recovering industrial sector, construction and the continuing advancement of services. Drilling down, Barcelona's contribution to these overall numbers has been enormous. Home to just 4 percent of Spain's population, the city contributes 14.29 percent to the country's GDP.
Want more statistics? Chew on these: In 2003, Paris' Chamber of Commerce gave Barcelona the nod as the second most interesting region in Europe for foreign investment. The next year, FDI Foreign Direct Investment magazine declared Barcelona the best European city in which to invest. Finally, the 2005 European Studies Monitor report published by Cushman & Wakefield, Healey & Baker, ranked Barcelona No. 3 in the perception of European businesspeople as the ideal city for companies and No. 1 in quality of life for workers for the seventh year in a row.
Touting itself as the business gateway between the Iberian Peninsula and the rest of Western Europe, while undisputable, has ironically started to hurt the city. Inflation driven by the growing, highly paid workforce and the year-round march of tourists has caused property values and prices to soar — a simple coffee and pastry in the center will cost you nearly $6, more than in Paris or Rome. In 2007, Barcelona shot into the 31st position of the 50 most expensive cities in the world, according to a cost of living report by the global firm Mercer Human Resource Consulting. (For the record, Madrid rocketed up to No. 26 — neither city had made the top 50 in 2006.)
On an even more somber note, local politics has been embroiled in incessant rumors and tribulation. Lingering bitterness over a 2000 scandal involving misappropriated E.U. development funds stews on, along with the current fervor over a proposed underground high-speed passenger and cargo rail line through the heart of the city, decried by both irate residents and concerned civil engineers fearing for historic sites. The public relations backlash has been understandably harsh. Barcelona natives and expats alike weave vivid images of childlike, self-serving city politicians who make critical decisions at whim, flip-flop when it's personally advantageous and ignore the pleas of the people. Barcelona's mayor, Jordi Hereu, has his own viewpoint on the subject (see last page).
---
LODGING
HOTEL ARTS
At 44 stories, Hotel Arts is the tallest building in Spain. Located on the waterfront, all its 483 guestrooms have terrific views of Barcelona's skyline or the sea. Modern and surgically clean, rooms are equipped with Bang & Olufsen audio/video components as well as lavish toiletries exhibited not unlike a Neiman Marcus display case. Guests staying in the opulent apartments and suites have full kitchens, butler service and access to a fleet of complimentary Mini Coopers. Spa services are provided by Six Senses and the meeting facilities are underscored by a staffed business center. The hotel's five restaurants include Arola, with a menu designed by 2-star Michelin chef Sergi Arola and live DJed music at night. $$$$
HOTEL ARTS
Marina 19-21
tel 34 93 221 1000
http://www.hotelartsbarcelona.com
RAFAEL HOTEL CASANOVA
The 124-room boutique-style Rafael Hotel Casanova offers sleek, contemporary accommodations less than half a mile from Plaza de Cataluña, the heart of the city, and its grand boulevard Paseo de Gracia. Stylishly modern guestrooms are smallish, but well equipped with high-speed and wireless Internet access, satellite TV and flat-screen LCD TVs. Opened since October 2007, the hotel's new dining venue, Mexiterranee, showcases the talents of chefs Jaume Brichs and Eric Anguiano in a blend of Mexican and Catalan culinary traditions. $$$
RAFAEL HOTEL CASANOVA
Gran Vía de Les Corts Catalanes 559
tel 34 933 964 800
http://www.rafaelhoteles.com
NH CONSTANZA
Opened in February 2007, the Constanza is located in Barcelona's business district, somewhat distant from the best parts of the city, but equally distant from the noise and exhaust fumes. Designed in part by world-renowned architect Rafael Moneo, the guestrooms are modern and all hard angles, with wood and mirror-finish surfaces. The hotel has two restaurants, including Nhube, designed by Michelin-star chef Ferrán Adriá; a modest Elysium-run spa; a rooftop pool and sun deck; and abundant meeting facilities. The complimentary buffet breakfast is overwhelming, and the tiny business kiosk is adequate, though distractingly near the bar. $$$
NH CONSTANZA
Calle Deu i Mata 69-99
tel 34 93 281 1500
http://www.nhhotels com
---
DINING
TORRE D'ALTA MAR
Evoking the sensation of being in a very fancy birdcage, the Torre D'Alta Mar is perched 246 feet aboveground atop the Torre de San Sebastián, providing a 360-degree view of the city and sea. This is one of Barcelona's finest restaurants, with a seafood-centric menu so sumptuous that prices have been wisely omitted. A stunning fixed-price dinner menu (without wine) rings up at $122, while a midday offer — 60 minutes for 60 euros (about $81) — makes a meal here slightly more accessible. After dessert, step directly onto the cable car that inches serenely across the harbor. $$$$
Passeig Joan de Borbó 88
tel 34 93 221 0007
http://www.torredealtamar.com
CA L'ISIDRE
This family-owned, traditional Catalan restaurant is slightly off the beaten path, but on the right track for food, service and value. The lengthy menu of fish and meat changes daily depending on what caught Papá Gironés' eye at the market that morning. The dessert options are lengthy, but they don't hold a candle to the sheer weight of the wine list, which thuds onto the table with authority. Alternatively, the homemade cider (all you can drink!) goes down easy and kicks harder than a frightened mule. $$$
Calle Les Flors 12
tel 34 93 441 1139
http://www.calisidre.com
TAPAÇ24
Deviously hidden in a poorly marked basement, TapaÇ24 veritably dares you to dine there. The cramped and noisy café/sushi bar-style dining room is staffed by servers short on patience, the standard menu is printed only in Catalan, and even if you could read that, the daily handwritten menus are illegible (bring a local with you or print a copy of the English menu off the Web site). Yet this is by far the most savory and creative Catalonian tapas around. Creations like the McFoie-Burger, "Bombes de Barceloneta" (Barcelona spicy meatballs) and calamari in red wine have locals clambering over each other for a seat. $$$
Carrer de la Diputació 269
tel 34 93 488 0977
http://www.tapac24.com
---
INFO TO GO
Barcelona Airport (BCN) is eight miles from the city center. Depending on traffic, a taxi ride will run about $34. A train connection to the airport runs from several Barcelona subway stations, departing every 30 minutes between 6:30 a.m. and 10:15 p.m. The trip takes 17 to 24 minutes and costs about $3. The Aerobús service to and from Plaza Catalonia runs from 6:30 a.m. to 11:15 p.m. and costs about $4.70. Major car rental companies are located at the airport.
---
DIVERSIONS
There are few places in Europe, even on Earth, that can match the nightlife options in Barcelona. Dry Martini (Aribau 162-166, tel 34 93 217 5070) is an excellent upscale cigar-smoking cocktail bar/lounge bedecked in mahogany and lavish displays of expensive booze. The bar at Hotel Omm (Rossello 265, tel 34 93 445 4000) attracts a stylish, international crowd. A bit away from the center, Elephant (Paseo de los Tilos 1, tel 34 93 334 0258) hosts a steady schedule of classy theme parties to a backdrop of beautiful Arabic, Hindu and Thai décor. Adjacent to Hotel Arts, CDLC (Passeig Maritim 32, tel 34 93 224 0470) is a beachside chilled lounge and restaurant that transforms into a dance space after midnight. Finally, bring your fist-pumping vigor and airline-issue earplugs to Marsella (Calle Sant Pau 65, tel 34 93 442 7263), a classic grunge bar — one of the city's oldest, with what seems to be original décor — attracting mostly young locals and noisy tourists. (Go easy on the absinthe.)
---
Checking in With Jordi Hereu, Mayor of Barcelona
Global Traveler: It never ceases to amaze me how much Barcelona develops between each of my visits. Post-1992 Olympic momentum aside, to what do you attribute this enviable growth, and can the city continue at this pace?
Jordi Hereu: What Barcelona has done is to go out into the world and make things happen for itself. It's about developing a strategic plan and making it work. Today, cities compete globally for investments and talent, so we know Barcelona has to be one step ahead of the rest to stay among the world's best. That enterprising spirit is at the heart of our progress. But so too is the participation of the city's civil society, meaning residents and other key stakeholders. Right now at City Hall we are preparing a new strategic plan for the city to take it up to 2011. One of its cornerstones is [considering] the say of business and commerce, but especially civil society. This sort of participative model of city development means we can achieve quality growth.
GT: Many locals are talking about the controversial high-speed Eurostar underground train line that will cross the city directly under the famed Sagrada Familia cathedral. What's the current status of this project?
JH: We appreciate the concerns of local people, and I have demanded the application of stringent safety measures on the tunnel construction. It's a question of excellence in civil engineering, nothing more. But what will be seen by 2012 is a state-of-the-art train network linking Barcelona to Paris in just over four hours. That's the sort of progress that Barcelonians demand, and international businesses too.
GT: Travelers are reporting that Barcelona has become prohibitively expensive, even just for a short visit. What effect, if any, is this having on the local business climate?
JH: Barcelona is attracting record levels of tourism, especially in the globally competitive congress, convention and incentive travel sector. We are a cosmopolitan international city that offers excellent value for money.
GT: What Barcelona industries should we watch in the coming years?
JH: The future for Barcelona is in high-end, value-added industries based on knowledge-rich activities. We are positioning ourselves in ICT [information and communication technology], the biotechnology and medical sectors, space and aeronautics, energy and research, and media. We are also expecting quality growth in tourism, pharmaceuticals, design and car production.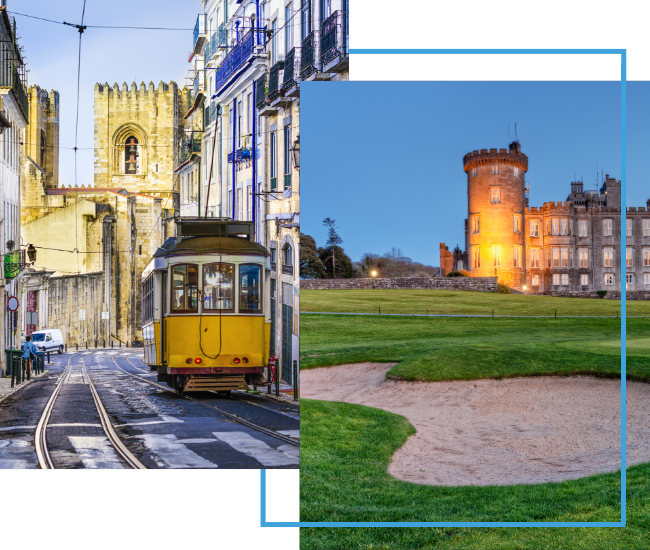 FX Excursions
FX Excursions offers the chance for once-in-a-lifetime experiences in destinations around the world.
Explore Excursions
It's time to start dreaming of your next trip. Here's some destination inspiration for you. Take a visual journey through these U.S. Christmas markets with us.
Sponsored Content
From the moment you step onboard Air Tahiti Nui's Tahitian Dreamliner, you will be transported to The Islands of Tahiti. The French Polynesian carrier considered every detail to awaken its passengers' senses, creating the feeling you are already on the Islands while 30,000 feet in the air.
Everyone loves a good Christmas tree, but these iconic hotels around the world take it one step further with designer-styled trees illuminating lobbies and public spaces, wowing all who enter. From Lela Rose to Louis Vuitton, don't miss these ultra-luxury trees redefining tree decorating as we know it.