Maybe it's because 40 percent of Atlanta was destroyed during the Civil War in 1864 and was forced to rebuild from its ashes. Or maybe it's due to later generations of visionaries who developed a racetrack into the world's busiest airport, a soft drink into the world's most recognized brand and a hot Southern city into host of the Centennial Summer Olympics. Whatever the reason, this capital of Georgia is perpetually growing and reinventing itself.
In 2017 two major sports stadiums opened: Mercedes-Benz Stadium, home of the Atlanta Falcons, Atlanta United and the 2019 Super Bowl; and SunTrust Park, home of the Atlanta Braves. Hartsfield-Jackson Atlanta International Airport ushered in a $6 billion, 20-year renovation project. The airport also announced plans for the addition of an InterContinental hotel on its campus. Engineering a $55 million renovation, the Georgia World Congress Center increased its convention space to 1.5 million square feet with the completion of its 100,000-square-foot Exhibit Hall BC project and will break ground on a high-rise, 4-star Signia by Hilton this spring.
While many residential areas in the city maintain their charm with elegant homes, tree- lined streets and sidewalks, Atlanta's commercial corridors remain in a constant state of change. Former industrial areas and warehouses now host apartments, condos, restaurants and retail. This includes the Westside Provisions District, which helped launch the industrial adaptive re-use trend in 2008.
Nearby lie Star Metals, a $330 million development that features state-of-the-art luxury residences, and the Goat Farm Arts Center. This abandoned textile mill where kids used to visit roaming goats later morphed into a ramshackle arts compound with rentable studio and event space. (The goats eventually were evicted due to rowdy behavior.) The site plans to transform into a live-work community with an arts-based hotel, restaurants, commercial building and new home for The Museum of Contemporary Art Georgia.
Perhaps nothing changed the soul of my hometown as much as the Atlanta BeltLine, which won the hearts of residents and visitors alike who flock to its paths. Envisioned by Ryan Gravel for his Georgia Tech master's thesis and eventually adopted by the city, this system of multiuse trails and parks was constructed on a 22-mile loop of former railroad corridors. Several segments are open, with full completion slated for 2030.
One popular section runs between Ponce City Market and Krog Street Market, two successful mixed- use developments with food halls. Ponce City Market, constructed in a former 1 million-square-foot Sears building, offers offices, residences and one of the city's most popular rooftops. A much smaller development, Krog Street Market sprang up in an abandoned Atlanta Stove Works warehouse and features bars, restaurants and retail.
Gravel said of the BeltLine, "I've been surprised by how much people love it and want to be a part of it. People want to move there, and companies want to be on it. The BeltLine came to life because people in the city fell in love with the vision it showed for the future."
Illuminarium — an experiential attraction and immersive event space — opens this summer on the BeltLine just south of Ponce City Market. The multipurpose space converts into a transformative venue for corporate and social events, presentations and celebrations of all kinds, using digital technology (with Panasonic as its partner) to create communal, connective entertainment meant to be enjoyed as a shared human experience.
Chris Carter, founder and partner, Vantage Realty Partners, said Atlanta struggles with the same issues other cities encounter as residents reverse the mid-20th- century exodus and move back into the cities. "Many city planners and developers still only know the practices that were instituted in the suburbs over the last 70 years, and they're trying to force people in the city to abide by them, always with the automobile as the main priority, not the pedestrian. We're seeing it slowly change, and there are a few young developers in Atlanta that have put out some amazing projects of revitalized buildings."
On the hotel front, Atlanta anticipates a groundswell of 10,000 rooms in the coming years — most of them in the 4- and 5-star segments. With 18 scheduled launches bringing 2,789 new rooms, 2021 will be a banner year; and 2022 will continue the trend with 16 debuts and 3,817 rooms. Five properties with 963 rooms are in the pipeline for 2023, followed by nine hotels with 2,497 keys in 2024 and beyond. Marriott's Element brand boasts four ongoing projects that will add 626 rooms to the city. Other debuts will include Dream Atlanta Buckhead (2022), Hyatt Centric Buckhead (2022) and Thompson Buckhead (late 2021). Watch for a late summer opening of Epicurean Atlanta, a culinary- focused hotel featuring conference facilities, a theater kitchen and sky terrace. The hotel will occupy one of three towers at the sparkling new 1105 West Peachtree office and condo redevelopment.
SCENIC DRIVES
Travel just 90 minutes northeast of Atlanta and you'll reach the scenic Southern Appalachian Mountains. For the best views, take the Russell-Brasstown Scenic Byway, a 41-mile loop inside the Chattahoochee National Forest. You'll pass through a section of the Appalachian Trail, which starts in Georgia and offers lots of opportunities for hikes to view waterfalls. The twin waterfalls of Anna Ruby Falls are a highlight. Make a stop at Brasstown Bald, on top of Georgia's highest mountain. A 360-degree observation deck at the visitors center offers magnificent views of the surrounding mountains. You'll think you're in Bavaria when you pass through Helen, Georgia's replica of an Alpine village.
Start the 55-mile loop of the Meriwether-Pike Scenic Byway in Warm Springs, Georgia, a little more than an hour south of Atlanta. Begin with a tour of the Little White House, a retreat for President Franklin Delano Roosevelt, who traveled there looking for relief for his polio-stricken legs in the warm natural spring waters. The tour continues to Gay, where you can see a large gristmill at Jones Mill, located in what was once a thriving farm community. Another highlight: the 391- foot Red Oak Creek Covered Bridge in Woodbury.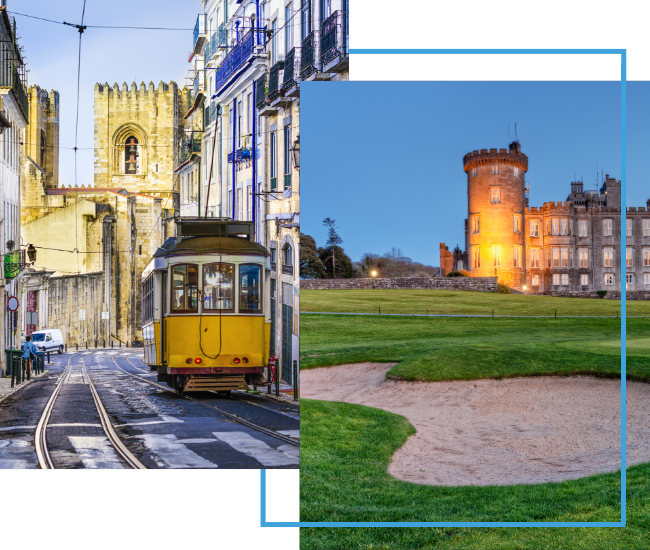 FX Excursions
FX Excursions offers the chance for once-in-a-lifetime experiences in destinations around the world.
Explore Excursions
Think of Tokyo and your mind may wander to the neon signs and bustling crowds of Shibuya and Shinjuku, or the tranquility of the Meiji Jingu shrine, but this huge city offers much to those who explore away from the main tourist areas.
Sponsored Content
From the moment you step onboard Air Tahiti Nui's Tahitian Dreamliner, you will be transported to The Islands of Tahiti. The French Polynesian carrier considered every detail to awaken its passengers' senses, creating the feeling you are already on the Islands while 30,000 feet in the air.
Automotive museums of all sizes will always capture the imaginations of car and racing aficionados. However, the best deliver a lot of substance beyond the machine itself. Some place an emphasis on science and technology or history, while others display iconic cars from film and television. Museums established and operated by the world's top automakers (think Mercedes, BMW, Audi and Porsche in Germany, and Toyota, Honda and Nissan in Japan) have built-in followings.