Biscotti
This gets our vote for the coolest gizmo to come down the high-tech highway in a while. Biscotti transforms your TV into a high-definition video phone — yep, think James Bond talking to M, or Austin Powers chatting with Basil. Simply connect Biscotti to your TV and start making calls to family and friends on their TVs, computers, tablets and smartphones (they'll need a Biscotti to connect via TV, but they can use Google Talk on their computers or smartphones). You can connect with anyone, anywhere, and it sets up in minutes. Biscotti's high-definition camera and microphone capture the entire room — no head-and-shoulders-only view — so you and yours can move about freely. And like your voice phone, Biscotti is always on — you can even receive calls while watching TV. No computer or phone line is required; just a WiFi connection and an HDTV. Best of all, it's a one-time price, no monthly fees. $199. www.biscotti.com
iTwin
Here's a very plugged-in idea, quite literally: a "limitless" secure USB device that lets you access, edit and share files and media between any two online computers anywhere in the world. An entirely plug-and play solution, it works like this: Plug one half into an online computer, plug the other half into any other online computer and — voila! — the two computers are connected, allowing you to securely access your entire hard drive. And unlike USB drives, iTwin lets your data stay safely at home (or in the office). When you're on the road, you can use it to move copies of files from your laptop to your home or office computer, or you can work on a presentation with a colleague half a world away without having to email multiple versions back and forth. If you're traveling and taking lots of pictures, you can free up your SD card by moving files onto your laptop and transferring them back home. Upload files to the office from wherever you are — no configuration or login required. It's as secure and simple as data transfer gets. There's even a remote-disable feature, so you can rest assured that your data is safe, even if you lose youriTwin device. $99.
Bose SoundLink Wireless Speaker
The audio aficionados at Bose have debuted this sleek portable speaker that connects wirelessly to any Bluetooth-enabled device. You can stream music from a smartphone or tablet with the touch of a button. The SoundLink speaker's audio impact defies its size. Four low-profile neodymium transducers for clear high- and mid-range frequencies combine with new dual-opposing passive radiators — designed with a patented waffle-shaped surround — for rich, deep, low notes. Vibration is eliminated, turning the energy into acoustic power. At less than 2 inches thick and no bigger than an average book, it's super-portable. For instant setup, its integrated cover unfolds into a stand: Open the cover, and the system is ready to be played; close it, and the system shuts off. A rechargeable lithium-ion battery supplies power for more than eight hours at typical listening levels. Designed to resist sand, wind and moisture, it's crafted from automotive-grade chrome, so it will survive repeated drops. $299.95. www.bose.com
Kensington AbsolutePower Charger
It's often said that absolute power corrupts absolutely . . . but in this case, it's a very good thing indeed. Kensington's AbsolutePower Laptop, Phone, Tablet Charger is the first compact charger of its kind with simultaneous triple charging ability, providing 100 watts of power to charge your laptop and two USB devices simultaneously. The smallest, lightest, most powerful charger in its class, this industrial-strength charger is compatible with top-selling Windows-based laptops; smartphones like the iPhone, BlackBerry Torch, Sony Experia and more; and iPad, iPad 2, BlackBerry Playbook and Samsung Galaxy tablets. Now you can leave that big tangle of multiple chargers behind. $119.99. www.kensington.com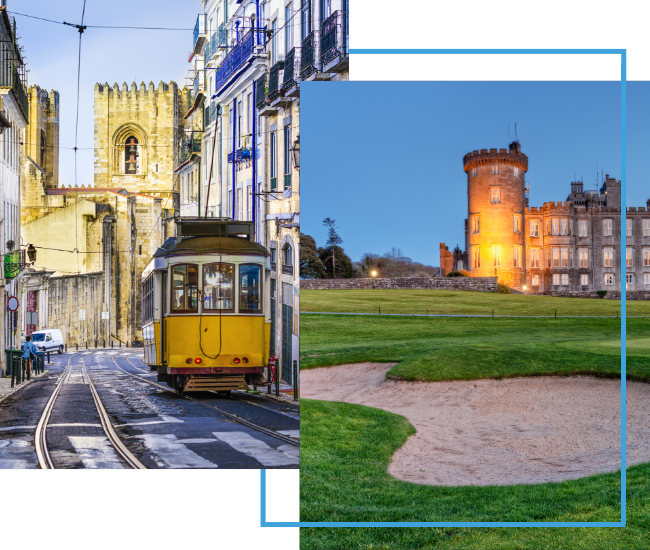 FX Excursions
FX Excursions offers the chance for once-in-a-lifetime experiences in destinations around the world.
Explore Excursions
One thing  surprising about the Prince Edward Island capital is its abundance of shops specializing in affordable, fashion-forward jewelry rendered in sterling silver, vermeil, 14K gold and semi-precious stones. Whether you prefer delicate pieces or bold wearable art, you can be assured the pieces for sale are inspired by the maritime island setting and, therefore, specific to the place where they are created. Here are a few shining, woman-owned examples:
Sponsored Content
Learning more about our readers' travel habits and preferences ensures Global Traveler delivers the content you desire. As the travel industry has adapted and changed over the last few years, it's more important than ever to connect. To best meet your short- and long-term travel content needs, please help us!
Norway, a haven for visionary artists, architects and designers, showcases an exceptionally diverse array of cultural attractions. This year, the country commemorates exciting milestones and unveilings captivating enthusiasts of the arts, from iconic scenic routes to new museums to gallery openings. Up Norway features these new offerings in personalized itineraries catered to aesthetes.