ARCHOS G9 Tablets
This new range of tablets from tablet leader ARCHOS features an unrivaled com­bination of speed and storage. Powered by Android 3.1 "Honeycomb," the lat­est Android version, they come with Google's full suite of mobile applications and Android Market, giving you access to more than 200,000 applications including games, news and books. They also feature a unique 3G-ready solu­tion that means you don't have to choose between WiFi and 3G models at purchase: The G9's concealed USB port, when paired with the ARCHOS 3G USB Stick (sold separately), enables 3G connectivity. A 1.5 GHz dual-core OMAP 4 processor means 50 percent more raw computational power over comparable models and reduced page load time. They're also the only tablets able to decode 1080p H264 High Profile videos. Available in 8-inch and 10.1-inch. $279–349. www.archos.com
HeyWire
Another fab idea whose time has come: HeyWire, a social messag­ing hub that combines free texting (SMS) from a U.S. phone number with Twitter and Facebook, all within one free app. You can text, tweet and Facebook-chat with friends and family in 45 countries, including the United States, Can­ada, Mexico, China and regions like the Caribbean and South and Central America. HeyWire works over WiFi, so you won't encounter expensive international roaming fees — you can text and chat while you're sipping coffee in an Internet café or relaxing by the pool at your hotel. It also lets you group-message across existing social networks — send out one message simultaneously to friends on Facebook Chat, Twitter or via text messaging, eliminating the need to switch apps. And since HeyWire works over WiFi, all you need is an Internet connection to keep in contact while you're in the air. Want to drop off the radar for a bit? HeyWire's SmartSMS auto-reply feature disables sound notifications and sends customized auto-responses to your friends, letting them know you will message them back soon, perfect for when you're sleeping, flying or driving. Available at the iTunes store or An­droid Market. Free. www.heywire.com
OfficeDrop iPhone app
This brand-new app tri­umphantly demonstrates that iPhone applications aren't just about playing blackjack and FarmVille: It actually turns your iPhone into a scanner. Just snap a photo of a paper document and upload it as a text-searchable PDF document within minutes. Once an item is scanned, you can browse the document, apply labels, search text using OfficeDrop's optical character recognition tech­nology, plus share and ac­cess documents from any­where with OfficeDrop's cloud filing cabinet. Best of all, it's free to download at the iTunes store, though you do have to sign up for an OfficeDrop account; and the aforementioned cloud filing cabinet gives you 1GB of storage and 50 pages of text-searchable scans per month. How cool is that? Also available for iPad and Android. Free (upgradeable from $9.99/month). www.officedrop.com
Verbatim Store 'n' Stay USb Drive
Talk about packing serious punch into a small package — this new USB drive is as wee as they come, literally about the size of a dime. But don't let its small stature fool you. It's as powerful as its brawnier competitors. Avail­able in 4GB, 8GB and 16GB storage capacities, it's designed to be left in your computer's USB drive for always-ready storage, protruding a mere 5 mm — just pop it out for quick, convenient file sharing. Compatible with most Windows 7, Vista, XP, 2000 and Mac OS 9 or higher systems. $19.99–59.99. www.verbatimstore.com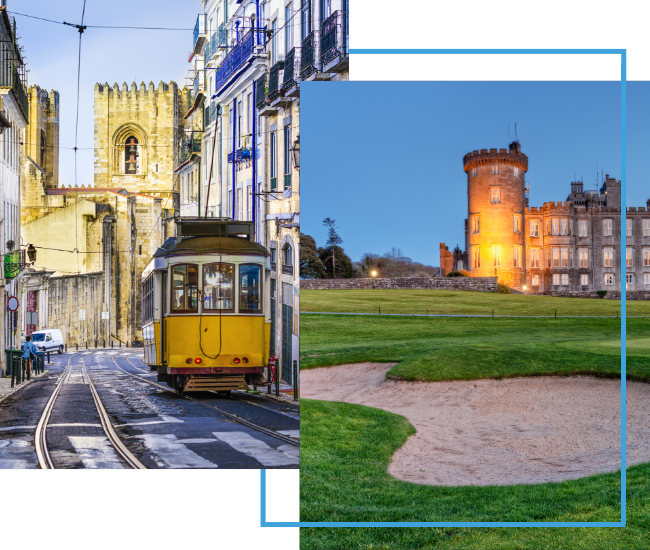 FX Excursions
FX Excursions offers the chance for once-in-a-lifetime experiences in destinations around the world.
Explore Excursions
Corsica with steep, gray cliffs overlooking the Mediterranean and sandy beaches attracting summer visitors, is a French-governed island sometimes confused with Sardinia and Sicily, Italian islands to the south. Fortunately, all three islands share the same love for good wine, food and sun-splashed beaches.
Sponsored Content
Learning more about our readers' travel habits and preferences ensures Global Traveler delivers the content you desire. As the travel industry has adapted and changed over the last few years, it's more important than ever to connect. To best meet your short- and long-term travel content needs, please help us!
If you're ready to do a little holiday catch-up with your besties, make a beeline for Conrad New York Downtown. The lobby metamorphosed into a holiday forest of heavenly scented, decorated Virginia Spruce trees. Make your first stop ATRIO Barista Station in the lobby for a complimentary hot spiced apple cider (until Dec. 3) or hot chocolate (Dec. 22­–24).