Name: Angela Foster-Rice
Title: Managing director, Environmental Affairs & Sustainability
Company, city: United Airlines; Chicago, Ill.
Number of employees: 82,000
Recent project: I had the honor to be part of an international airline delegation that engaged with governments to reach an agreement among 190 countries to regulate greenhouse gases from international aviation. The UN's International Civil Aviation Organization reached the agreement in October 2016.
First job: Working in my dad's pizza parlor washing dishes at age 12
Little-known fact about you: I enjoy choreographing dance performances with my kids; whether it's ballet, jazz or hip-hop, we have a blast.
Your Business
What innovations/initiatives do you foresee in the industry over the next years? Growing use of sustainable aviation biofuels that can significantly reduce carbon emissions from flying
What is the best career advice you've received? A quote by Anaïs Nin — "Life shrinks or expands in proportion to one's courage." So be confident and dive in!
What advice would you give someone starting out in the field? Learning to collaborate is essential. "If you want to go fast, go alone; if you want to go further, go together."
Angela Foster-Rice as a Traveler
Favorite travel memory or story: One of my most memorable business trips was a meeting among environmental leaders of international airlines that occurred in Kruger National Park. The discussions were intense and productive, which I attribute to being in the midst of a fantastic wildlife preserve that drove home the importance of protecting the environment.
One travel tip you cannot live without: Load up the travel apps! I use many apps that continue to innovate, including the United Airlines app (of course!), Uber, Google Translate and other trip-planning apps.
Best advice for business travelers: While I love my apps, don't get lost in your phone — always be aware of your surroundings.
About United Airlines
Tell our readers more about Eco-Skies at United Airlines.
Eco-Skies is United's commitment to the environment and to operating an environmentally sustainable and responsible airline.
We categorize our environmental work under four pillars: fuel efficiency and emissions reduction, sustainable fuel sources, sustainable products and waste management, and stakeholder and customer engagement. United had tremendous success in increasing fuel efficiency through fleet changes or modifications and various operational measures, which improved our fuel efficiency more than 40 percent since 1991.
There will continue to be incredible advancements in fuel efficiency for aviation, but to take aviation to the next level in reduction in carbon intensity, we believe sustainable aviation biofuel has tremendous promise.
Eco-Skies is also about looking closely at the journey of our customer and how we can provide an excellent product with a lower environmental footprint. One of our most recent programs has been recycling our unused first- and business-class amenity kits with the organization Clean the World for use in homeless and women's shelters. Beyond that, we're continuing to green our supply chain, from introducing sustainably sourced illy coffee to electrifying more of our ground service equipment that moves baggage and people around the airports.
What are the latest advances in alternate fuel initiatives?
Since 2009 sustainable aviation biofuels have gone from test flights to incorporation into everyday operations. I am proud to say United is an industry leader in sustainable aviation biofuels; we are the first U.S. carrier to integrate biofuels in our ongoing everyday operations at our Los Angeles hub.
Our agreement with AltAir Fuels is to purchase up to 15 million gallons of sustainable aviation fuel over three years. In addition, United recently invested $30 million in Fulcrum Bioenergy, a company that takes municipal solid waste (household garbage) and converts it to biofuels. United has the potential to co-develop up to five biorefineries with Fulcrum and purchase 90 million gallons/year for 10 years.
The environmental benefits of sustainable aviation biofuels are significant. Waste materials as feedstocks can also protect natural resources and turn waste into help with fuel diversification to protect against price volatility and protect energy security while contributing to a clean energy economy.
What are some of the biggest challenges in implementing green practices?
One of the biggest challenges is keeping the momentum going to grow sustainability practices. It's important to recognize progress isn't always a straight line at the same pace; it requires keeping your finger on the pulse of the broader company objectives and cost pain points in order to successfully move forward. I seek to foster the company sustainability vision and goals and recognize it's not just how fast we go but how far we go.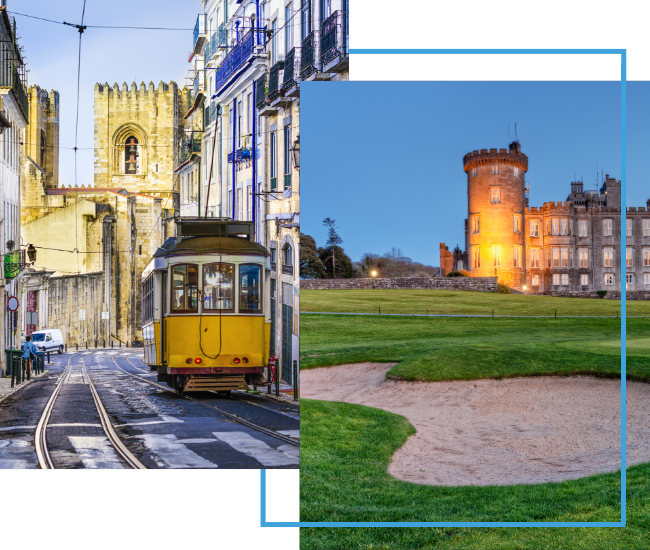 FX Excursions
FX Excursions offers the chance for once-in-a-lifetime experiences in destinations around the world.
Explore Excursions
Less than five years ago the world's first hybrid cruise ship, Hurtigruten Expeditions' MS Roald Amundsen, set sail for Antarctica in November 2019 with 450 passengers. The battery-hybrid-powered ship, named for the first man to cross the continent and reach the South Pole, was built specifically for voyages in polar waters. Its battery-hybrid power reduces the ship's consumption and CO2 emissions by 20 percent compared to equally sized ships.
Sponsored Content
United Airlines is in the midst of a major initiative to modernize its fleet over the next several years. After first announcing the plan in 2021, planes fitted with United's signature interior are finally beginning to appear across the airline's narrowbody fleet of Boeing and Airbus planes. United flyers are sure to notice these enhancements from the moment they step on board: Each new or updated plane sports remodeled seats, seatback entertainment screens for everyone, Bluetooth connectivity and more, all adding up to a better experience on every journey.
A few months ago, I flew Polaris business class on a United flight from Dulles (IAD) to Paris (CDG). It was only when I got to my hotel in Paris I realized that I didn't have my iPad or its bag or accessories. Since I had been working on it in the restaurant in the Polaris lounge and then went directly to the gate, I knew I either left it propped up on my table when I packed up or in my business-class seat. But what was the best method to alert the airline about my careless mishap and (hopefully) retrieve it? With spotty data and WiFi, searching for information on my phone was frustrating and slow. Here's what I learned from the anxiety-inducing experience (and unexpected ending) about what to do if you leave something behind on your flight: