THERE IS A CONSENSUS among some tourism insiders that we are experiencing a "new tourism."
According to the Washington think tank Center for Responsible Travel, or CREST, new tourists have a higher level of environmental and cultural awareness. The end result: They are more demanding and more able to influence and have their say on products they consume.
"Animal welfare in tourism has been pushed forward in large part due to demand by travelers," adds Samantha Hogenson, managing director, CREST. The organization's tagline is "transforming the way the world travels."
Studies released by CREST and other organizations indicate wildlife viewing rather than hunting has a bigger economic impact on local communities. It's smarter tourism. At the same time, quality outweighs quantity. Today's eco-conscious travel companies relying on clean environments and local communities for their trip packages limit group sizes to only a handful of guests. The results: offering personalized guest experiences while partnering with local suppliers to create jobs and, thus, reduce carbon footprints in remote areas.
"We talk about travel that actively contributes to the well-being of the environment and the people who are crucial in protecting the environment and benefiting from tourism," explains Ted Martens, vice president, marketing and sustainability, Natural Habitat Adventures in Colorado — a travel company known for its signature grizzly and polar bear encounters.
Eco-friendliness is like a three-legged stool, comprising environmental, social and economic pillars. "Ten years ago, having a focus on conservation and sustainability may have been more of a differentiator. These days the differentiator is if you are not doing something," adds Martens on the growing interest in eco-friendly travel from consumers.
Take a look at some of the eco-friendly travel companies on land and sea.
THE WORLD'S LARGEST hotel chain, headquartered in Bethesda, Md., keeps upping the eco-hospitality industry game. With a keen eye on sustainability — aiming to satisfy guests' needs while keeping the environment in mind — Marriott International's ecoconscious Element brand, created in 2008, now spans 22 properties worldwide with 72 more in the pipeline. In early 2019 Element will open in Cairo's upscale Heliopolis district. Slated to be the largest Element hotel in the Middle East and Africa, Element Cairo will be part of The Gate Project, the new, iconic, eco-friendly development featuring the largest housing, administrative and commercial facility in Egypt and the Middle East.
ITC Hotels, India's premier luxury hotel chain, ranks among the pioneers of responsible luxury and leads the way in the industry as it integrates green practices in contemporary design. Practicing sustainability for nearly 30 years, it remains the greenest luxury hotel chain in the world. Each of its 11 properties boasts LEED Platinum certification, and the company's office in Gurgaon was the world's largest LEED Platinum-certified building when it opened in 2004. Launched in 1975, ITC Hotels is carbon positive (11 years), water positive (14 years) and solid waste recycling positive (nine years). Water is 100 percent treated and recycled, reducing hotel water consumption by 50 percent over the last five years.
The world's first 100 percent carbon-neutral travel company believes in leaving small footprints. A leader in an industry of firsts, Natural Habitat Adventures offset all on-trip carbon emissions including employee travel in 2007, setting the groundwork for dozens of other companies now engaged in carbon offsetting. The Boulder, Colo.-based NHA, which began operations in 1985, is best described as "The Nature People" for its conservation-focused travel.
Known for life-affirming sustainable journeys, Big Five Tours & Expeditions for more than four decades has upheld a mission to deliver a luxury travel product while focusing on low-impact travel. Founded in Kenya, the birthplace of the safari, this adventure travel company stands at the forefront of sustainable luxury travel. "We also promote and support destinations such as Namibia, which has sustainability written into its constitution, and Costa Rica, which aims to be the first carbon-neutral nation," the company reports on its website.
Thomas Cook, the world's first travel agency — which created the first package holiday out of a sense of social responsibility more than 160 years ago — steps up to the tourism frontier plate again. Touted as an industry-leading initiative, the travel giant's new animal welfare policy released in December 2016 aims to crack down on illegal wildlife poaching and has been applauded by international wildlife charities like the Born Free Foundation.
THE OCEAN COVERS 71 percent of the Earth's surface. It's believed by 2050 more plastic than fish will inhabit the sea. The World Wildlife Fund reports in the last 30 years some ocean wildlife populations declined by nearly 50 percent. The threats facing the ocean are greater than ever.
The Cousteau Society has a simple motto: "Custodians of the Sea since 1943." Founded by the world's most famous ocean explorer, the late Jacques Cousteau — whose work saving marine life aboard the Calypso was chronicled in his legendary TV series The Undersea World of Jacques Cousteau — the award-winning organization of ocean conservationists works with local NGOs on marine conservation projects. A recipient of numerous high honors such as the International Environmental Prize from the United Nations in 1977, Cousteau also received the U.S. Presidential Medal of Freedom in 1985. In 1988 he was inscribed in the United Nations Environment Programme's Global 500 Roll of Honor for Environmental Achievement and received the National Geographic Society's Centennial Award.
Since its founding 14 years ago, The Ocean Foundation spearheaded projects worldwide. In the first 13 years the foundation gave more than $34 million to organizations in support of projects such as the Alaska Oceans Program and the Shipping Safety Partnership. The Ocean Foundation's president, sustainability pioneer Mark J. Spalding, designed the first-ever blue carbon offset program, SeaGrass Grow, enabling people to naturally offset greenhouse gas emissions in the ocean, known as blue carbon, by planting seagrass meadows. To date, the company reports the planting of 335,222 square feet of seagrass, offsetting 223,481 tons of carbon.
Royal Caribbean International committed to better clean water practices and works with partners like the World Wildlife Fund to emphasize ocean conservation efforts. An industry-first, fuel-efficiency software, seven years in the making, optimizes ship speeds and routes. The global cruise company appeared on Ethisphere's 2016 World's Most Ethical Companies list, a distinction granted to only 130 companies in 21 countries. Royal Caribbean introduced a Save the Waves initiative in 1992 to focus on emissions and waste reduction. Over the past decade, the cruise company built its most efficient cruise ships and reduced its greenhouse gas emissions by nearly 25 percent. In 2015, 17 ships reported 100 percent re-purposed waste on certain itineraries.
A finalist in the 2016 World Travel & Tourism Council's Tourism for Tomorrow Awards in the Environment category, Alcatraz Cruises operates the first hybrid ferry in North America and is regarded as a trendsetter in hybrid vehicles. Its parent company, California-based Hornblower Cruises, is a leading charter yacht and public dining cruise operator which created the revolutionary hybrid design, reducing fuel consumption by 75 percent by using solar panels, wind turbines and grid electricity.
Since its debut in 2005, AdventureSmith Explorations led the revolution in creating a completely carbon-free cruise experience. A global leader in small adventure cruises, the company, headquartered in Tahoe City, Calif., introduced the world's first carbon-free cruising program. Founder Todd Smith notes, "Through our Carbon Free Cruising campaign we will completely neutralize harmful carbon emissions created as a result of our guests' cruise travel."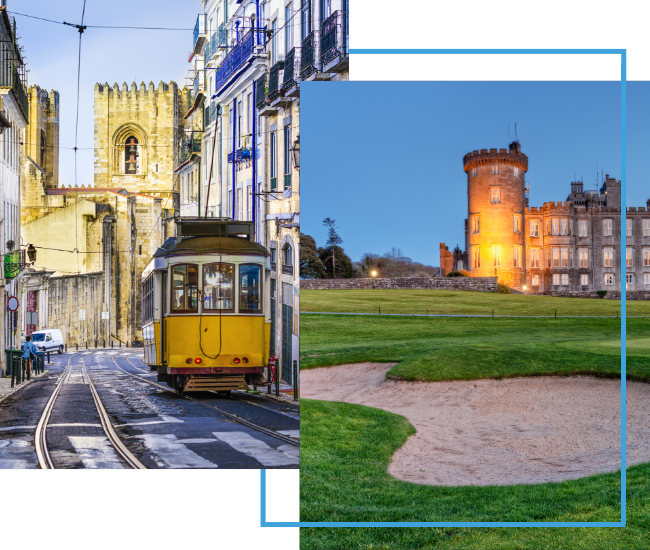 FX Excursions
FX Excursions offers the chance for once-in-a-lifetime experiences in destinations around the world.
Explore Excursions
This is a love story involving a frequent traveler, a swanky business-class lounge, Polaris seat 7A and palate-tempting libations.
Sponsored Content
Whether it's the people, the craic (fun) or the coasts, travelers always find something to love about the island of Ireland. What fills your heart?
This month head west — at least as far as California, where the second annual Crush It Harvest Festival will be held on the West Pavilion Lawn at The Estate Yountville. The festival is held on Oct. 7, beginning that morning and ending when the sun dips below the valley's horizon.