"You've got to be kidding," gasped one of my less impulsive, less-travel-obsessed friends. "You're going to walk around at half the cruising altitude of a 747, without oxygen?"
I hadn't really thought of it that way. If I had, I might have responded differently to the plea from my friend, travel photographer Nevada Wier. She was putting together a trek in the Peruvian Andes and looking for some friends to join her and share the costs. "Hope you can make it. It'll be great," she enthused in her email.
Okay, so I did have a few moments' hesitation and half-heartedly tried to come up with excuses — I couldn't afford it, I might expire from the high altitude or overexertion or both — but it was just too tempting. In the end, I told her to count me in.
It was only after I clicked on the send button that I began to panic. What was I thinking? I'm in fairly good shape, but I've lived my whole life at sea level and, though I'm an avid walker, I had absolutely no experience hiking in lofty mountain altitudes.
To assuage my rapidly increasing anxiety, I launched into a full-fledged training program. Every day for the next seven weeks, I walked four to 10 miles in the Santa Monica Mountains. Nothing can prepare you for extreme altitude except being in it, but at least I could assure that my legs were as fit as possible.
Finally the day arrived and, armed with a bottle of Diamox to help with altitude acclimatization, I jetted off to Cuzco, Peru.
In an effort to do at least a little altitude adjusting before setting off on foot, I had booked a couple of extra nights in the almost 11,000-foot-high city. It quickly became apparent that altitude was even more a force to be reckoned with than I'd imagined. With racing heart and labored breath, I spent my days slowly navigating the cobblestone streets of this lovely town.
All too soon it was time to hit the trail. My five trekking companions and I were met by our Peruvian guide, Manuel Luna. An experienced trekker, climber and guide, he explained that he would be leading us over a route that would reach heights of more than 16,000 feet. The first part of the trek would be in an area off the regular trekking route; the second portion would cover the more frequently trekked Ausangate Circuit.
We packed our duffel bags and ourselves into a van bound for our first campsite and the starting point of our nine-day adventure. Stuffed into the van with us were all the food supplies and our two cooks. The arrieros, or helpers, and their pack horses had traveled over the trekking route and would meet us at our first camp.
Eight hours over mostly unpaved and bumpy roads landed us in the tiny town of Phinaya, at the lofty height of 14,600 feet. Experiencing my worst altitude problems so far, I passed on dinner and huddled in my sleeping bag, my stomach churning.
I wasn't the only one feeling less than wonderful. By morning, the altitude had rendered a couple of my fellow trekkers tent-bound. So Nevada, a seasoned trekker, announced that we'd stay put for a day, in the hope that by the next morning we'd all have adjusted enough to at least be ambulatory.
It proved to be a good decision. At 8:30 the next morning, despite loss of appetite, queasy stomachs, pounding sinuses and nagging headaches, we all set off for our first day of trekking.
We climbed the hills with aching legs and oxygen-deprived lungs, stopping at the top to try to catch our breath while marveling at the views. We were surrounded by snow-capped mountain peaks, glaciers and green valleys filled with alpacas. The scenery was stunning, the silence blissful, the feeling spiritual.
Around mid-morning our cooks, Klever and Porfirio, sped past us on the trail, breathing as though they were at sea level. At noon, from the top of a rise, we spotted them next to a stream making lunch. Appetites still on the wane but grateful for a chance to sit down, we drank coca tea and nibbled half-heartedly on cheese and guacamole sandwiches.
Coca tea was a constant on the trek. Made from coca leaves, which are a long way from becoming cocaine, it has an herbal taste and is said to increase the absorption of oxygen in the blood, thus helping to combat altitude sickness. Locals chew the leaves to dull hunger pangs and relieve fatigue. Periodically Luna would pass some around, which we'd chew and then store in one cheek. Hard to say if they actually helped with altitude sickness, but anything was worth a try.
It was a short hiking day, and by mid-afternoon we were relaxing in camp beside a small lake rimmed by snow-peaked mountains. The area, known as Ccasccara, was one of our loveliest campsites.
After the arrieros had set up camp and we had organized our tents, we were called to tea, a daily ritual that took place in the "tea tent." As we snacked on cookies and crackers and drank coca tea, we commiserated about altitude-related problems and reminisced about the day's hike.
That night, the moon was almost full and the evening light golden, but it was cold. While days on the trail were mostly sunny — the temperature hovering around 60 degrees — once the sun went down, the temperatures plunged below freezing.
At first, I was mystified by a loud booming sound breaking the nighttime silence, but the mystery was quickly solved: It was the sound of avalanches on surrounding snow-packed peaks.
The next few days, we hiked over high mountain passes, the highest — Comercocha — registering on our altimeter at 16,300 feet. We walked along the sloping bank of the area's largest lake, Sibinacocha, and squished over spongy, swampy tundra.
My legs continued to ache, my sinuses throbbed and food was still fairly unappetizing, but I managed to get into a "Zen of walking," a sort of rhythm and mental attitude that transcended the minor discomforts of that wicked altitude.
Mountains and valleys fairly stumbled over each other, and around every turn there seemed to be another riveting vista. We spied an endangered vicuna silhouetted against a stormy sky, scanned the horizon for condor and shared fields with frolicking alpacas.
Above the tree line for the entire trip, it was amazing how accustomed we became to never seeing anything growing higher than a few inches. Tough survivors — tiny blue, pink and white daisy-like flowers — lay flat on the grass, along with the ubiquitous dandelion.
Occasionally, we came upon tiny enclaves of mud huts, low stone-walled corrals and fields of white and brown alpacas. The animals were tended by weathered, traditionally dressed Quechua-speaking campesinos (farmers).
Our next few days of trekking led to our climb over the area's highest pass, Palomani, rumored to be almost 17,000 feet high. The night before the climb, we camped in the shadow of the area's highest mountain, the 19,000-foot-plus Nevada Ausangate.
It was cloudy and drizzly when we set off to tackle the pass the next morning. For two hours, we seemed to trudge straight up. The good news was that, except for stopping periodically to gasp our way back to normal breathing, our altitude-related problems seemed to have disappeared. At last, we had accomplished altitude adjustment.
The last three days of the trek were spent along the more traveled Ausangate Circuit. Local women appeared at our campsites selling purses, scarves and hats made from alpaca wool.
At Phacchanta, our last campsite, we played ball with local children and relaxed in a concrete pool filled with water from a hot spring. After our warm-water soak, we were treated to a traditional pachamanca, or dinner feast. For the luau-style operation, a sheep was purchased from a local farmer, butchered, buried in the ground and roasted.
Dinner was festive. Local folks sold us bottles of Peruvian beer, and Luna produced a bottle of pisco, a strong South American liquor. We toasted each other and our helpers. We congratulated ourselves on our ability to conquer the altitude and complete the trek. It was our last night in the Andes.
---
Info To Go
California-based Mountain Travel Sobek offers a 12-day guided trip, which includes four days trekking the Ausangate Circuit, for $3,995–4,295 (depending on group size) not including international air. Andes Adventures offers an 18-day trip, with five days on the Ausangate Circuit, for $3,095–3,295 (depending on group size) not including international air. Peruvian Andes Adventures is a Peruvian company offering a six-day Ausangate Circuit trek for two people or more; contact directly for prices.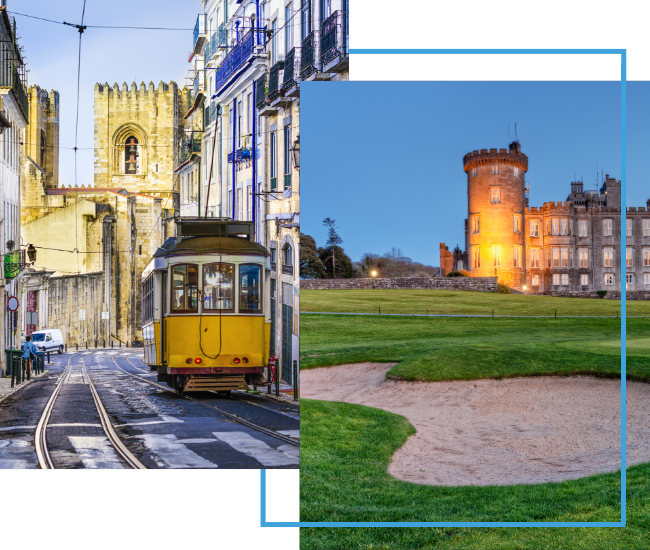 FX Excursions
FX Excursions offers the chance for once-in-a-lifetime experiences in destinations around the world.
Explore Excursions
This is a love story involving a frequent traveler, a swanky business-class lounge, Polaris seat 7A and palate-tempting libations.
Sponsored Content
Learning more about our readers' travel habits and preferences ensures Global Traveler delivers the content you desire. As the travel industry has adapted and changed over the last few years, it's more important than ever to connect. To best meet your short- and long-term travel content needs, please help us!
This month head west — at least as far as California, where the second annual Crush It Harvest Festival will be held on the West Pavilion Lawn at The Estate Yountville. The festival is held on Oct. 7, beginning that morning and ending when the sun dips below the valley's horizon.