Global Traveler: Please share an overview of your background in the hospitality industry and your affiliation with Langham.
Dr. K.S. Lo: I worked as a cardiologist in the United States. In 1980 my family asked me to return to Hong Kong where I joined the family business, Great Eagle, initially learning about real estate, and later becoming involved in hotel investments. I became the CEO of Great Eagle in 1985.
In the 1990s, Great Eagle acquired a number of luxury five-star hotels in Hong Kong and overseas, namely the Langham Hotel, Hong Kong (then known as Hong Kong Renaissance Hotel), Langham Hotel, London, Sheraton Towers Southgate in Melbourne, Le Meridien in Boston and Sheraton Auckland Hotel and Towers. In 2003, we decided to rename the hotel group after our London flagship property, and to operate under the name brand Langham Hotels International. We feel the new Langham brand more accurately reflects the company's commitment to being at the forefront of the luxury hospitality industry and sets the benchmark for future expansion.
GT: Please tell us about Langham's early days; its flagship London property; its current property roster; and how the group earned its reputation as a five-star luxury brand.
KSL: Our flagship property has a very rich history. The Langham Hotel in London opened as Europe's first Grand Hotel and has been providing five-star hospitality for 140 years. It possesses a heritage and pedigree that is unique to the industry. The hotel was officially opened by HRH Prince of Wales in 1865 as London's first purpose-built grand hotel. It was designed to be one of London's largest buildings and was the first hotel to have hot and cold running water and hydraulic lifts.
With its sheer opulence and sophistication, the Langham quickly made its way into the social calendars of London's elite, attracting royalty, statesmen, artists, writers and musicians from around the globe. The name Langham became synonymous with luxury and innovation in hospitality. Napoleon III spent two years of his enforced exile from France at The Langham. Novelist Ouida took rooms at the hotel for four years. Other famous guests included Oscar Wilde, composers Dvorak and Toscanini, poet Henry Wadsworth Longfellow, American writer Mark Twain and Sir Arthur Conan Doyle, creator of "Sherlock Holmes." After the hotel reopened in the 1990s, it still played host to a stream of famous visitors including Diana, Princess of Wales, Rod Stewart, Elton John, Richard Gere and Cindy Crawford, Martin Sheen and John Major.
We will continue to position this majestic, famous property at the top end of the hotel business by embarking on a 50 million-pound (approximately $87.5 million) renovation including refurbishment of the bar, restaurant, guestrooms and public areas. Our hotels are members of Leading Hotels of the World. However, to differentiate ourselves, Langham must mean something special — something almost magical to the luxury hotel consumers. This is our mission: We will not be minimalist, but be lavish and sumptuous, reflecting true classic elegance in our design. We will target the high-end, affluent consumers and their travel consultants, educating them on the history of our brand and our focus on a five-star luxury experience.
GT: Describe the Langham philosophy and how it translates to the day-to-day operations that enhance the experience of business and leisure travelers.
KSL: The Langham brand stands for genuine luxury hospitality, and to me, our luxury service encompasses these core elements: elegance in design which is reflected in the style and décor of the hotel, particularly the use of superior materials, textures and fabrics which are enduring and timeless; innovative services which are blended perfectly into the luxurious setting to provide the convenience and efficiency required by business travelers today; genuine hospitality which should come naturally to the staff, providing a welcoming charm and careful attention that anticipates every need; captivation of the senses by creating an enchanting environment, which gives a breathtaking feeling of indulgence and wonder.
My ideal luxury service would also include the experience of a little history, mystery and romance. Thus, when I built the Langham brand, these elements were incorporated to form the foundation for the positioning of our hotels as luxury hotels. We will deliver a consistent Langham standard in the style, service and atmosphere in every Langham Hotel around the world. We possess an innate enthusiasm and zest for life and we will enchant our guests whenever they stay with us, anywhere in the world.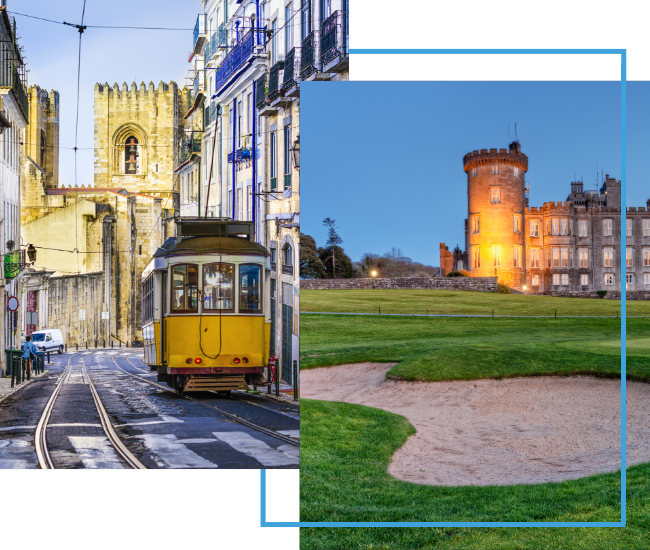 FX Excursions
FX Excursions offers the chance for once-in-a-lifetime experiences in destinations around the world.
Explore Excursions
More than 22 million visitors pour into Bangkok each year, adding to the roughly 11 million residents of the Thai capital famous for its bustling streets. Packed with food carts, markets and cultural spectacles, life in Bangkok is unusually defined by its vibrant street scene, both day and night. That means you don't necessarily need a solid plan when heading out on any given evening.
Sponsored Content
Are you looking to enhance your business trip with a little leisure? Look no further than Portugal, a country renowned for its captivating blend of history, culture and natural beauty. And with TAP Air Portugal, you can effortlessly transform your business trip into an unforgettable bleisure adventure. Discover why Portugal and TAP Air Portugal are the perfect combination for an enriching and rejuvenating experience.
As first-time restaurateurs, but with plenty of hospitality-related experience, Ria and Kevol (Kev) Graham were not entirely comfortable opening their first restaurant in the Brooklyn neighborhood of Williamsburg, where several upscale restaurants and 5-star hotel dining is just a block away. And to make matters worse, they opened in July 2020, when New York City was in the middle of the COVID-19 pandemic.