If your idea of fun in New York City is to get the adrenaline flowing and your heart racing rather than engage in more relaxed pursuits like shopping, seeing Broadway shows and visiting museums, here are four activities that are anything but low-key:
Ascend to the Ultimate Observation Deck Edge NYC
The highest outdoor sky deck in the Western Hemisphere, this deck opened a few years ago, giving those without acrophobia one of the best vantage points in Manhattan, with the Empire State Building, Central Park and the Statue of Liberty within view. Enter at The Shops & Restaurants at Hudson Yards on the corner of 10th Avenue and W. 33rd Street, then follow the signs to Level Four, where you'll find the entrance. Learn more about New York's skyscrapers and the construction of Edge NYC before boarding an elevator to take you up 1,131 feet in 52 seconds. Once at the top, take in the view (and snap pics) from every angle, including the inside observation area, outdoor sky deck and selfie spot (look for the line). Don't forget to sit or lie on the see-through section of the glass floor and look down to the street below. Also find carts selling ice cream and treats; a bar with Champagne, cocktails, wine and beer; and Peak, a reservation-only restaurant serving lunch and dinner. If you're truly a daredevil, book a ticket for City Climb, the highest open-air building ascent in the world. Don a jumpsuit, harness and helmet; climb a 45-degree angled staircase to scale the crown of 30 Hudson Yards; and then lean out over the edge and be higher than anyone else in New York City. There's nothing like it anywhere. Tickets are $36 per person for general admission with a timed ticket, $185 for CityClimb.
Take a Private Guided Bike Tour of Central Park
At 843 acres, Central Park is way too big to navigate on foot. That means you'll either have to pick and choose a few spots to see or take to two wheels to cover more ground. There are several options for bike tours in the park, but Central Park Bikes is tops. For just a little more money per person than a larger group tour, book a two-hour private tour for up to 10 people to spend as much time as you like at your must-see sights, breeze past or skip entirely the ones you don't, and linger to take photos. Meet your guide, Tony, at 1792 Broadway (in front of Argo Tea Cafe) to get fitted for a bike and helmet before venturing into the park. Highlights include the Bethesda Fountain, the Jacqueline Kennedy Onassis Reservoir, Belvedere Castle, Strawberry Fields, Loeb Boathouse, Shakespeare Garden and Bow Bridge. Tony also points out areas where movie scenes were filmed, and he's happy to take as many photos as you want. It's a fabulous way to see a lot of the park in a short time and get some exercise. Tickets are $59 per person.
Walk Across the Brooklyn Bridge to Manhattan
Including the approaches, New York's iconic hybrid cable-stayed/suspension bridge connecting the boroughs of Manhattan and Brooklyn is 6,016 feet long. When it opened in 1883, it was the longest suspension bridge in the world. Even though many larger bridges have been built since then, the Brooklyn Bridge is still a marvel to behold — and fun to walk across. While you might be apt to start in Manhattan and walk across to Brooklyn, it's the other direction that promises a great view of the New York skyline, not to mention plenty of photo opportunities. Take the A or C subway line to the High Street exit for the most direct route, then use Google Maps to navigate to the "Brooklyn Bridge Walkway Starting Point," which begins at Tillary Street and Boerum Place. Be sure to walk on the inner lane of the road leading to the bridge; otherwise, you will eventually get to a place where you can't cut over and you'll have to double back. While you're trekking across, marvel at the suspension cables, trusses, towers and the traffic below your feet. You'll find stalls and tables along the way selling souvenirs, snacks and drinks. These become more concentrated the closer you get to Manhattan, and every one of them seems to be playing "Empire State of Mind" by Jay Z.
See the Skyline from This Exhilarating Speedboat Ride
Skip the slow, sleepy Circle Line tour and book tickets on its crazy sister, The Beast, New York's only jet-powered thrill ride speedboat attraction. The bright green vessel zips you down the Hudson with 1,400 BHP horsepower and two ZF 3000 marine gears powered by twin Hamilton jets, tearing you through the water at around 45 mph. The hour-long ride departs from Pier 83 at W. 42nd Street and the West Side Highway every hour on the hour from 11 a.m.  to 6 p.m., except Mondays. On busy days advance reservations are recommended. After you get the safety briefing, your captain will head out to the river parallel to the iconic skyline as an '80s rock soundtrack of Bon Jovi, AC/DC and Bruce Springsteen blasts on the stereo. You'll get up close to the Statue of Liberty, where the boat stops and then swings around so passengers on both sides can see it and take pictures. (The crew is on hand to help you get the perfect shot.) Afterward, head back uptown on the water while the captain maneuvers the boat in tight spins and crew members target unsuspecting riders with Super Soaker water guns and water balloons. It's the ultimate adrenaline rush, and you've never seen the skyline like this before. Note: The Beast is a seasonal attraction, currently closed until May 14, 2024, but it's more than worth it to plan ahead for next year! Tickets are $32 per person.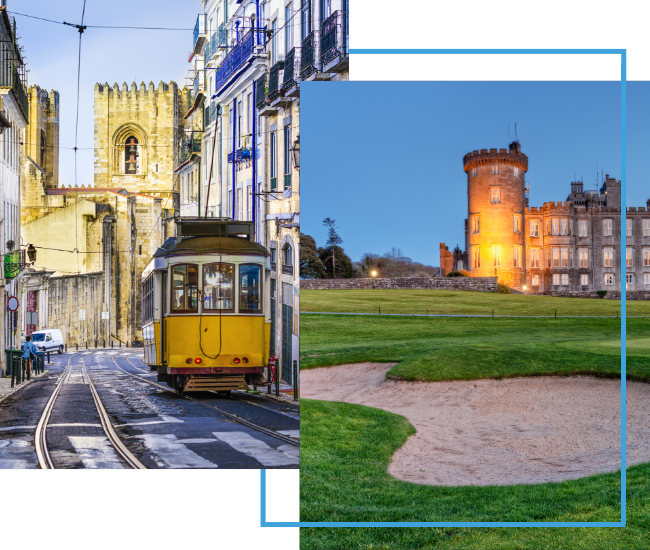 FX Excursions
FX Excursions offers the chance for once-in-a-lifetime experiences in destinations around the world.
Explore Excursions
More than 22 million visitors pour into Bangkok each year, adding to the roughly 11 million residents of the Thai capital famous for its bustling streets. Packed with food carts, markets and cultural spectacles, life in Bangkok is unusually defined by its vibrant street scene, both day and night. That means you don't necessarily need a solid plan when heading out on any given evening.
Sponsored Content
Whether it's the people, the craic (fun) or the coasts, travelers always find something to love about the island of Ireland. What fills your heart?
As another phenomenal year of travel comes to an end, it's time, as always, for Global Traveler to celebrate and award those who do it best as we announce the 2023 winners of the GT Tested Reader Survey awards. But that's not the only cause for celebration here: We've hit another major milestone, as this marks our 20th year honoring the best of the best inn world of travel!