TO REALLY STAND OUT in any industry, excellence is expected. For the seventh consecutive year, Global Traveler celebrates those who consistently achieve and exceed excellence in the travel industry by naming an Airline of the Year and Hotel of the Year. The 2017 winners of these prestigious awards are purveyors of excellence: American Airlines, Airline of the Year, and Lotte Hotels & Resorts, Hotel of the Year.
A select panel of Global Traveler employees and Advisory Board members chose the winners based on experience and independent research on financial data, occupancy rates, load factors, on-time figures, safety records, brand image, menus and other factors relevant to an outstanding travel experience. These two companies consistently execute efficiency, innovative practices and outstanding service, for which they were named Global Traveler's 2017 Airline and Hotel of the Year. Let's meet our winners.
AMERICAN AIRLINES
AIRLINE OF THE YEAR 2017
After first spreading its wings as American Airways in 1926, American Airlines continued to expand its reach over 91 impressive years of service, and today it boasts the largest commercial fleet in the world.
The prestigious airline flies its iconic red, white and blue livery to nearly 350 destinations in more than 50 countries, operating almost 6,700 flights per day between American Airlines, American Eagle and its airline partners in the oneworld alliance, of which AA is a founding member.
Adhering to its slogan, "The World's Greatest Flyers Fly American," the airline caters to the ever-growing-and-changing business travel market, with services like its multitier AAdvantage loyalty program; its premium business-class seating; and American Airlines Shuttle, providing business travelers frequent and convenient service between New York LaGuardia, Boston's Logan International and Washington Reagan National airports with dedicated check-in areas, departure gates and baggage carousels at each airport.
As frequent flyers know, the best airlines continually improve and expand services to accommodate traveler needs. After kicking off the year with the addition of its basic-economy fares, offering customers greater price options, AA expanded its route network with new, convenient, domestic and international, seasonal and year-round services.
What's on the horizon for AA in 2018? The airline will improve connections between Philadelphia (PHL), the Midwest and Texas, serving San Antonio (SAT) beginning Feb. 15, followed by Des Moines (DSM), Madison (MSN) and Omaha (OMA) beginning May 4.
This summer, AA will launch service to Budapest (BUD) and Prague (PRG) from Philadelphia, and to Venice (VCE) from Chicago (ORD). A newly expanded relationship with China Southern Airlines will give customers access to nearly 40 destinations beyond Beijing and more than 30 beyond Shanghai. Customers have access to these international destinations and more from the airline's convenient U.S. hubs in Charlotte (CLT); Chicago; Dallas/Fort Worth (DFW); Los Angeles (LAX); Miami (MIA); New York (JFK); Philadelphia; Phoenix (PHX); and Washington, D.C. (IAD).
In addition to its expansive network, AA proves a leader in technological innovation time and again. This summer the airline worked with TSA to test a computer tomography scanner at Phoenix Sky Harbor International Airport in an effort to further ensure the safety and security of its passengers. This marked the first time CT technology was deployed to screen carry-on bags, and the practice is now expanding to airports worldwide. AA also launched automated screening security lines in Miami, Chicago, Dallas/Fort Worth, Los Angeles and New York City, incorporating new technologies to enhance security effectiveness while decreasing the time travelers spend in security lines.
For customers, a truly great airline goes above and beyond convenient routes, safety and innovation — it's about the overall experience, from booking to landing. Enhancing its onboard experience, AA announced a partnership with sleep company Casper. Beginning this month, customers seated in long-haul international and transcontinental first, business and premium economy classes will enjoy a suite of advanced sleep offerings, making it easier than ever to enjoy a comfortable, restful flight.
The airline also unveiled its Customer Baggage Notification service this year. The convenient new service notifies customers of the status of checked baggage if it is not on the same plane when they land at their destination, providing step-by-step directions for resolution.
In May American made coast-to-coast flights more enjoyable, adding free meals in the main cabin of its industry-leading Airbus A321 transcontinental service between Los Angeles and New York and between San Francisco (SFO) and New York, also featuring lie-flat seats in first and business classes, a spacious main cabin and seat-back entertainment. AA's fleet of more than 1,100 aircraft supplies more than 190 movies, 300 TV shows, 700 music albums and 20 games — the largest content library of any U.S. carrier.
To achieve excellence in the airline industry, efficiency must be implemented on board, in the air and on the ground. This month the airline consolidates its operations at New York's LaGuardia Airport to one terminal, allowing customers to check in and board flights from one convenient terminal, saving time and minimizing hassle. Customers traveling through LaGuardia and more than 50 other airports worldwide can await their flight in style and comfort at AA's Admirals clubs, offering complimentary food and drinks, personal travel assistance, shower suites, conference rooms, business centers and more.
Named Full Service Airline Brand of the Year in the annual Harris Poll and Air Transport World's and Global Traveler's Airline of the Year, AA's achievements in 2017 are unparalleled … and it's only looking up from here.
LOTTE HOTELS & RESORTS
HOTEL OF THE YEAR 2017
From its humble beginnings in 1973 to becoming the largest hotel group in Korea, Lotte Hotels & Resorts now operates 25 of the most distinctive luxury hotels in the world — a clear choice for Global Traveler's 2017 Hotel of the Year award.
In addition to its home base in Korea, the luxury chain operates properties in Russia, Uzbekistan, Vietnam, Myanmar and the United States, where travelers enjoy thoughtful, refined service; modern, comfortable stays; and world-class facilities, restaurants and experiences. The Lotte brand got its name from the character Charlotte in Goethe's masterpiece The Sorrows of Young Werther, an individual well-loved by readers around the world. Going beyond the traditional hotel experience, Lotte's mission is to touch the hearts of guests, going "beyond luxury, beyond service and beyond expectations."
Made up of four brands, Lotte Hotels & Resorts offers something for every traveler.
The luxury Signiel Seoul, located in Lotte World Tower, offers an unparalleled accommodation experience, including panoramic views from Korea's tallest tower, meals by Michelin-starred chef Yannick Alléno and indulgent experiences at Evian Spa.
In the large upscale market, Lotte Hotels are renowned for sophisticated elegance. Ideal for both business and leisure travelers, the hotels offer comfortable rooms; various dining, banquet and fitness facilities; and fully equipped business centers. Designed with the business traveler in mind, Lotte City Hotels, in the small upscale market, offer modern, spacious guestrooms; multifunctional public spaces; convenient services; and bespoke amenities, all within proximity to shopping, entertainment and financial districts in urban centers around the world.
Having recently expanded its footprint to the lifestyle realm, Lotte's L7 Hotels boast a modern accommodation concept with properties situated in lively urban neighborhoods with access to shopping, dining and entertainment. The hotels feature trendy décor, travel concierges, a Long Day Foot Spa and other thoughtful services geared toward the modern world traveler.
Lotte's multitier loyalty Privilege Rewards Program provides members the opportunity to earn points for stays across all four brands which can be used toward rooms, food and beverage and in its renowned duty-free shops.
Each Lotte property boasts a distinguished character offering something unique, memorable and exceptional.
Situated in the heart of Manhattan, the 909-room Lotte New York Palace recently underwent a $140 million redesign boasting unparalleled splendor, breathtaking views and spacious rooms. Visitors and locals imbibe at its trendy restaurants and bars including Trouble's Trust, Tavern on 51, Rarities and Pomme Palais. Located across the street from St. Patrick's Cathedral and steps from Rockefeller Center, the hotel's renowned courtyard incorporates motifs from 15th-century Italian cathedrals.
Lotte Hotel Seoul is home to Michelin two-starred restaurant Pierre Gagnaire à Seoul; Lotte Hotel Guam features breathtaking views of Tumon Bay Beach; and Lotte Hotel Hanoi houses Tim Ho Wan, the first Michelin-starred dim sum house in Vietnam.
Lotte guests find it's the little things that greatly enhance the accommodation experience. For example, Lotte Hotel Busan's Mugunghwa recently became the first hotel restaurant in Busan to receive a Muslim-friendly certification by the Korea Tourism Organization for its halal-certified ingredients. Lotte Hotel Seoul guests partake in one-on-one health and lifestyle counseling at SULWHASOO Spa, and Lotte Hotel St. Petersburg guests are immersed in the history of the hotel and nearby St. Isaac's Square from the moment they walk in.
This was a big year for Lotte, and its future looks even brighter. Lotte Resort Sokcho, located in the Gangwon Province, opened in July and is quickly becoming a landmark of Korea's east coast, boasting premium facilities including an infinity pool with a horizon view and a water park accommodating 2,500 guests.
Lotte Hotel Yangon opened Sept. 1 in the economic center of Myanmar, home to embassies, universities and companies from around the world. Adjacent to Inya Lake and located just north of Shwedagon Pagoda, the hotel provides some of the best accessibility and views of the city.
Located on St. Isaac's Square, Lotte Hotel St. Petersburg celebrated its grand opening on Sept. 15. The gorgeous property comes with unique views of the cathedral and the Moika River and features proximity to the Heritage Museum, Nevsky Prospect and Mariinsky Theatre.
Hotels in the pipeline include the highly anticipated Lotte Arai Resort in Japan and L7 Gangnam in Korea, scheduled to open this month.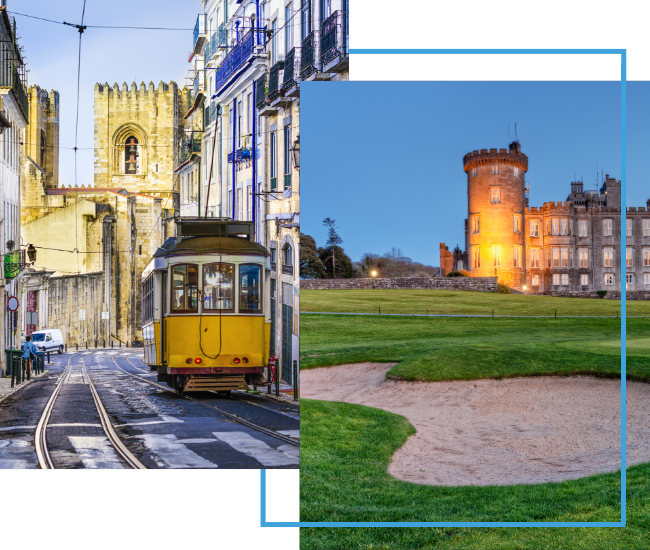 FX Excursions
FX Excursions offers the chance for once-in-a-lifetime experiences in destinations around the world.
Explore Excursions
Did the new film Oppenheimer rouse your interest in the nefarious world of international espionage? You can go straight to the real-life setting for covert actions this November (Nov. 10–12), when La Fonda on the Plaza in Santa Fe hosts a specially themed "Spies, Lies and Nukes" weekend. The hotel actually served as the retreat location for Manhattan Project scientists, who stayed at La Fonda on the Plaza to take a break from the stress of their work. During the weekend, the property's La Fiesta Lounge will make a tasty nod to those days by serving up a special Atomic Martini.
Sponsored Content
United Airlines is in the midst of a major initiative to modernize its fleet over the next several years. After first announcing the plan in 2021, planes fitted with United's signature interior are finally beginning to appear across the airline's narrowbody fleet of Boeing and Airbus planes. United flyers are sure to notice these enhancements from the moment they step on board: Each new or updated plane sports remodeled seats, seatback entertainment screens for everyone, Bluetooth connectivity and more, all adding up to a better experience on every journey.
Ever want handcrafted martinis and freshly shucked oysters delivered straight to your room? The Read House's New Martinis & Pearls service has you covered. Shining in 1920s-themed decor, the historic hotel in the heart of Chattanooga offers a true Gatsby-esque experience, now further elevated with this upscale amenity. Guests can now indulge in their perfectly chilled martini, made to order, and "pearls" (oysters) in the comfort of their room.