ONCE YOU HAVE YOUR FIRST CHILD, the inclination to hunker down and nest takes over your psyche. Soon you start to go stir-crazy and quickly realize you don't have to give up your passion to travel simply because you have little ones. On the contrary, it's time to introduce your kids to the real you. Even better, you get to see the magic, awe and wonder of the world through your children's eyes while they receive a firsthand education on cultural differences and diversity. As your children age and savor travel just as much as you do, they'll quickly be the ones leading you around the globe.
According to a recent survey conducted by AAA, more than one-third of Americans (35 percent) plan to take a family vacation this year. Of those surveyed, 51 percent plan to visit a national park in America. "2017 was clearly a year for the national parks," says Dan Austin, president, Austin Adventures. "This is the 20th year in a row that Yellowstone has led our domestic sales."
On the Wyoming-Montana border, Yellowstone is America's first and arguably finest national park. One day you're watching Old Faithful, the park's iconic geyser, erupt almost 200 feet in the air. The next day you're going eyeball to eyeball with buffalo, elk and moose. Day three, you can peer into the Grand Canyon of Yellowstone's majestic Upper and Lower Yellowstone Falls, one of the storied vistas in the park.
This coming summer, Austin notes, the Canadian Rockies are "already seeing double-digit growth in the number of bookings." In Banff and Lake Louise, families bike past turquoise blue glacial lakes nestled in the high peaks, walk up a gorge where waterfalls tumble down and view a fair share of bears. Another highlight includes taking a glacial walk on the massive Athabasca Glacier on Icefields Parkway, the stunning roadway that leads from Lake Louise to Jasper.
There's no better introduction to the history, culture and distinct charm of Europe than a trip to London. After all, who can resist the chance to view the morning Changing of the Guard at Buckingham Palace; take a ride on the London Eye; cruise down the Thames under the famous Tower Bridge; visit the Tower of London's jewels; and check out the theater scene in the West End, which easily rivals Broadway as one of the finest in the world? Also, don't miss the opportunity to stroll one of London's glorious parks. The rolling hillside of Hampstead Heath features old-growth forest, shaded trails, long stretches of lawn and streams where children can feed ducks and coots.
A quick 2.25-hour ride on the Eurostar train through the Chunnel brings you to Paris. Get the kids excited with a climb up the Eiffel Tower. Then set aside time to view the monumental works of art at the Louvre, Musée d'Orsay and Pompidou museums; visit Notre-Dame Cathedral; and boat the Seine. An overlooked museum devoted to French innovation, Musée des Arts et Métiers, is a favorite for kids, where they can learn all about French ingenuity.
Another highlight: the daytrip from Paris to Giverny, the home of Claude Monet. On a tour run by Fat Tire Bike Tours, start with a short train ride to the village of Vernon. Upon arrival, you jump on bikes and soon stop at an outdoor market to stock up on creamy Reblochon cheese, tasty Rosette de Lyon sausage and hot-out-of-the-oven baguettes from the nearby boulangerie. After a picnic lunch in a park overlooking swans swimming in the Seine, you head out on a bike trail that connects Vernon with Giverny, where you can walk over the iconic Japanese bridge seen in many of Monet's works.
For the active travel company Backroads, Switzerland rated as a top family destination the past two years. "A big draw is the gorgeous scenery, fantastic hiking and proximity to France for easy pre/post exploration," says Liz Einbender, public relations director, Backroads.
Switzerland, especially the Swiss Alps, is blessed with an intricate network of trains and gondolas that can connect with endless opportunities for high adventure right outside your hotel doorstep. Swiss chocolate and fondue might be the main draw to the country, but one look at lofty Eiger Peak (standing at 13,020 feet) as you take a gondola high above the mountain village of Grindelwald, and you can't help being mesmerized by the mix of snowcapped peaks, green valleys, glacier-fed waterfalls and large lakes. Add Bern to your itinerary and you'll have the unique opportunity to tube down the Aare River and take an electric bike ride in scenic Emmental Valley.
Backroads understands families love traveling with families with kids the same age as their kids, so it now runs three different family trip segments based on age: older teens and 20s (age 17-plus), teens and kids (ages 9–17) and younger kids (8 and younger). Its most popular family vacations these days are adventures where you can sample more than one sport. Costa Rica offers the ideal landscape to host a multi-sport journey with its mix of rainforest, active volcano, cloud forest and coastline. Over the course of the week you can zip line across the cloud forest canopy, spotting toucans along the way; take a naturalist-led hike past the monkeys and sloths of the rainforest in Manuel Antonio National Park; kayak to a deserted beach; and soak your weary limbs in a hot tub while staring at the perfectly cone-shaped Arenal Volcano.
Toucans and monkeys may whet your appetite for a genuine safari experience in Kenya. Few can design that journey of a lifetime better than the classic safari outfitter Abercrombie & Kent. "Bookings for Family Kenya and Tanzania are significantly ahead of the same time last year," says A&K's Pamela Lassers, noting families appreciate the opportunity to meet and travel with other children on small-group journeys limited to just 24 guests. Another popular trend for A&K is the multigenerational trip. "Two-thirds of our family bookings are for parties of four or more, and 10 percent are with eight or more, to include grandparents or extended family," says Lassers.
In Kenya, watch the hippos swim in the Mara River at your resort after your morning game drive to spot elephants, giraffes, lions, rhinos and leopards. A&K likes children to engage in local culture, which might include a walk with the neighboring Maasai to see their mud huts and taking part in a jumping contest. In Tanzania, expect a visit to magical Ngorongoro Crater and glamping in the bush of the expansive Serengeti. After days of waking up early to go game viewing, treat yourself to a relaxing beach stay in Zanzibar at the end of your trip.
Lastly, Amanda Norcross, features editor, FamilyVacationCritic.com, recommends a family cruise. "We're especially excited about Royal Caribbean's Symphony of the Seas, which will feature quite possibly the coolest family suite ever. The suite will feature something for all ages, from a netted climbing structure for young kids to a movie and video game area for teens, and — get this — a slide will connect the suite's two floors!"
Whether you're traveling domestically or internationally this year, getting close-up views of the American bison or the African buffalo, the most important thing to remember is you're making memories your family will cherish for years to come. That's priceless.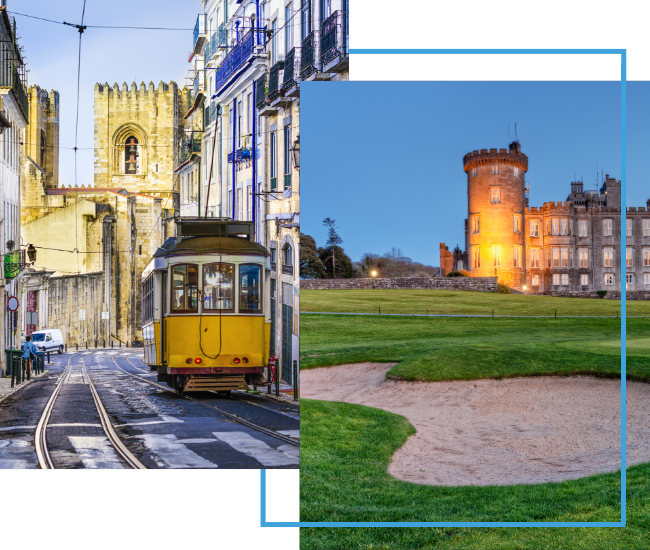 FX Excursions
FX Excursions offers the chance for once-in-a-lifetime experiences in destinations around the world.
Explore Excursions
There's no doubt the northern lights are awe-inspiring and spectacular. Unfortunately, they're also fickle and fleeting, and despite your best-laid plans of checking this item off your bucket list, sometimes Mother Nature's luminescent show just doesn't cooperate. But one cruise line has a new fail-safe in place.
Sponsored Content
In an increasingly digital and interconnected world, the Global Business Travel Association (GBTA) Convention remains an indispensable platform for business travel industry professionals seeking to make the most of the power of face-to-face connections. Taking place August 13–15 in Dallas, the 2023 GBTA Convention provides the unique opportunity for professionals and companies to join visionaries, thought leaders and industry experts for meaningful networking, cutting-edge insights and inspiring innovation.
Think you need a degree in sailing to enjoy a yachting holiday? Dream Yacht Worldwide, a leader in yacht charters, wants you to relax and enjoy the journey. Newly expanded to include the British Virgin Islands, Martinique, Tahiti and the Seychelles, the "Easy Crewed" offered by Dream Yacht Worldwide also include charter options in Greece and Croatia.