You won't find an American city bursting with more foundational United States history than Philadelphia. The original capital of the country, Philly hosted the signing of the Declaration of Independence and the sites of the first U.S. hospital, volunteer fire department and stock exchange, among countless other necessities for a fledging nation. But don't expect to find a city stuck in mire of yesteryear when you visit. Though strongly rooted history, Philadelphia's trailblazing spirit has never waned, and it remains as contemporary and forward-looking as ever.
Around Philadelphia you'll find diverse architecture spanning centuries of styles, a stunning art scene that treasures everything from one of the country's most revered art museums to the street murals of the nation's largest public arts program, and a performing arts culture that values burlesque and swing dance as much as opera and orchestra. Still, no cultural scene tells the tale of the city's diversity quite as clearly as its ever-evolving cuisine.
Is it a city of cheesesteaks, soft pretzels and other guilty pleasures? Absolutely. But it also boasts thriving food heritages from Italian and Middle Eastern to Amish and Southeast Asian. While street markets, food halls and even carts in public parks offer some of the best bites, you'll find plenty of fine dining across cuisines and styles to entertain clients at any meal of the day, or even just for a memorable meal of your own while you're in town. Best of all, Philadelphia proves especially adept at welcoming visitors as diverse as its own population, so whether you require white-linen dining for more traditionally minded clients or vibey spaces for your au courant contacts, top meals abound for both.
For the more formal clients on your list, schedule power breakfast meetings at JG SkyHigh atop the city's tallest building. The tower-top views from this glass cathedral are positively panoramic, but you'll especially enjoy the casual approach to Jean-Georges' cuisine at breakfast, when you're less likely to encounter a chattering crowd. Look for elevated classics like brioche French toast or salmon Eggs Benedict among specialty coffees and smoothies.
For deals over lunch, try Parc, the scenic bistro from Philadelphia's favorite chef, Steven Starr. Tuck into a lunch of steak tartare and escargot followed by trout amandine or moules-frites accompanied by some of the city's best people-watching. If you're running late, there's also a midday menu between lunch and dinner to cover you.
To entertain over a classic steak dinner at high leather booths in a swanky space, Butcher and Singer is the reservation to make. From a modest filet mignon to a behemoth tomahawk ribeye, the steak menu proves substantial, and there's an equally enjoyable raw bar. Twin lobster tails and lobster Newberg highlight the seafood selection, but surf and turf remains a reliable standard here, as in any great steakhouse. Butcher and Singer offers another stellar example of Steven Starr's culinary dominance in Philadelphia.
When your culinary companions prefer a more modern approach to quality dining, consider morning meetings at Front Street Coffee for breakfasts of açai bowls and breakfast tacos with a side of mushroom lentil scrapple. Scrapple, a Pennsylvania Dutch staple, is a must-try for Philly visitors looking for the most authentic regional bites, but it's not for the meek.
For midday meals, visit W Philadelphia for two worthwhile options that appeal as much to the eyes as the stomach. For heartier fare, reserve a table at Dolce Italian for handmade pastas in a Fellini- inspired setting or, for a lighter lunch, head up to WET DECK for sandwiches and shareables among floor-to-ceiling floral mosaics and vibrant furniture. In better weather, consider sealing the deal over a cocktail in a secluded nook within the whimsical topiary garden here.
Philadelphia's top dinners aren't restricted to steakhouses. Conversely, smaller groups will appreciate the artistic vegan preparations at Pietramala, focusing on local Philly-area produce. The intimate size of this restaurant adds a touch of privacy and exclusivity, but it also restricts your party size to four. To entertain larger groups, Rex at the Royal puts Philadelphia flair into Lowcountry Southern cooking in a storied location renowned for its impact on Black film history. The restaurant hosts live music on Tuesdays, and the menu's crab fondue with soft pretzel bites recently won Philadelphia Magazine's Best of Philly awards.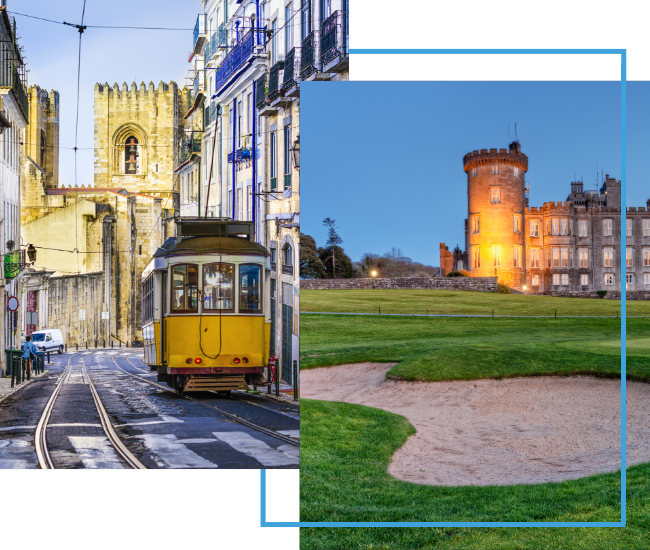 FX Excursions
FX Excursions offers the chance for once-in-a-lifetime experiences in destinations around the world.
Explore Excursions
Did the new film Oppenheimer rouse your interest in the nefarious world of international espionage? You can go straight to the real-life setting for covert actions this November (Nov. 10–12), when La Fonda on the Plaza in Santa Fe hosts a specially themed "Spies, Lies and Nukes" weekend. The hotel actually served as the retreat location for Manhattan Project scientists, who stayed at La Fonda on the Plaza to take a break from the stress of their work. During the weekend, the property's La Fiesta Lounge will make a tasty nod to those days by serving up a special Atomic Martini.
Sponsored Content
The Global Business Travel Association (GBTA) believes business travel is a fundamental force for good and brings the industry together to connect, innovate and set new standards. With members from across the globe, GBTA engages the many voices of business travel to build a collective future, providing a platform for buyers and suppliers to come together, connect with peers, grow their network and shape the future of the industry.
Ever want handcrafted martinis and freshly shucked oysters delivered straight to your room? The Read House's New Martinis & Pearls service has you covered. Shining in 1920s-themed decor, the historic hotel in the heart of Chattanooga offers a true Gatsby-esque experience, now further elevated with this upscale amenity. Guests can now indulge in their perfectly chilled martini, made to order, and "pearls" (oysters) in the comfort of their room.