Arrival/Check-In: We selected Charleston as a halfway point on a journey south; we always wanted to see this beautiful historic town. It was also my first time traveling with a pet; our Dalmatian, Ella, seemed to anticipate the journey with excitement.
Arrival was simple. The property has its own parking lot at the back, but we had a great deal of luggage plus a dog crate — I think Ella had more baggage than us — and I wanted to check in first. As we walked up the steps, Jason and Jared were ready to help, holding the door and welcoming us into the beautiful hotel. I was not sure what to expect; was Ella allowed in the lobby? Of course, she was welcome, and they had a water bowl ready. After checking in, we were shown our suite on the lower level — perfect for a quick walk out back on the grassy lawn for you-know-who. Jared went to the car with me and loaded up all our belongings.
A wealthy cotton merchant, Francis Silas Rogers, built the mansion in 1886 as a jawdropping home for his family of 13. It is the best example of the Second Empire style which became a hallmark of Charleston architecture. Rogers was a world traveler and collected two Europeancrafted chandeliers, stonework and marble; all have survived to this day. The current and fourth owner, Richard Widman, purchased the mansion and its grounds in 1997 and remodeled it into an award-winning, 5-star hotel. Many of the guests are repeats, including their pooches.
Guest Quarters: Our garden suite was at the far end of a long hallway. A small atrium acted as a foyer and opened into a large bedroom with a king-sized bed, which Ella immediately proclaimed as her spot — not for long! The furniture throughout the suite was tastefully planned and matched the period of the hotel. To the right of the bedroom were two doorways. The far one opened into a lovely sitting room, which became Ella's room for the night, and the other led to a spacious bathroom with a large walk-in shower and whirlpool tub. Bathroom amenities included Antica Farmacista soap, shampoo and conditioner along with ample supplies of cotton swabs, a sewing kit and a loofah. Double sinks would have been nice, for which there appeared to be enough room.
Our own little private enclosed patio held black-iron furniture with comfy cushions, a table and a pleasant walled garden.
Services/Amenities: How can you be unhappy with doggy treats on the night table all wrapped up as a gift? It sure made us feel at home and welcome.
We put Ella in her room and took a stroll to Circa1886, the signature restaurant across the courtyard and in the former carriage house, headed up by Chef Marc Collins. In warm weather there is outdoor seating where your pet can sit with you. The restaurant offers a tasting menu with wines or an à la carte menu. The service and atmosphere were friendly and professional, and I enjoyed a lovely beef sirloin with the restaurant's Cabernet selection. Don't miss breakfast at the same location, with wonderful shrimp and grits or eggs Benedict. It's the talk of the town.
The mansion is beautiful, and there are so many rooms to read and relax in. Complimentary wine is served in the evening, and a few decanters of sherry and other aperitifs are always available. We took Ella for a nice walk in dog-friendly Charleston; not sure if Rhett Butler would approve, but the students from the neighboring colleges thought she was cute. The mansion also has a full-service spa, but we had to leave right after breakfast, and they did not offer dog massages.
The Experience: Wentworth Mansion is tops — worth a trip, and I would go back in a heartbeat. I have a little test: I open the ice bucket when I check into a room — if it already contains ice, I am impressed. The short list of hotels that have passed this test includes The Peninsula Beverly Hills, the old Hotel Bel-Air (prior to the renovation) and Wentworth Mansion.
GT CHECKLIST
[checklist]
[item check=yes]Doorman/valet[/item]
[item check=yes]Less than 10 minutes for check-in[/item]
[item check=yes]Separate tub and shower[/item]
[item check=yes]Large vanity[/item]
[item check=yes]High-quality towels[/item]
[item check=yes]Powerful, unattached hair dryer[/item]
[item check=yes]High-quality bed linens[/item]
[item check=yes]Large, flat-screen television[/item]
[item check=yes]Large desk with convenient outlets[/item]
[item check=yes]Large, complimentary laptop safe[/item]
[item check=yes]Complimentary in-room WiFi[/item]
[item check=yes]Complimentary bottled water[/item]
[item check=yes]Stocked minibar[/item]
[item check=yes]Ample lighting[/item]
[item check=yes]In-room coffeemaker[/item]
[item check=yes]Iron and ironing board[/item]
[item check=yes]On-site restaurant[/item]
[item check=yes]24-hour room service[/item]
[item check=yes]24-hour state-of-the-art fitness center[/item]
[item check=yes]Turn-down service[/item]
[/checklist]
Wentworth Mansion
149 Wentworth St.
Charleston, SC 29401
tel 843 853 1886
wentworthmansion.com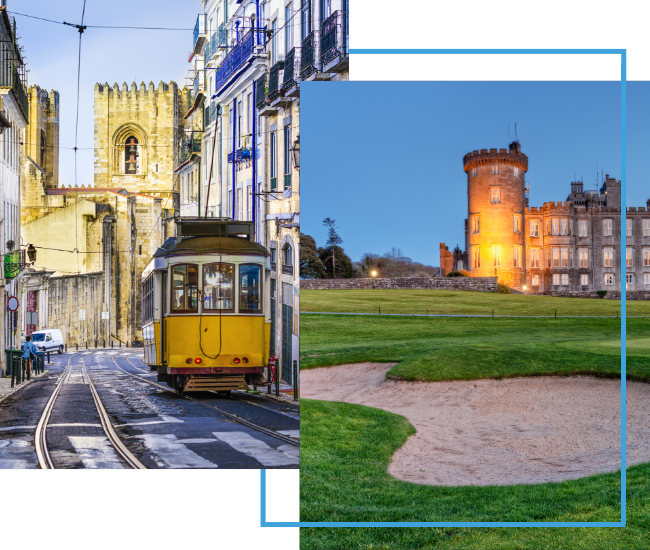 FX Excursions
FX Excursions offers the chance for once-in-a-lifetime experiences in destinations around the world.
Explore Excursions
There's no doubt the northern lights are awe-inspiring and spectacular. Unfortunately, they're also fickle and fleeting, and despite your best-laid plans of checking this item off your bucket list, sometimes Mother Nature's luminescent show just doesn't cooperate. But one cruise line has a new fail-safe in place.
Sponsored Content
United Airlines is in the midst of a major initiative to modernize its fleet over the next several years. After first announcing the plan in 2021, planes fitted with United's signature interior are finally beginning to appear across the airline's narrowbody fleet of Boeing and Airbus planes. United flyers are sure to notice these enhancements from the moment they step on board: Each new or updated plane sports remodeled seats, seatback entertainment screens for everyone, Bluetooth connectivity and more, all adding up to a better experience on every journey.
Think you need a degree in sailing to enjoy a yachting holiday? Dream Yacht Worldwide, a leader in yacht charters, wants you to relax and enjoy the journey. Newly expanded to include the British Virgin Islands, Martinique, Tahiti and the Seychelles, the "Easy Crewed" offered by Dream Yacht Worldwide also include charter options in Greece and Croatia.