OCT. 10 IS MY BIRTHDAY, and last year we were sailing on the high seas on the Queen Mary 2 when Hurricane Michael made devastating landfall at Mexico Beach and Tyndall Air Force Base near Callaway, Florida. For many parts of the country, and the world for that matter, these are unknown places. For those living and working in the region, it was a life-changing event and the people, land and more have yet to fully heal.
For me, it was a personal blow as we have a rental property on the barrier island of St. Joseph Peninsula on the Gulf of Mexico, specifically Cape San Blas. People often ask how I found Cape San Blas and I think back to when the Deepwater Horizon oil rig ruptured in the Gulf on April 20, 2010. Though most people would run the other way, the footage of pristine beaches drew my attention. On a trip to Miami, I took a long weekend, played golf at Bay Point Resort and Golf Club, Panama City (see GT April 2011), and drove to Port St. Joe to meet with Glenda McLemore, owner of g3 Realty Group.
I saw many great places and went back to business, always keeping the Cape in the back of my mind. Glenda presumed I was one of those people who liked touring houses but never purchase. Finally, in January 2014 we headed to Florida to get away from the cold Northeast. The worst ice storm in recorded history struck, but the next day we toured properties and found one. We ended up as displaced Yankees on the Forgotten Coast, close to Apalachicola, known for its oysters and the inventor of air-conditioning.
Everything was like a dream as we rented the place to Michigan snow birds in winter and Atlantans in summer. When Michael hit, 162 mph winds caused unprecedented damage; Mexico Beach looked like a nuclear bomb went off. Homes were destroyed, many ripped off their foundations. We were lucky the roof remained on and the windows stayed intact, but as they say, water finds a way. Our significant damage has been repaired and we are back in business with happy renters enjoying the Gulf. I pray for those affected by Hurricane Dorian, which recently caused devastation elsewhere. I know how it feels, and I encourage you to give to the charity of your choice; I recommend the American Red Cross.
Turning back to travel, I am flying to Lanai in Hawai'i and staying at the Four Seasons to celebrate my birthday in style while playing golf. I'm looking forward to United's non-stop flight from Newark to Honolulu in its lie-flat business-class seats. I'll report back about that service as well as the resort and golf course.
Lastly, our friends at Posadas have a special offer at globaltravelerusa.com or in this issue. Book any of Posadas' properties with the best available rate on its website or through 1 800 FIESTA 1, and use code GLTRAVELER to receive one additional night free. I highly recommend you try a fantastic Posadas property.
I plan on traveling to Mexico soon to enjoy the cultural aspects of Mexico City and venture off for some great golf, too!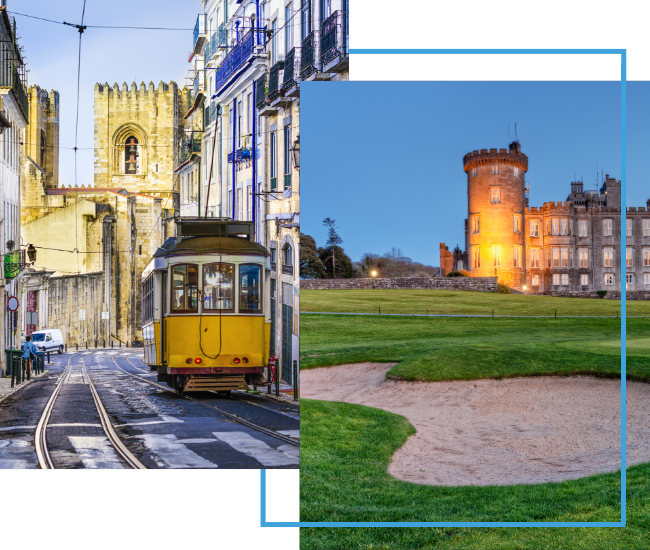 FX Excursions
FX Excursions offers the chance for once-in-a-lifetime experiences in destinations around the world.
Explore Excursions
Pleasant weather, autumn foliage and vibrant flowers are among the many delights awaiting nature lovers at botanical gardens and arboretums across the United States. However, some of these green spaces take on additional color this month and through Halloween when enterprising gardeners, landscape architects, management and other creative minds cast a spell with themed environments running the gamut from spooky to utterly bewitching.
Sponsored Content
Are you looking to enhance your business trip with a little leisure? Look no further than Portugal, a country renowned for its captivating blend of history, culture and natural beauty. And with TAP Air Portugal, you can effortlessly transform your business trip into an unforgettable bleisure adventure. Discover why Portugal and TAP Air Portugal are the perfect combination for an enriching and rejuvenating experience.
For travelers who love all things autumn, Crystal Springs Resort, New York City's closest destination resort, features special offers and experiences to meet the demands of everyone's fall bucket list. Located only 80 minutes outside New York City in Sussex County, New Jersey, Crystal Springs Resort offers a quick getaway to enjoy fall foliage. Are any of these new offers or experiences on your bucket list?