Warsaw, the capital and largest city in Poland, was once known as "The Paris of the North" for its wide, tree-lined boulevards and beautiful Baroque buildings. During World War II, however, more than 85 percent of the city's historic center was destroyed. Undaunted, the populace rallied and, starting in 1947, began the grueling process of reconstructing the Old Town — brick by brick from the city's own rubble — into what is now a UNESCO World Heritage site.
Since joining the European Union in 2004, Poland has experienced solid economic growth. The Organization for Economic Cooperation and Development and the International Monetary Fund agree Poland fared relatively well during the COVID-19 pandemic and has good potential for successful, long-term development once the pandemic ends. Green technology is poised for future growth (Poland is the EU's biggest exporter of electric buses). Wind energy also has a large investment potential as Poland expands its offshore wind farms. Other sectors such as life sciences like biotechnology, genetics and pharmaceutical chemistry drive the economy as well.
U.S. firms represent one of the largest groups of foreign investors in Poland. Microsoft, Google, Amazon and Cisco Systems have a large presence as do IBM, Lear Corp., Raytheon Technologies and Pratt & Whitney.
In mid-2020 the Polish Development Fund and Dealroom.co reported Poland is the leader in Central and Eastern Europe for investment in startups. Marcin Zabielski, managing partner, Market One Capital, said, "There is no surprise that Poland became a vibrant startup scene, having access to domestic seed capital, experienced founders and top-notch developers."
Most major carriers fly to Warsaw Chopin Airport. LOT Polish Airlines (founded in 1921 and one of the oldest in the world) offers the only non-stop (8.5 hours) from New York's JFK. From the airport to city center take the SKM or SM trains (every 30 minutes) or book a cab at one of the taxi counters in the airport. Uber, wildly popular, works with the cash-free app you probably already have on your phone — equally useful for getting around the city.
Warsaw boasts many 4- and 5-star, business-friendly hotels. The most elegant are Mamaison Hotel Le Regina (61 gracious rooms in the revamped Mokrowsky Palace), Hotel Bristol (opened in 1901, now a 206-room-and-suite Luxury Collection Hotel) and Raffles Europejski Warsaw (106 art-filled rooms in a well-located, 19th-century building). The modern and minimalist Nobu Hotel Warsaw, a brand helmed by world-renowned chef Nobu Matsuhisa, opened in a stunning Art Deco building in August 2021. Other leading brands include Radisson, Marriott, InterContinental, Westin, Sheraton and Sofitel. All have pools, spas, gyms, fully equipped meeting rooms, 24-hour concierges and banquet and catering services.
Most people in business and the service industry speak English, but you should know a few basic phrases in Polish, especially "good day" (dzień dobry, pronounced jen-DOH-bree), a cheerful greeting to everyone you meet: business colleagues, store clerks, hotel and wait staff, taxi drivers … you get the idea. You may not get the pronunciation quite right, but your effort will be much appreciated.
Early morning meetings are not particularly popular in Warsaw unless you're staying at one of the luxe hotels where one can enjoy a quiet, white-table- cloth breakfast. However, the city does love a good cup of coffee, and you'll find a café on nearly every corner (most are too crowded and noisy to conduct a business meeting). Instead, grab a to-go cup and head to one of the city's many jogging trails. The prettiest, the 200-acre Łazienki Park, features miles of paths meandering through centuries-old trees and past magnificent Baroque palaces sporting colorful gardens and peacocks in summer.
For a business meeting over lunch or dinner, choose Stolica (on a small, cobblestone street in Old Town and offering a modern take on Polish cuisine), Różana (Polish foods with a lighter touch; private dining rooms available), Restauracja Mazowiecka (a menu dominated by game dishes served in an elegant dining room), Stary Dom (a rustic ambience and old Polish recipes like wine-braised venison and roast duck with red cabbage), Restauracja Zapiecek (big portions of dumplings, soups and sausages; Polish farmhouse décor) or U Kucharzy w Arsenale (dishes such as pork loin stewed in truffle purée or buckwheat blinis with salmon and caviar). Lunch typically begins at 1 p.m. and lasts two hours. Dinners, sometimes several hours long, usually begin at 7 or 8p.m.
For an after-work drink, try one of the new wine bars like Rausz (offering more than 80 small-grower wines accompanied by regional cheeses and charcuterie). For beer, locals like PiwPaw, where you can order a tasting flight from a list of more than 300 regional beers.
End your day in the epicenter of Warsaw — on the 30th-floor observation terrace of the city's still-controversial communist landmark, the Palace of Culture and Science (a gift from Stalin in the 1950s) — for panoramic views of the entire city. Fast-track tickets are available online.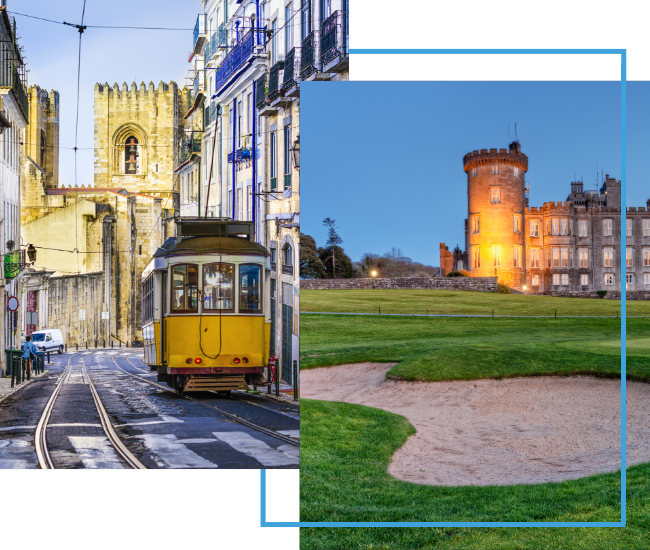 FX Excursions
FX Excursions offers the chance for once-in-a-lifetime experiences in destinations around the world.
Explore Excursions
More than 22 million visitors pour into Bangkok each year, adding to the roughly 11 million residents of the Thai capital famous for its bustling streets. Packed with food carts, markets and cultural spectacles, life in Bangkok is unusually defined by its vibrant street scene, both day and night. That means you don't necessarily need a solid plan when heading out on any given evening.
Sponsored Content
In an increasingly digital and interconnected world, the Global Business Travel Association (GBTA) Convention remains an indispensable platform for business travel industry professionals seeking to make the most of the power of face-to-face connections. Taking place August 13–15 in Dallas, the 2023 GBTA Convention provides the unique opportunity for professionals and companies to join visionaries, thought leaders and industry experts for meaningful networking, cutting-edge insights and inspiring innovation.
As first-time restaurateurs, but with plenty of hospitality-related experience, Ria and Kevol (Kev) Graham were not entirely comfortable opening their first restaurant in the Brooklyn neighborhood of Williamsburg, where several upscale restaurants and 5-star hotel dining is just a block away. And to make matters worse, they opened in July 2020, when New York City was in the middle of the COVID-19 pandemic.