The unique architecture of Charleston's waterfront Historic District may set the stage for some of the nation's most legendary hospitality, as only the U.S. South can provide, but good food and good manners aren't all this city offers. Pre-pandemic, South Carolina's largest city entertained more than 7 million annual visitors, most no doubt enchanted by the sights and sounds of its cultural attractions, but, in addition, the city's 120 parks present more than 1,800 acres of largely natural recreation. As visitors catch on to the value of Charleston's wilder side, something most of its residents already treasure, those numbers are set to grow as the city invests in expanding its park program even further.
"Efforts to update and broaden parks around Charleston allow us to offer more diverse experiences for residents and visitors," said Doug Warner, vice president of Media and Innovation, Explore Charleston. "The Charleston area is a year-round destination, and our numerous outdoor spaces offer residents and visitors an easy way to enjoy the natural beauty of our coastal location." He added, "These spaces often host cultural and sporting events, markets and festivals."
Renovations like those coming to North Charleston's Park Circle will bring not just traditional park fixtures like sports fields and walking trails but also key community-boosting features, such as a performance and event space, particularly attractive to tourists looking for unique experiences while in town.
Updating parks also allows forward-thinking cities like Charleston to address modern awarenesses that broaden the reach of these public spaces. At Park Circle, for example, the Southeast's largest inclusive playground, set to open in late 2023, features a design promoting cross-generational play and which considers people of all abilities and sensitivities — physical, developmental and beyond. All told, this park alone represents a $20 million investment in reimagining how a city plays and recreates, and that certainly includes its visitors. This is just one of several park updates slated for Charleston and its surrounding counties in the coming year.
Parks also offer an opportunity to repurpose abandoned spaces. Similar to New York City's now famous High Line, Charleston is currently developing the Lowcountry Lowline, a project estimated at $30 million that will create a linear park along a former railway. The city itself already made considerable financial contributions and commitments to the initial phases of what looks to be a 10-year, multiphase unveiling that will not just provide safer com- mutes and engaging recreation but will also double as a flood management tool for a city historically plagued by storms.
Megan Mills, project coordinator, Friends of the Lowcountry Lowline, explained, "It will mitigate stormwater flooding by finding ways to store and displace water from major flooding areas and will have 'pocket parks' that can be community gathering areas with programming that welcomes everyone." She added the planned 1.7-mile stretch, set to be Charleston's second-largest park, will also provide safe commuting by foot or bike for residents heading to work, visitors heading to restaurants, or just about anyone looking to traverse neighborhoods that have been separated by I–26 since the 1960s
SCENIC DRIVES
A bit more than an hour southwest of Charleston, Botany Bay Road offers one of the most enchanting experiences you'll enjoy from a car, making it an ideal half-day jaunt from the city. This road leads through Botany Bay Plantation Heritage Pre- serve, a free park managed by the state, and includes a 3-mile loop road with history and views of its own. It's the dramatic entrance, however, that steals the show. A roughly mile-long tunnel of mature oak trees, accented by king sago palms, shades the sandy road beneath and is reason enough for the drive on a sunny day. Keep in mind it's closed on Tuesdays.
The area's most famous tree undoubtedly remains Angel Oak on Johns Island. Estimated to be 400–600 years old, the oak covers a massive area of more than 17,000 square feet with serpentine branches as long as 187 feet stretching whimsically in every direction. The Angel Oak sits less than a half hour from historic Charleston, and there are multiple ways to reach it, but choose a route that includes Bohicket Road, a scenic highway of dense foliage worth the drive on its own. If you have extra time, feel free to explore more of this 10-mile road while you're out.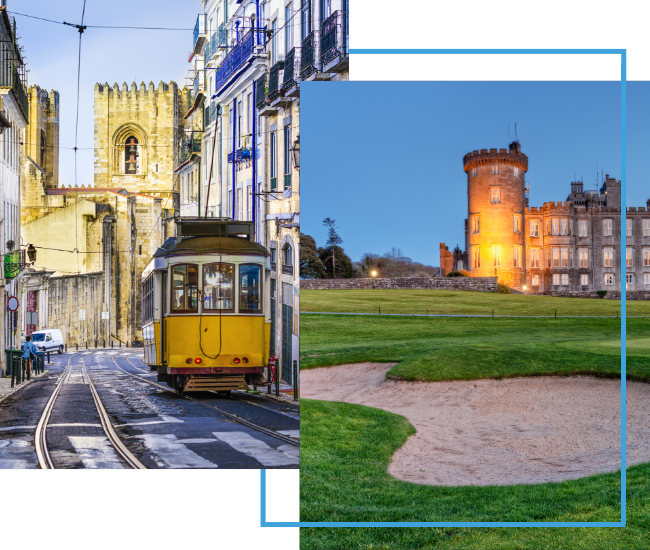 FX Excursions
FX Excursions offers the chance for once-in-a-lifetime experiences in destinations around the world.
Explore Excursions
Mazatlán, Mexico, has long been an attractive home destination for Canadian and American retirees, but, in recent years, young, digital nomads have also discovered the charms of this coastal city, finding inexpensive accommodations, beautiful weather and plenty of bandwidth for working remotely. The laid-back beach scene definitely eases the transition of relocating to Mexico's West Coast.
Sponsored Content
Experience the life-changing destination of Greece by exploring its island gems in the Ionian Sea. Scattered off the western coastline of Central Greece, to the south of Peloponnese, the Ionian Islands are an island group comprising large and small islands.
For its third year, Global Traveler awards the airline, cruise line and hotel brand best representing diversity, equity and inclusion within the travel industry. Over the past year Global Traveler analyzed many airlines, cruise lines and hotel brands to determine which companies prove most committed to changing the world through diversity and inclusion.