Conveniently located just 30 minutes north of downtown Las Vegas, the Paiute Golf Resort is a must-play golf experience. Three actually: In addition to the Snow Mountain course there is the Wolf course (GTee, Global Traveler, August 2004) and the Sun Mountain course.
At 7,146 yards, with a par-72 layout, the Snow Mountain course, which opened in 1995, was the first course designed by Pete Dye for the resort. Greg Wickensimer, the head professional at Paiute, explained that they don't consider the Snow Mountain course to be "target golf." With its wide rye grass fairways and multiple tee boxes, players can go to their drivers on any of the longer holes. He called the course a "progressive layout" and pointed out that there are no parallel fairways. There are, however, the traditional Dye railroad tie-decorated bunkers and dogleg finishing holes.
The natural desert terrain that separates the fairways is considered in play — unless your ball lands on a snake. There are also seven water hazards for you to navigate. To keep the course in pristine condition year-round, the resort has its own well, which supplies 1.2 million gallons of water to each course per day. With its multiple tee boxes the course can be played from a 7,146-yard tournament setup to just 5,341 yards from the forward layout.
No matter which tee you choose, every view from the tee box is worthy of a postcard, with rich green fairways in the foreground and the deep blue sky and purple desert mountains in the distance. But don't let the scenery fool you; this course is a true test. You must keep your tee ball in play; the rough may not look that intimidating until you have to play out of it. (Take along an older 5-iron to play out of the desert.) And then there are the other desert hazards — snakes, coyotes, roadrunners, and the prairie dogs — that will steal open containers of food from your cart while you're trying to putt. The desert is in play indeed!
---
Hole 3
(539 yards, par 5)
At 539 yards, this is a reachable par-5 for the long hitter. A double fairway gives you options: Depending on the wind you could choose to take your drive down the right and try for the green in two over the water, or you can go the safe route and keep the ball on the fairway to the left and avoid the water. This is a true risk/reward hole. Just remember if you choose the riskier route your second shot will be a long carry over the water to the green.
Hole 4
(154 yards, par 3)
After you card a seven on Hole 3 because you thought you could carry the water with a 3-iron, you walk to the tee box on the much shorter Hole 4, and think, "This should be easy." You're wrong. With its bend to the right, water guarding the entire hole on the right side, layered green and three well-placed Dye bunkers, this is a true test of your short game. The smart shot here is to keep it short and left and hope for a two-putt.
Hole 9
(399 yards, par 4)
The ninth hole is a challenge from tee to green. With water on the right and strategically placed bunkers on the left this hole requires an accurate drive. From the middle of the fairway you will be treated to a spectacular view of the clubhouse and green, with its clear blue lake, snow-white bunkers, steelblue sky and majestic mountains. Enjoy the view; just remember that you haven't completed the hole yet. The green is surrounded with grass lows that make your chip shot extremely difficult to execute. A four is a great score.
Hole 11
(579 yards, par 5)
At 579 yards, with a slight dogleg left and generous landing area, this hole gives you a chance to swing away. Keep in mind that the desert and undulating fairway still come into play, so don't try to cut more off than you can handle. Your second shot will be more difficult with a landing area bunkered on both sides. Grass lows and a well-placed bunker protect the shallo w, elevated green from behind. Correct club selection is important, so don't go long.
Hole 16
(182 yards, par 3)
This par-3 hole offers one of the most spectacular views on the golf course, with the Sheep Mountain in the background. You'll have to hit a long carry over water to the green below. If you don't feel like you can carry the water there is a bailout area just to the right of the green that will give you a rather easy up-and-down. Choose your clubs carefully here; there are two bunkers behind the bailout section that will make upand- down almost impossible.
Hole 18
(425 yards, par 4)
After struggling up the long par-5 17th hole, you would think Dye would let you off easy with the finishing hole so you can get to the clubhouse veranda and have a nice cool drink. No such luck. The 18th hole is a true challenge from tee to green. With its left-to-right fairway, water follows you up the left side the entire way to the green. A long and accurate drive is paramount on this hole. A drive too far to the right will require you to lay up and a drive too far to the left will land in the water. Even with a well-placed drive your second shot will be a long carry over water. If you make a par on this hole give yourself a hand. It's a great finish to a fantastic course. Now grab that drink and retire to the clubhouse to watch the action on 18.
---
LAS VEGAS PAIUTE GOLF RESORT
10325 Nu-Wav Kaiv Blvd.
Las Vegas, NV 89124
tel 800 711 2833
http://www.lvpaiutegolf.com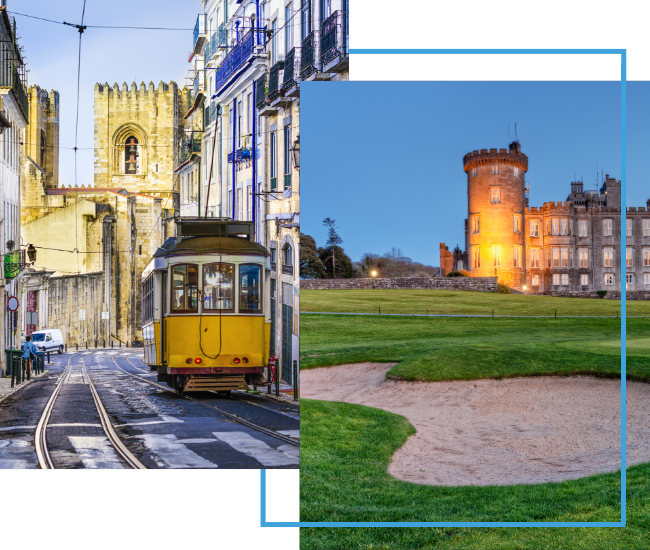 FX Excursions
FX Excursions offers the chance for once-in-a-lifetime experiences in destinations around the world.
Explore Excursions
There may not be snow in Los Angeles this season, but Waldorf Astoria Beverly Hills is certainly full of the holiday spirit, with Christmas, Hanukkah and New Year's events happening in the hotel's gorgeous event spaces.
Sponsored Content
Many small- and medium-sized businesses face time and budget constraints when organizing corporate hotel travel for employees. To address this problem, IHG® Business Edge emerged as a cost-free business travel solution for small- to medium-sized enterprises, offering travel managers exclusive access to enticing perks, handpicked educational resources and comprehensive company travel metrics. IHG Business Edge connects our loyal customers to our portfolio of 5,800 hotels and resorts across 18 brands in more than 100 countries.
Looking for fun things to stuff into the toe of a few holiday stockings? Here are some great choices: