I saw the future in 1973. Aged 6, at Johannesburg Airport, I gazed in awe at an airplane unlike any other. With swept-back wings and a sharp nose, it looked like a paper dart, its name emblazoned on its tail: Concorde.
The aircraft was a prototype, visiting South Africa for test flights in "hot and high" conditions. It shared the apron with several propeller airliners, as well as more modern Boeing jets, and clearly represented a giant leap in aviation … a preview of a world in which supersonic flight would be commonplace.
That future ended Oct. 24, 2003. After 27 years in commercial service, almost entirely with British Airways and Air France, Concorde made its final passenger flight, from New York ( JFK) to London (LHR). It represented not only the end of an era but also the end of the belief that commercial air transport was constantly advancing.
The jet airliners we fly today look much the same as the Boeings I saw in 1973. The main changes have occurred on the flightdecks (replacing anti-quated dials with powerful computers) and in the efficiency of the engines. Fifty years on, Concorde is an odd anomaly.
What happened? The decisive blow occurred at almost the same time I was gazing from the viewing deck in Johannesburg. In March 1973 the FAA banned civilian supersonic flights over the United States. The American airlines which had ordered Concordes (Trans World Airlines, Pan American World Airways, Continental Airlines, American Airlines, Eastern Airlines, United Airlines and Braniff International Airways) promptly canceled, instantly undermining the aircraft's economics. Only 14 aircraft would be delivered.
The main concern then, as now, was supersonic boom. When an aircraft breaks the sound barrier, it creates a shockwave loudly audible at ground level. There were worries regular flights would disrupt people's sleep and could distress pets and livestock.
Ironically, the first aircraft-generated supersonic boom sounded over the mainland United States. In 1947 Chuck Yeager flew a Bell X-1 through the sound barrier 40,000 feet above Rogers Dry Lake in California. It was a milestone many people thought impossible. Once an aircraft reaches Mach 1, the speed of sound, its performance through the air changes significantly. Engineers had mastered designs and engines that could perform efficiently at subsonic speeds, and they devised aircraft shapes and engines suited to supersonic flight. The challenge was to combine those attributes in one aircraft.
The military led the way. In the never-ending arms race, the advantages of aircraft that could vastly outpace their rivals were obvious. In 1953 the North American F-100 Super Sabre became the first fighter jet capable of supersonic speed in level flight, soon followed by the Russian MiG-19. Instability remained an issue for these aircraft, and, of course, they trailed thunderous booms that could prove an irritant for civilians on the ground. (When I lived in Seoul, South Korea, in the 1980s, the U.S. Air Force SR-17 Blackbird often rattled the windows of the city when it supersonically flew to North Korea on reconnaissance missions.)
With the military steadily solving the aerodynamic challenges, for commercial manufacturers the main obstacle remained economic viability. The power-to-passenger ratio limited the size of the fuselage. The aircraft required much more fuel to carry many fewer passengers than a standard jet airliner.
Lockheed and Boeing designed concept supersonic airliners, but it took a partnership between Britain and France to finally get an airliner off the drawing board and into the air. Concorde was born. Its narrow, single-aisle fuselage had capacity for 92–128 passengers, flying at 60,000 feet with a cruising speed of Mach 2.04, more than twice the speed of sound … slashing flight times from London to New York from more than six hours to under three hours.
The aim was to produce 350 aircraft, and early on, airlines placed 100 firm orders. Then came the FAA prohibition on commercial supersonic flight over land. At a stroke, many of Concorde's potential routes were wiped out.
And yet, against the odds, Concorde became profitable. Besides the convenience of speed, it offered exclusivity and became the preferred trans-Atlantic option for the rich and famous. Over the course of its 27 years in service, Concorde made British Airways a profit of nearly £500 million ($600 million) and a more modest profit for Air France. Although no other airlines bought Concorde, the aircraft wore the liveries of Singapore Airlines and Braniff International on short-term leases.
Supersonic flight was glamorous but not exactly comfortable. Concorde's cramped interior afforded no room for the amenities modern passengers expect, such as personal TVs, fully flat seats and spacious tables for meals. In flight, the cabin was noisy and could give a sense of claustrophobia … and yet, customer satisfaction remained high.
Concorde's fate was effectively sealed July 25, 2000. An Air France aircraft on a charter flight to New York hit debris on the runway at Paris Charles de Gaulle Airport. The fuel tank ruptured, and the plane crashed into a suburb, killing all 109 people on board and four people on the ground. All Concordes were immediately grounded. Although they returned to service the following year after safety modifications, the decision was taken to phase them out of service.
That seemed to be the end of commercial supersonic aviation. New aircraft have been announced but have not overcome the reluctance of airlines to commit to an aircraft not permitted to fly supersonically over large parts of the world.
But we are now closer than we have ever been to a return to supersonic travel. Since 2016 Colorado-based Boom Supersonic has been developing the 65- to 88-passenger Boom Overture. A one-third-scale prototype, the XB-1 Baby Boom is expected to start testing in 2022, with the first test flight of the Overture planned for 2026.
Significantly, Boom Overture already boasts more than 200 orders. Richard Branson's Virgin Group was the first customer, subsequently joined by Japan Airlines and United Airlines. In August 2022 American Airlines announced an order for 20 aircraft with an option for 40 more.
The Overture will address some of the problems that limited supersonic commercial aviation until now. Takeoff noise is one of them. Concorde used hideously loud afterburners for the first 1,000 feet of climb. Boom is collaborating with Rolls-Royce to develop engines that can generate the necessary thrust without excessive noise and fuel consumption. In fact, Boom aims to run its aircraft on 100 percent sustainable fuel with engines that actually remove CO2 from the air.
One major problem remains: The FAA ban on overland supersonic flight remains in place. NASA and Lockheed Martin are currently developing the X-59 QueSST, an experimental aircraft that will conduct supersonic flights over the United States between 2023 and 2025. The aim is to gather data on technology designed to reduce sonic booms, with the hope the FAA will lift the ban in 2028. That would be a game- changer, opening up countless new supersonic routes.
Supersonic air travel has barely advanced in the half-century since I saw Concorde in Johannesburg. But that is beginning to change, and before long it's possible a new generation of 6-year-olds will look out at airport aprons and see the shape of things to come.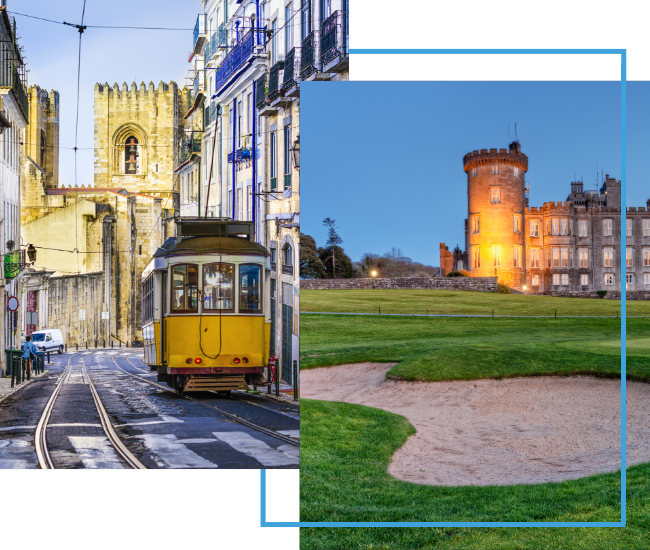 FX Excursions
FX Excursions offers the chance for once-in-a-lifetime experiences in destinations around the world.
Explore Excursions
As another phenomenal year of travel comes to an end, it's time, as always, for Global Traveler to celebrate and award those who do it best as we announce the 2023 winners of the GT Tested Reader Survey awards. But that's not the only cause for celebration here: We've hit another major milestone, as this marks our 20th year honoring the best of the best inn world of travel!
Sponsored Content
The Islands of Tahiti offer a range of captivating activities for travelers with diverse interests, from hiking to breathtaking waterfalls, riding horses on secluded beaches; swimming with sharks; or immersing in Polynesian culture through traditional dance, music and art. For watersports enthusiasts, the crystal-clear lagoons offer exhilarating experiences like surfing, kiteboarding and paddleboarding. And if you're looking to relax, the pristine beaches, overwater bungalows and tropical sun offer the perfect setting. With 118 islands and atolls to explore, island hopping is an excellent way to experience the full diversity of The Islands of Tahiti. With its blend of adventure, culture and relaxation, The Islands of Tahiti offer a truly unique travel experience.
The highly anticipated GT Tested Reader Survey has more reason to celebrate in 2024 than ever before. This year marks the 20th anniversary of our GT Tested Reader Survey awards, with many of the winning brands earning milestone accolades for years of dedicated and consistent service.