PORTO IS ALL ABOUT WINE. Wine literally flows from the steep vineyard-clad hillsides into the Douro River and on to Porto, where it ages in casks and is shipped throughout the world. Port wine takes its name from the city and shaped Porto's social, cultural and economic history.
Visiting the great wine houses is the thing to do here, and with planning you can fit a tour and tasting into an after-5 schedule. Wine houses, easy to find, line the riverbank and ascend the steep hillside of Vila Nova de Gaia, across the Douro River from the even-steeper streets of Ribeira, the old town. The dramatic Ponte Luis I Bridge connects the two.
Several wine houses remain open until 7 p.m., and tours usually take about an hour, followed by tastings. Some offer tastings without the tour; reserve ahead through their websites for either option.
Kopke, the oldest, offers tastings only, pairing wine flights with chocolates. Cockburn's stays open until 6 or 7 p.m., as does Taylor's, where tours are self-guided. Taylor's offers another option: a wine dinner overlooking the Douro. ODE Porto Wine House serves beautifully presented Portuguese dishes using organic, locally produced ingredients.
For a taste of Portuguese culture with your Port, take a tour at Calem with a 6 p.m. tasting and half-hour performance of traditional fado, Portugal's unique, soulful music. For a longer fado show with dinner, locals choose Casa da Mariquinhas, where performances begin at 9 p.m.
Porto's Michelin stars fell on Gastronomic Restaurant at The Yeatman, where connoisseurs opt for the chef 's tasting menu with wine pairings. The outdoor bar and terrace provide some of Porto's best views. Also find a stunning view at the Lounge Terrace 360º Bar, part of the chic Restaurante DeCastro Gaia. A younger, hip crowd prefers Restaurante Cafeína, where Portuguese dishes include Italian and French influences.
The liveliest nightlife centers in the crowded streets around Galaria de Paris, with Porto's highest concentration of bars, cafés and lounges. For live jazz, seek out Mirajazz Wine Bar. Exclusively LGBTQ+ venues are few — Portugal is famously inclusive — but Café Lusitano and newer gay-owned Conceição 35 cater to a mixed crowd, and Invictus Café Bar features live drag shows on weekends.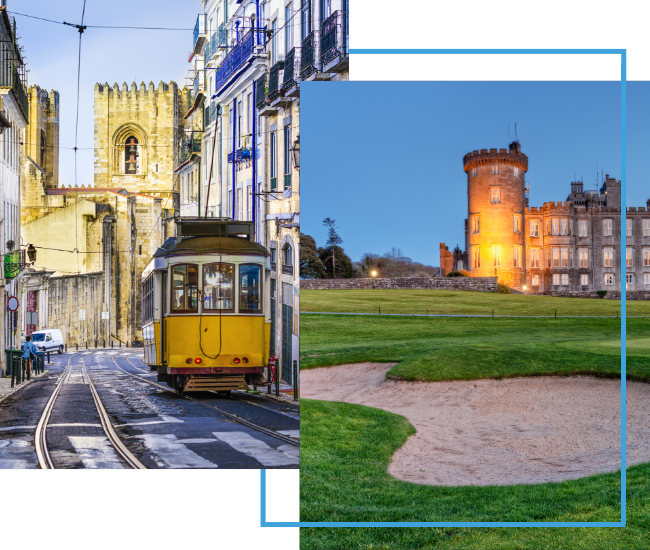 FX Excursions
FX Excursions offers the chance for once-in-a-lifetime experiences in destinations around the world.
Explore Excursions
Pleasant weather, autumn foliage and vibrant flowers are among the many delights awaiting nature lovers at botanical gardens and arboretums across the United States. However, some of these green spaces take on additional color this month and through Halloween when enterprising gardeners, landscape architects, management and other creative minds cast a spell with themed environments running the gamut from spooky to utterly bewitching.
Sponsored Content
The Global Business Travel Association (GBTA) believes business travel is a fundamental force for good and brings the industry together to connect, innovate and set new standards. With members from across the globe, GBTA engages the many voices of business travel to build a collective future, providing a platform for buyers and suppliers to come together, connect with peers, grow their network and shape the future of the industry.
For travelers who love all things autumn, Crystal Springs Resort, New York City's closest destination resort, features special offers and experiences to meet the demands of everyone's fall bucket list. Located only 80 minutes outside New York City in Sussex County, New Jersey, Crystal Springs Resort offers a quick getaway to enjoy fall foliage. Are any of these new offers or experiences on your bucket list?