Over my years of traveling and working in the Western United States and particularly Los Angeles, I have played a great deal of client golf. On more than one occasion, we have teed up at Strawberry Farms Golf Club in order to avoid the more crowded courses in the L.A. area or to meet at a halfway point for Orange County players. The course opened in November 1997 during the frenzied golf craze when every kid wanted to grow up to be like Tiger Woods. The number of golfers has since dwindled, but this course still attracts plenty of players — and paces them at intervals so they do not stack up. The club supplements golf revenues with weddings, and one took place when we played on a hot summer day. I commiserated with the bride and groom as they stood out in the sun in 90-degree heat. Jim Lipe, who served as a senior associate for the Jack Nicklaus golf course architect team, designed the course. The 6,700-yard, par-71 course sits amid canyons and wetlands encircling a 35-acre reservoir. The course was the dream of Doug DeCinces, former California Angels third baseman, and its construction set off a battle between developers and those favoring open space in Orange County. On a warm and sunny California day, I teed up with Rafie Iannello of Global Traveler, Gary Huang of EVA Air and Vladimir Velasco, formerly of Malaysia Airlines. HOLE 6 | 521 yards, par 5 As the author of this article, I have the prerogative to write about the holes where I outperformed myself. The last four holes on the front nine were like a string of pearls for me, carding a birdie, a par, a bogey and a par. If you can hit a series of straight balls, Hole 6 is heaven: not too long and not too difficult. Still, ranked the fifth most challenging at Strawberry Farms, it offers its hazards. Trickle left and you will be lost forever in a line of thick brush and trees. To make matters worse, a creek lies just beyond the tree line. To the right, you have options to bail out and get back in the game, but this approach can be dicey. I slammed a drive to the left center and then a second shot to the green, which made it on with a dribble. A two-putt secured my birdie while the others made a nice showing with pars and bogeys. HOLE 7 | 177 yards, par 3 Bogeys all around on Hole 7! I took a somewhat daring approach, slicing the shot on this narrow par 3 and landing safely but nearly out of bounds. Many find this long par 3 deceiving in length and underestimate the distance. HOLE 8 | 317 yards, par 4 I named this the King and I hole, as Vlad and I were singing snippets from the musical. He had just toured as the king in Japan and throughout Asia, and I had just seen the Broadway performance — Vlad probably made a better king! Both of us kings drove nearly perfect shots to the middle left of the fairway. Gary and Rafie followed with less-than-regal efforts, resulting in a stroke loss. Hole 8 intimidates from the tee box; players have to clear a section of brush and bramble before reaching the fairway. Any miss-hits and you will be re-teeing your ball. Four bunkers greet players as they reach the green, and three more surround the prize. HOLE 9 | 558 yards, par 5 The final jewel in my front nine crown meant I had to lead the pack and put together three well-hit shots to walk off the green with par and a 42 for the front nine. Five fairway bunkers await your drive and second shot, so be prepared for your approach. With a narrow throat off the tee box, you can easily stray into brush and trees lining both sides of the fairway. Gary, Vlad and Rafie all found themselves losing a stroke due to these hazards. One humongous trap shaped like a splitting amoeba sits on the left side of the green and can mean the demise of many players — like Vlad. HOLE 10 | 369 yards, par 4 This is the first of the back nine holes that rest around the 35-acre reservoir, some (like 10) with the water running alongside and others ending or beginning at the water. This makes for a nice transition between the front and back. My team tried to hug the left side with their tee shots but ended up in the drink. We launched many a mulligan in defense. The fairway rolls from right to left, so any decent drive on the right side ends up in the center of the fairway. As I recall, Vlad's ball (one of them) cleared the water but landed in a silly uphill lie to the green, which took two shots to secure for a bogey. I was only at about 100 yards after my drive, allowing for an easy sand wedge to the green for yet another par — yes, I was having a decent day. HOLE 18 | 403 yards, par 4 A magnificent and tricky finishing hole. I knew I was scoring well, so nerves set in and I tomahawked my drive too far left, fearing I was lost in the brush. Upon inspection, my drive was sitting up fine, but my next shot required me to feather the ball around a tree and over the small brook that lies about 30 yards from the green. (A picturesque waterfall trickles down the rocks on the right side of the fairway.) Gary pulled a rabbit out of his hat and secured a par while Vlad and I came up short, leaving us with bogeys. Rafie took one extra shot for a double bogey, and we ended the hot Saturday with yet another fun round with friends under our belt. After a farewell snack, I left the California trio for my red-eye flight to the East Coast.
STRAWBERRY FARMS GOLF CLUB
11 Strawberry Farms Road Irvine, CA 92612 tel 949 551 1811 sf-golf.com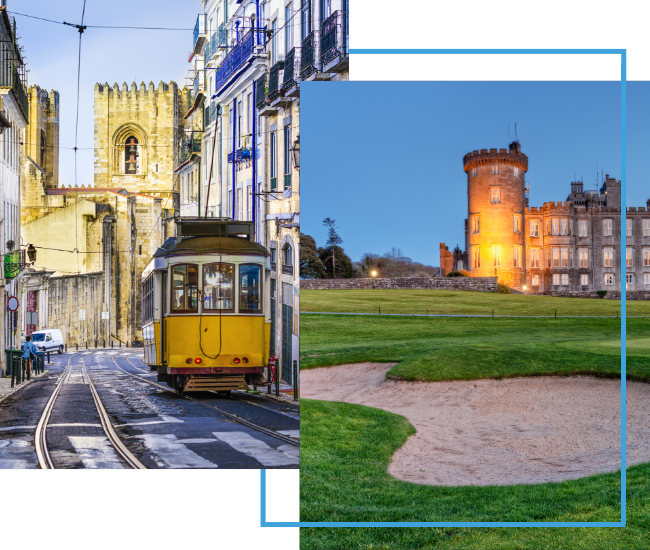 FX Excursions
FX Excursions offers the chance for once-in-a-lifetime experiences in destinations around the world.
Explore Excursions
Think of Tokyo and your mind may wander to the neon signs and bustling crowds of Shibuya and Shinjuku, or the tranquility of the Meiji Jingu shrine, but this huge city offers much to those who explore away from the main tourist areas.
Sponsored Content
Embracing a life well lived often means embracing a life well-traveled. Every journey becomes a canvas for experiences that shape our lives and at the heart of every adventure lies the indispensable companion: quality luggage.
Automotive museums of all sizes will always capture the imaginations of car and racing aficionados. However, the best deliver a lot of substance beyond the machine itself. Some place an emphasis on science and technology or history, while others display iconic cars from film and television. Museums established and operated by the world's top automakers (think Mercedes, BMW, Audi and Porsche in Germany, and Toyota, Honda and Nissan in Japan) have built-in followings.