The shopkeeper, handsome and gregarious, made a fervent promise from his entryway: "I can turn you into an Egyptian woman in two minutes," he insisted. "Please."
So a bright, loose-fitting sheath made its way over my head. A series of quick twists and twirls turned a multi-hued shayla — a long rectangle of soft fabric — into a head-to-shoulders covering. Thanks to a few precise swoops of cloth, I soon resembled a woman of mystery, with only astonished eyes exposed.
"Now run away with me," my attendant pleaded mischievously, extending a hand to whisk us a few stalls away to size up the transformation in a full-length mirror.
He easily won my affection and separated himself from the dozens of other vendors filling the Old Market in Sharm el Sheikh. I was happy and eager to buy something as a reward for the entertainment, glee and attention generated by this disarming but engaging stranger.
At day's end, companions shared similar tales of endearment. What a good day it had been in this part of Sharm, Egypt's attractive and high-demand resort area, where the shimmering Red Sea laps at the tip of the Sinai Peninsula.
Had we lingered after dusk, we would have felt the pulsating rhythms of vivacious nightclubs, inhaled hookahs of fruit-flavored tobacco, relished the aroma of meats barbecued outdoors.
The Old Market has been described as Egypt's largest new bazaar because of its reconstruction in 2005, after terror attacks here and at nearby Na'ama Bay killed 88 people.
But car bombs only temporarily splintered this part of the world, which has worked hard for its reputation as a refuge of tranquility and natural beauty. UNESCO in 2002 designated Sharm (the site of several international peace conferences) as a City of Peace — although the area's history also is riddled with bouts of armed conflict between Egypt and Israel.
Sharm el Sheikh, historically a quiet fishing community, was returned to Egyptian control in 1982, after almost three decades of fierce tugging and tussle. Near-constant sunshine, stunning reddish mountains and clear, aqua seashores have since lured more than 1 million visitors per year to this geographically remote area whose year-round population is merely 35,000.
Myriad construction projects suggest a mushrooming of tourism, the area's leading industry. Only three resorts existed here in 1982; now the total exceeds 90.
Egypt's top destination for pure relaxation lies six hours south of Cairo, where the peninsula is both a desert wilderness and paradise for water lovers. Sharm el Sheikh, Na'ama and Shark bays are less than four miles apart, but the surge of resort development eventually may turn these three areas into one.
Our visit was in late January, when daily highs in the low 80s felt about 15 degrees cooler because of arid conditions and ever-present desert winds.
All was not nirvana. Discreetly armed law enforcers escorted our group during outings, security guards regulated access to resorts, and physical barriers convoluted travel along roadways. When I admitted to an Egyptian native that this felt unsettling, she provided another view. "You should feel safe because of it," she suggested. "You have very good protection."
International vacationers — especially from Europe — come here to swim, snorkel and scuba dive in the Red Sea, whose vivid coral reefs are rated among the best in the world. Fine snorkeling can be experienced as close as the floating docks of some seaside resorts. In-demand daytrips include a one-hour cruise to Tiran Island with stops en route to explore life under water.
Tiran Island is inside of Ras Mohammed, established in 1983 as Egypt's first national park, a haven of preservation for one-of-a-kind ecosystems in and near the Red Sea. Some of the 118,000 acres (this includes both land and water) are unique because of the park's nearly 300-foot-deep vertical reefs.
A wide array of marine life — from parrotfish and threadfins to coral grouper and prickly scorpion fish — make Ras Mohammed and the Red Sea their home. A prime destination for bird lovers is Hidden Bay, an area at the park that is flush with mangrove trees.
Christians, Muslims and Jews consider 7,500-foot Mount Moses, less than three hours from Sharm el Sheikh, as a place of pilgrimage, and some are willing to arrive before dawn, then climb an hour to witness sunrise at the mountain summit. Nearby is Mount St. Catherine, the highest peak in Egypt at 8,600 feet.
All three religious faiths believe this is where Moses received the Ten Commandments. It is the setting for the Biblical book of Exodus, and Moses is known as a holy prophet in the Koran as well as an acknowledged author of the Torah.
At the base of Mount Moses is a small, 11th-century mosque and the world's oldest working monastery, constructed between the years 527 and 565. St. Catherine's Monastery was built around the reputed burning bush of Moses, and inside the monastery library is an enormous collection of religious manuscripts (second in size and rarity only to the Vatican), plus priceless Arab mosaics, Greek icons, Western oil paintings and other extraordinary works of art.
A popular stop for shopping, dining and relaxing on the return trip is Dahab, a bustling seaside village on the Gulf of Aqaba, about 60 miles up the shore from Sharm. The city name means "gold" in Arabic, a reference to the shore's fine golden sands. Take a glass-bottom boat ride or watch windsurfers who gather here because of the favorable and reliable winds. Five miles away is the popular Blue Hole scuba diving area.
Then there are the mountains and desert that identify the peninsula. Within the Sinai is profound geological diversity, from dunes that shift dramatically with the wind to red-hued peaks of granite. Explore the terrain by Jeep, by camel or on foot — but hire a guide. It is way too easy to become befuddled by setting out on your own.
Our escorted trip to a Bedouin village, a popular expedition for tourists, began in five Jeeps and one security vehicle two hours before sundown. After a half hour of driving and clearing a police checkpoint, we left behind the area's lone highway for paths that seemed to change and disappear with the wind.
"Time for a massage," our driver teased, as we began to follow a rut of sand, temporarily separating from the rest of our group, then reconnecting as a caravan. We passed herds of sheep and goats that seemed to have no shepherd, small and sparse tent settlements with satellite TV dishes — and even a makeshift Internet café.
This side trip is billed as a desert safari. Our group of two dozen eventually transferred onto quietly congenial camels, led by nomads who each grasped the reins of two animals and walked us across a flat expanse of desert. Then we dismounted and climbed a scree-filled slope to see how the landscape beyond us curved for miles.
By dusk, we were back at our hosts' campsite for hot and minty habak tea, plus warm chunks of flatbread, made from dough tossed nearly paper-thin then browned in big cast-iron skillets over open flames. Brightly colored blankets appeared on the ground, revealing beaded necklaces, wooden carvings of camels and silky scarves. Also for sale: small jars of camel urine, which the natives consider a wonderful hair thickener and tonic.
How much you enjoy and appreciate the Sharm experience depends, in part, on your ability to trust and your basic attitude about the goodness of human nature. When our sturdy Jeeps bounced us through no-road desert into isolation for a few hours, it was both thrilling and unnerving. And that made it all the more memorable.
Wherever you go, bring baksheesh — tip money — to show your gratitude for small kindnesses. The offer of small bills (do not use coins; they are considered an insult) to tour guides, drivers, bellmen, waiters, maids, camel handlers and people who photograph is a part of the local culture.
Merchants sell spices by the gram, papyrus paper by the hand-painted sheet, carvings of wood and scarves of cashmere. Over-eager vendors will hawk. Others opt for leisurely seduction.
Expect leisurely interplay, no matter how simple the souvenir. Although shopkeepers smoothly segue from compliment and casual conversation to sales hook and business transaction, these delicate dance steps are not speedy. A purchase worth merely $10 or $20 can take a half hour or longer. What counts is not the bottom line but the involvement, which is something to savor. Keep the bartering light and pleasant.
"How many camels for your beautiful wife?" an Old Market vendor inquired, with sincere yet devilish enthusiasm.
"Four," decided my colleague, not skipping a beat.
"Four? FOUR? You cannot mean just four," our gratuitous new friend admonished. He appeared astounded, which shamed my friend into adding …
"Okay. Plus chickens … a hundred chickens."
The conversation continued a few minutes longer, then ended with handshakes, grins and an exchange of goodwill — whose value seemed far greater than money.
---
Info To Go
Sharm el Sheikh International Airport (SSH), the second-busiest in Egypt, is a one-hour flight from Cairo (CAI), six hours from London Heathrow (LHR). You can book organized tours with Eastmar Tours (www.eastmartours.com) or Sun Sharm Tours (www.sunnfunsinai.com). For more information, visit www.egypt.travel.
---
Lodging
Baron Palms Resort
Thick tropical gardens and stunning Andalusian architecture await guests at this all-inclusive property, which boasts nearly 2,000 feet of private beach. Ras Nasrani Bay, tel 20 69 367 0170, $$$$
Continental Garden Reef Resort
Seaside and mountain views are abundant, as is diversity in dining. Among seven restaurants here is the Mediterranean, with its chef cooking stations. Garden Reef Bay, tel 20 69 360 0006, $$$$
Hilton Sharm Dreams Resort
Families who love water will enjoy the resort's diversity, which includes eight swimming pool lagoons and fun activities for children. Na'ama Bay, tel 20 69 360 2828, $$$
---
Dining
Il Frantoio
Exquisite and intimate ambience, specializing in regional Italian fare. Ask for a table on the terrace for an up-close view of sea and fountains. Four Seasons Resort, tel 20 69 360 3555, $$$$
Les Palmes
Award-winning chefs specialize in a fusion of ethnic flavors, often using the freshest of local seafood. Sinai Grand Casino, Na'ama Bay, 20 69 360 1050, $$$
Mahony
Friendly staff and unusual, cave-like décor delight diners. Consider the seafood soup or mixed grill barbecue. Na'aam Bay, tel 20 10 398 3896, $$$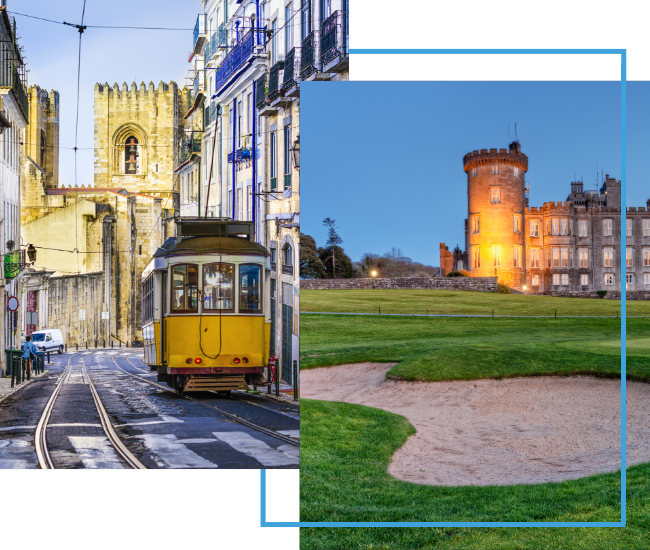 FX Excursions
FX Excursions offers the chance for once-in-a-lifetime experiences in destinations around the world.
Explore Excursions
The Perelman Performing Arts Center (PAC NYC), the cultural cornerstone and final public element of the World Trade Center site, opened this September.  The new performing arts center in Lower Manhattan provides a dynamic home for the arts, serving audiences and creators through flexible venues enabling the facility to embrace wide-ranging artistic programs.
Sponsored Content
Exclusive Sailing with Global Traveler
Whether you call secondhand fashion treasure troves "thrift stores," "fripperies," "charity shops," "vintage boutiques" or something else, shifting the paradigm from "old clothes" to "new finds," you may find the best, most conversation-starting souvenirs inside these shops and neighborhoods located in the world's most fashionable cities and a few unexpected places.