"JUST ONE MORE PHOTO of the leopard, and then I really have to go," I remember saying to the driver of the 4X4 Land Cruiser as I snapped a shot of a female leopardess lounging just feet above my head on the branch of a strong acacia tree. "I have a massage and a facial in an hour back at the camp."
As those last words lingered in the air, I became aware of the rarity of what I had just said. I was in a corner of Botswana called the "predator capital of the world," where not only do all the animals of the Big Five roam freely throughout the rugged terrain of the Okavango Delta, but also packs of wild dogs and hyenas are regular sightings on morning and evening game drives.
My safari guide didn't flinch at my strange sentence, as if he'd heard a similar request before, and instead he simply started the engine and began to drive at the final sound of my camera's shutter. Soon we passed by herds of elephants, tours of giraffes, pods of hippos and more impalas and warthogs than I could count on the way back to the Sanctuary Chief 's Camp so I could make it in time for my spa treatments.
We arrived at the camp entrance with minutes to spare, only to be welcomed by the spa's sole director and therapist, a Botswana woman named Tumi who greeted me with a beautiful smile and a chilled, lavender-scented towel. Tumi escorted me to the far end of the camp, shooing baboons away as we walked along a sandy pathway to the spa pavilion.
Aside from acting as a beautiful paradox to the wild and, at times, dangerous setting in the game reserve, the main charm of the spa at Sanctuary Chief 's Camp rests in its petite size. Run by one woman with one treatment room, the spa feels all at once intimate and inviting with white wooden flooring contrasting with dark wooden beams overhead. The spa pavilion consists of a welcoming lounge with Thalgo and Africology products on display for purchase, a treatment room with a massage table, a pedicure and manicure station, a private bathroom with indoor and outdoor shower facilities, and a gorgeous outdoor viewing deck offering a perfect post-treatment retreat.
Every guest receives a certificate for a complimentary 10-minute foot massage upon arrival, where Tumi uses a traditional African copper pot as the basin for the treatment. Copper has been mined for centuries in Botswana, and these traditional pots are highly acclaimed for healing and antimicrobial properties. The one in use at the Sanctuary Chief 's Camp spa is roughly the diameter of a beach ball and stands in the changing area like something straight out of an Anthropologie catalog.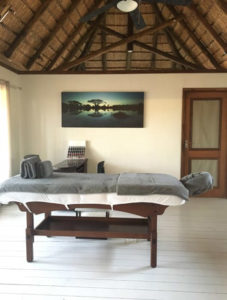 In fact, most of the spa's décor looked like something from a catalog, only everything here is the real deal, made mostly by local craftspeople from local materials. I admired the beautiful space as I made my way to the treatment table, a plush bed in the center of the room. A light breeze blew on my face as Tumi began her signature massage (an aromatherapy massage using Swedish techniques and Africology herb-infused massage oils). She offers a number of massages and body treatments, ranging from an Ikom Sloughing Process that uses walnut and marula shells to exfoliate the skin to an African potato anti-aging body experience that restores hydration and removes free radicals from the body.
Tumi also offers manicures, pedicures and a number of beauty treatments that include waxing, eyebrow tinting and more, but her true passion resides with her facials. The spa uses exclusively Thalgo and Africology products in all the treatments, and guests can select from a range of facials that include either one or the other. The Africology brand is quickly rising to become one of the world's top leading names in skin care. The brand, made in South Africa, uses only indigenous plants, including rooibos, aloe ferox, marula, African potato and more. The brand takes a holistic approach to all its products, creating not only organic and all-natural (no chemicals or synthetic ingredients) products but also committing to fair trade and socially responsible practices.
The Africology products used in the spa's facials have been chosen and combined to allow the ingredients to reach their full potential, and a few of the top facials include the Africology African Goddess Anti-Aging Facial, which includes a marula oil back and neck massage, and the Balancing Rose Facial, which harnesses the essence of rosehip oil to rebalance the skin while nourishing it with a powerful vitamin C boost.
Guests can schedule treatments through the camp manager, the treatment room reception or with the therapist herself.
Sanctuary Chief's Camp Botswana
Okavango Delta
Botswana
tel 27 11 438 46 50
sanctuaryretreats.com
FX Excursions
FX Excursions offers the chance for once-in-a-lifetime experiences in destinations around the world.
Looking for luxury in Italy's Southern Piedmont Region? In the wine hills of Gavi, north and west of Genoa, Locanda La Raia offers 10 splendid guestrooms and two apartments on a 180- hectare estate. Once a countryside inn and post station serving travelers journeying through the area on horseback, the space has been meticulously restored by the Rossi Cairo family to showcase original features such as vaulted ceilings and exposed brickwork. Each guestroom has been individually decorated and now features enormous windows overlooking the surrounding landscape of lush gardens, rolling meadows and organic vineyards.
Sponsored Content
Learning more about our readers' travel habits and preferences ensures Global Traveler delivers the content you desire. As the travel industry has adapted and changed over the last few years, it's more important than ever to connect. To best meet your short- and long-term travel content needs, please help us!