SAN FRANCISCO NEVER FORGOT its big break came when a lumber miller found gold in the banks of the American River near Sutter's Mill. Its natural harbor provided access to prospectors and traders to find riches there. Today San Francisco makes every effort to thank the Earth for its natural blessings by striving to become the most environmentally friendly city in the world.
The United Nations Sustainable Development Solutions Network gave San Francisco this top honor in its 2019 Leadership Report. Other organizations also recognized the city's accomplishments.
Boxed into 47 square miles, surrounded on three sides by water, San Francisco is a walking town. Visitors can stay in a hotel close to where they expect to spend most of their time. Those drawn to Pier 39 would do well to lodge at Hotel Zephyr, just a block from Fisherman's Wharf. Hotel Zephyr worked hard to take care of its little piece of the planet by saving 398 trees during the four years of its operation. It's also prevented and/or saved 9,648 pounds of air pollution; 114,252 gallons of water; 50.25 cubic yards of landfill; 6,246 gallons of gasoline; and 66,994 kilowatt-hours of energy. The décor around the hotel looks like a group of modern art students raided a recycling bin and unleashed their imagination with funky but utilitarian creations. Guests lounge around a firepit constructed from a tower of metal crates, play at a full-sized Ping Pong table set inside a concrete pipe, or lean against an actual shipping container inside the lobby. Bay View rooms offer balconies with clear sightlines to either Alcatraz Prison or Pier 39.
Steps away, Pier 39 offers families, couples and friends an abundance of entertainment options. Grab a bite at the first restaurant on Fisherman's Wharf to serve 100 percent sustainable seafood, Fog Harbor Fish House, voted best clam chowder in the 2018 Wharf Fest Awards. Visit the Aquarium of the Bay, the only Smithsonian-affiliated aquarium in California, before it relocates and transforms into Bay Ecotarium, striving for LEED Platinum certification when it opens around 2024. The aquarium also helped found San Francisco Bay Area Sustainable Seafood Alliance and oversees the Sea Lion Center, which looks after the hundreds of sea lions hanging out at K-Dock.
Take a walk to Pier 15 and marvel at more than 650 interactive exhibits at the LEED Platinum-certified Exploratorium, named one of the 10 coolest museums in the world by The New York Times.
A wonderful way to learn about the city without leaving your carbon footprint everywhere is to take a walking food tour. Local Tastes of the City Tours leads you by your stomach around the eight blocks where restaurants and cafés nourished generations of Italian immigrants. You'll learn history as you taste it from the people who made it. Guided by locals, you'll get the inside scoop on where to find the best coffee (Caffe Trieste), the best deli (Molinari Delicatessen), the best Italian meal (Mona Lisa) and the best cannoli (Stella Pastry & Café). "If you're in a good restaurant," said our Al Pacino look-alike guide,  Brian Raffi, "ask them to make you a fresh cannoli. That's how you know you're in a good restaurant."
After all that eating, take a human-powered bicycle tour to — and across — Golden Gate Bridge. Blazing Saddles offers a variety of bike tour destinations. The one across the bridge takes you through the Presidio, once a designated military base, now America's first national park to earn the Green Flag Award recognizing the highest standards for visitor experience and management of parks.
Another sustainable lodging option in the sophisticated heart of downtown is Hilton San Francisco Union Square. Hospitality insiders have dubbed its community projects manager, Jo Licata, the "Dumpster Diva." She repurposes furniture from area hotels, and her efforts embrace not only the planet but the people who live on it by engaging in partnerships with organizations like Food Runners. Food Runners donates 20,000 meals every week to local charities from uneaten food at hotels and restaurants.. "The food, resources or volunteer hours we provide come from our hands and hearts in the hope of making a positive difference in someone's life," Licata said.
Sports fans will love that Chase Center, home of the Golden State Warriors, got the memo when it planned its operations. Opened in 2019, it's on track to receive LEED Gold certification. General manager Kim Stone said, "We wanted to make sure we were a transit-friendly facility and offered multiple ways to get to the arena besides just driving." Fans can take 100 percent electric public transportation, including ferries, for free by showing a Chase Center event ticket. The center also offers a free bike valet program. Always the competitors, San Francisco Giants' Oracle Field also sports LEED Platinum certification.
If you've ever wondered how to host a convention without trashing the environment, the Moscone Center provides the answer. After its expansion, it achieved LEED Platinum certification, generating the least amount of carbon emissions per visitor.
San Francisco now keeps 1.5 million tons of waste out of landfills every year. That's nearly double the weight of the Golden Gate Bridge. Not stopping there, this city, along with 25 others worldwide, pledged to attain net-zero greenhouse gas emissions by 2050.
SCENIC DRIVES
On the other side of the Golden Gate Bridge lies Sausalito, the gateway to Marin County. A patchwork quilt of green-seeking pleasures awaits along U.S. Route 101 North to California State Route 1 North (Highway 1) to Muir Woods, home of the majestic redwood trees. From the visitor center in Redwood Canyon, paved trails loop into another world. Streams run thick with salmon from July to December, and velvet-like moss veils the trees. Continue on Highway 1 for 23 miles to Bear Valley Visitor Center, headquarters to Point Reyes National Seashore, the famed cliffs along the coastal San Andreas Fault that splits the North American and Pacific tectonic plates. Head five minutes back into town to explore organic, old-world traditions with Food and Farm Tours; you'll learn about oyster harvests and sparkling mead. Crash at the Acqua Hotel Mill Valley if you're too tired to drive back.
A visit to the city shouldn't take place without a call on Sonoma County. Laid-back Petaluma, about an hour's drive from the city, offers an easy hike at Helen Putnam Regional Park, where you might share the trail with deer. Town highlights include lunch at Wild Goat Bistro, wine at Barber Cellars and beer at Lagunitas Brewing Co. If you can't tear yourself away, glamp nearby at the Petaluma KOA. Back on U.S. Route 101 North for 39 miles, explore the Disneyland of wineries. Take a tour of Francis Ford Coppola Winery's intricate collection of movie memorabilia and an array of 40 wines produced on site. Keep the vintage vibe going by staying at the Flamingo Resort and Spa, undergoing a $42 million renovation.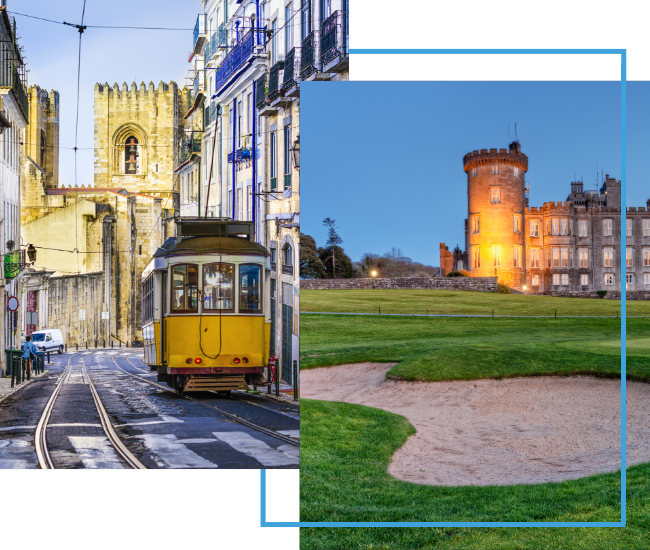 FX Excursions
FX Excursions offers the chance for once-in-a-lifetime experiences in destinations around the world.
Explore Excursions
Corsica with steep, gray cliffs overlooking the Mediterranean and sandy beaches attracting summer visitors, is a French-governed island sometimes confused with Sardinia and Sicily, Italian islands to the south. Fortunately, all three islands share the same love for good wine, food and sun-splashed beaches.
Sponsored Content
Filled with hidden treasures waiting to be discovered, Seoul invites travelers to unearth its many gems, and Seoul Tourism Organization is here to help travelers do just that. Through thoughtfully created initiatives like the Theme Tourism County Competition, Seoul Tourism Organization works closely with local districts to identify and showcase what makes each district unique and charming in all seasons.
If you're ready to do a little holiday catch-up with your besties, make a beeline for Conrad New York Downtown. The lobby metamorphosed into a holiday forest of heavenly scented, decorated Virginia Spruce trees. Make your first stop ATRIO Barista Station in the lobby for a complimentary hot spiced apple cider (until Dec. 3) or hot chocolate (Dec. 22­–24).