"TRAVELING — IT LEAVES YOU speechless, then turns you into a storyteller," exclaimed peripatetic medieval sailor and explorer Ibn Batuta, who cruised through the Maldives — as well as most of the Muslim world — over a period of about 30 years during the 14th century. Though he penned his observations and adventures about many majestic destinations, from West Africa to the Middle East, I imagine him on the deck of his white-sail-bedecked ship, scribing these thoughts at the moment he first caught sight of the Maldives, a remote archipelago in the Indian Ocean.
I'm quite speechless myself at first glimpse of this faraway nation, which consists of nearly 2,000 islands, some as tiny as a stone. Scattered like a broken string of pearls from the southern tip of India to the equator, only 10 percent are occupied, many by individual resorts, most of them accessible only by a combination of small seaplane and boat. Some have tiny communities of people who live off the fruits of the sea. Some are nearly deserted. Only the capital city, Malé, can be described as a metropolis — and it hardly qualifies at all. Most islands lie so far from one another in the Indian Ocean's multiplicity of blues, no other land mass exists within sight.
While I envy Batuta's slow sail around the Maldives and its hinterlands (three decades is a long time), I can't complain that my flight by diminutive seaplane takes only an hour to Niyama Private Island Maldives from Malé International Airport — though the trip to get to Malé in the first place lasted the better part of two days. As I zoom over the water, the vista suggests a Van Gogh-painted sky, as if the water were a mirror. Cobalt and aqua swirls and ripples open to crystalline expanses as busy as a well-stocked aquarium. Large fish, like torpedoes, scoot through the water; I can even see leaping dolphins from my bird's-eye vantage point.
Soon an island pops into sight. It looks a bit like a lotus blossom bobbing in the water. When the plane lands softly on the waves, near a pier, the craft transforms into a kind of boat puttering over to the dock — as canny as a vehicle dreamed up by Dr. Seuss. In further storybook fashion, a horde of festively dressed greeters applauds our arrival, some singing, others strumming instruments, many proffering cocktails served in coconuts. Sun-dappled, with an emerald jungle at its core, this island — like every Maldivian isle I've seen — boasts blindingly bright-white beaches with chichi overwater bungalows and beach cottages spread throughout.
Splurge-worthy Niyama, however, comprises two islands, called Chill and Play, connected by a bridge. Named for their primary vacation function (after all, you don't actually want to work here, do you?), each island lulls you immediately into recreation and repose mode. Chill is meant to be a bit more tranquil and romantic, while Play, family-friendly, attracts sports buffs and groups. Its stellar kids' club, Explorers, amounts to a resort in itself. Nevertheless, I stay in an overwater bungalow on Chill, ideal for adults. My supremely appointed suite features crisp interiors, awash in whites and blues, mimicking the outdoors. An eye-popping grand room opens to a pool, hot tub and what feels like a personal lagoon that stretches to a distant horizon. If I were on a honeymoon, this is where I'd want to be; as a place to escape the frenzy of civilization, though, my overwater home away from home offers immense promise, too.
Since the islands stretch out over abundant acreage, Niyama provides each guest with a bike. One can always call for golf cart transport as an alternative to pedaling, but the childlike glee of bumping across sandy, jungle-lined trails can't be underestimated. I cruise over the boardwalks, across the sand and down winding pathways. Atop my two-wheeler, I cycle myself to Drift Spa (a haven of holistic and conventional rituals), where I meet with a visiting acupuncture specialist. I've chosen Niyama specifically for the peerless reputation of its spa. The Maldives, blessed with hundreds of notable private island resorts, offers countless fine spas, but award-winning Drift stands alone. Amid the jungle, facing the sea, it consists of six overwater treatment rooms and two garden suites. Signature treatments draw from local ingredients, such as Maldivian coral sand and island-crafted coconut oil to polish the skin. Renowned practitioners bring healing treatments to the island for special wellness weeks, so guests can experience unique rituals from crystal therapy to epigenetic testing.
But I'm happiest in my house atop the waves, just gazing at the water.
Here, in mollycoddled Robison Crusoe mode, I feel sometimes like the last person on Earth — if I don't count the abundant, vigilant staff in attendance. But despite being a castaway, I don't have to procure my own food. In fact, I choose from nine restaurants, each nestled into its island nook. Many can be reached by bike. Blu sits by a pool, serving Mediterranean fare, and Nest, with its midjungle, treehouse motif, does Asian food. Niyama's most captivating eatery, Edge, requires guests to board a boat. Edge lies less than a mile away on the verge of yet another private island. I arrive one evening, disembarking at dusk to find the sun a fiery ball slipping into the sea — nature's dramatic crescendo. Here, with no other land mass in sight, the spectacle feels close enough to touch. But things get even better. Down a flight of stairs, Subsix awaits. Another eatery, this jaw-dropper redefines sense of place. A bar and restaurant set completely underwater, with floor-to-ceiling windows, the venue presents an ongoing marine life reality show. Who needs to snorkel when you can see colorful fish with a martini in hand?
Niyama keeps offering up the fun. Blessed with one of the Maldives' only actual surf breaks, the resort has a highly touted surfing school. Daily yoga and fitness classes tempt, as do cocktail making courses, sailing lessons and outings with a marine biologist who has an uncanny ability to intuit where the manta rays play. But Niyama's true gift to guests is the endowment of lethargy, permission to do nothing and to take advantage of each day at a slower pace.
I can't help wonder what Batuta would say about Niyama. I'm pretty sure he'd see the story … and want to tell it.
I do.
Maldives Info to Go
Getting to the Maldives isn't easy, but it's worth the effort. Fly via any number of international airlines into Velana International Airport on Hulhule Island. Normally, a representative from your resort will greet you at customs then escort you to the appropriate transportation mode to get to your retreat. Most hotels are located on private islands spread across the archipelago. You'll get there by speedboat, seaplane or ferry — possibly a combination of all three.
Where to Stay in the Maldives
FOUR SEASONS RESORT MALDIVES LANDAA GIRAAVARU Located in a UNESCO Biosphere Reserve, this private island hideaway has a globally renowned Ayurvedic center. Try the 7- to 14-day Ayurvedic immersion or the 21-day panchakarma detox. Baa Atoll $$$$$
HUVAFEN FUSHI At this sumptuous resort on North Malé Atoll, submerge in the world's only underwater spa. De-stress with Maldivian herb-based rituals in four couple-sized treatment suites beneath the sea. North Malé Atoll $$$$$
NIYAMA PRIVATE ISLANDS MALDIVES As ideal for honeymooners as for families, this über-luxe Maldivian private island resort offers popular wellness weeks led by some of the world's best-known holistic healing experts. Olhuveli, Kudahuvadhoo Dhaalu Atoll $$$$$
Restaurants in the Maldives
BLU In a resort designed by acclaimed Sri Lankan architect Murad Ismail, it's difficult to choose, but Blu on the beach with its sophisticated Italian cuisine reigns for both dining and décor. Four Seasons Resort Landaa Giraavaru, Baa Atoll $$$$$
FEELING KOI Overwater Izakaya-style dining with a Latin twist turns tropical retreat dining into Japanese gastropub chic. Don't miss the saké menu. Huvafen Fushi, North Malé Atoll $$$$$
SUBSIX Like dining inside an aquarium, and only accessible by boat, this unique venue serves an unforgettable Champagne brunch. Don't expect to go at night, when the sea is dark. Perfect for private parties. Niyama Private Islands Maldives, Olhuveli, Kudahuvadhoo Dhaalu Atoll $$$$$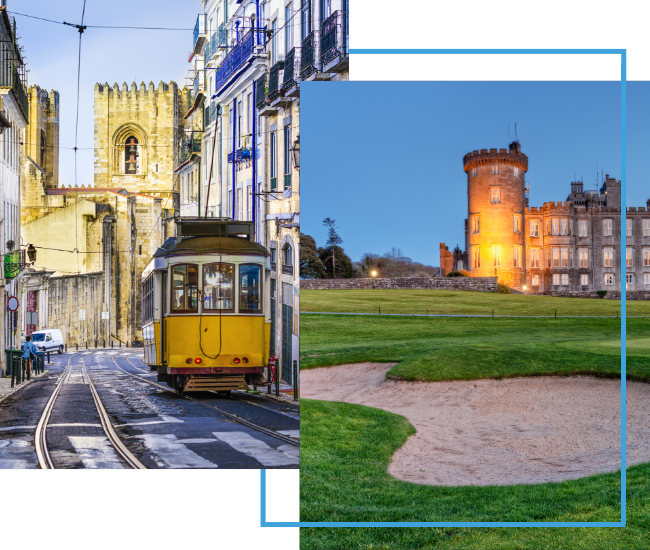 FX Excursions
FX Excursions offers the chance for once-in-a-lifetime experiences in destinations around the world.
Explore Excursions
One thing  surprising about the Prince Edward Island capital is its abundance of shops specializing in affordable, fashion-forward jewelry rendered in sterling silver, vermeil, 14K gold and semi-precious stones. Whether you prefer delicate pieces or bold wearable art, you can be assured the pieces for sale are inspired by the maritime island setting and, therefore, specific to the place where they are created. Here are a few shining, woman-owned examples:
Sponsored Content
Many small- and medium-sized businesses face time and budget constraints when organizing corporate hotel travel for employees. To address this problem, IHG® Business Edge emerged as a cost-free business travel solution for small- to medium-sized enterprises, offering travel managers exclusive access to enticing perks, handpicked educational resources and comprehensive company travel metrics. IHG Business Edge connects our loyal customers to our portfolio of 5,800 hotels and resorts across 18 brands in more than 100 countries.
Norway, a haven for visionary artists, architects and designers, showcases an exceptionally diverse array of cultural attractions. This year, the country commemorates exciting milestones and unveilings captivating enthusiasts of the arts, from iconic scenic routes to new museums to gallery openings. Up Norway features these new offerings in personalized itineraries catered to aesthetes.