BEFORE MY TRIP TO MONTEGO BAY, essentially all I knew about Jamaica was my parents had a lovely time there on their honeymoon, more than 30 years ago. Eager to get out of the 40-degree weather and into island vibes, selling me on three full days at a 5-star Jamaican resort couldn't have been easier. Going through customs in my long pants, sweater and Philadelphia-spring clothes in the dead heat of the West Indies sun was just the shock my body needed to usher me into relaxation mode.
Upon arriving at Round Hill Hotel and Villas, I was pleasantly surprised by how natural the resort felt. Tucked away on the hillside — hence the name — surrounded by picturesque cliffs, turquoise-blue waters, sandy beaches and lush jungle-like foliage, it didn't feel manmade at all, more like someone discovered this oasis in a tropical forest. With rustic bars built around almond tree trunks and most of the shade provided on the beach by the thick, woven branches and limbs, guests can easily enjoy sun, shade and comfort without umbrellas lining the sand and blocking the view.
While touring the grounds of Round Hill Hotel and Villas, dreaming of my spa treatment later that day was all that occupied my mind — that, and whether my fresh sunburn would hinder my massage.
Taking the short walk from the beach to the welcome wharf of the spa, along what is known as the Enchanted Path, provided a pleasant way to ease into the peace and quiet of my spa treatment. I walked by a cove decorated with natural white rocks and stones from the beach, stacked and signed by guests of the hotel, and passed a nearly private beach offering plush bed lounges, chairs and an inviting hammock. Ignoring the siren call of the hammock, I headed into the cottage for my appointment.
When Round Hill first opened in the 1950s, spa treatments and services were not as fashionable as they are today. As the resort's popularity grew and wellness services improved, the spa cottage went from a room with a bed or two and on-call therapists to a full-service spa, health and wellness center boasting a wide variety of natural scrubs, exotic treatments, skincare therapies and holistic services. All are in keeping with the rustic-meets-luxury and natural appeal of the rest of the resort.
After going back and forth with the menu items, from the tranquility treatment to the deep-tissue experience, I landed on the Wellness Massage option, as it was described to me as a bit of both. I walked over to the changing room, found a cubby for my clothes and changed into an oversized robe and rubber sandals before shuffling back to the main cottage for my massage.
I grabbed a spa water on the way to my room and got comfortable under plush sheets surrounded by aromatherapy incense. My masseuse was soft-spoken and sweet as she patiently waited for me to get situated, rolling over the wrong way and back again. She began by gently exfoliating my feet, legs, arms and hands, then back — again, after patiently waiting for me to roll over correctly. The exfoliation process woke my skin up from a long winter, helping with circulation and making the lotion and oil process that much more relaxing.
Essentially, the wellness treatment is designed to rejuvenate your skin while relaxing your muscles and releasing any harbored deep tension. The massage started with my feet and calves and moved up toward my back, arms, shoulders and neck. The kneading pressure felt amazing and, after just a few minutes, I knew I was going to have a hard time accepting the massage was over. Oil, massage, lotion, massage and repeat, forever.
After rolling on my back for more massaging of my feet, legs, chest, head and face, my 50-minute massage was coming to an end. Until my experience at Round Hill, I hadn't had a professional scalp massage before, and to sneak that in at the end was a welcome, game-changing surprise.
Now fully relaxed, near sleep and feeling completely exhilarated and rejuvenated at the same time, I begrudgingly got up from my reverie and prepared to change. After assessing the situation that was my disheveled, oiled-up hair, I was completely unfazed — it was still island time, or irie, mon — as I slid my now slippery feet back into my rubber shoes and headed for my locker of beach clothes.
Luckily, the spa and fitness center's private beach was just steps away, so I easily floated over to lie on the lounge chair for a bit longer in full relaxation mode. Although the spa offers "me time" treatments for teens, it's one of the only spaces on the resort exclusively adults-only and incredibly quiet. Perfect for my extended wellness treatment and self-made R&R before walking back to reality — well, a 5-star Jamaican resort reality consisting of infinity pools, high tea and impeccable service.
Round Hill Hotel and Villas
John Pringle Drive
Montego Bay, Jamaica
tel 876 956 7050
roundhill.com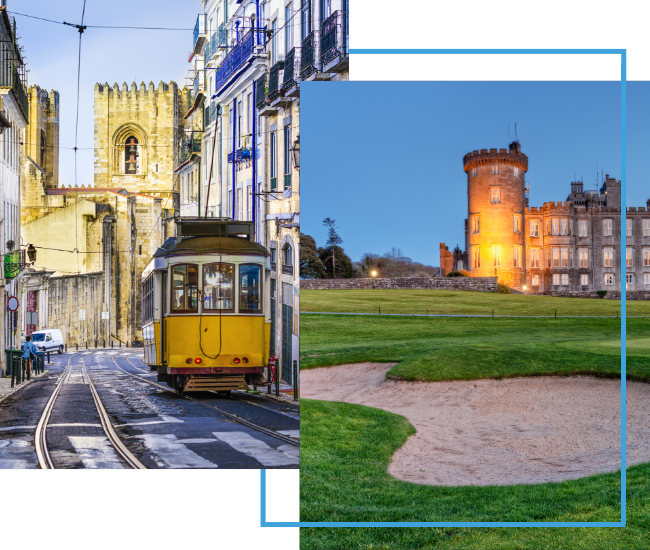 FX Excursions
FX Excursions offers the chance for once-in-a-lifetime experiences in destinations around the world.
Explore Excursions
This is a love story involving a frequent traveler, a swanky business-class lounge, Polaris seat 7A and palate-tempting libations.
Sponsored Content
The Islands of Tahiti offer a range of captivating activities for travelers with diverse interests, from hiking to breathtaking waterfalls, riding horses on secluded beaches; swimming with sharks; or immersing in Polynesian culture through traditional dance, music and art. For watersports enthusiasts, the crystal-clear lagoons offer exhilarating experiences like surfing, kiteboarding and paddleboarding. And if you're looking to relax, the pristine beaches, overwater bungalows and tropical sun offer the perfect setting. With 118 islands and atolls to explore, island hopping is an excellent way to experience the full diversity of The Islands of Tahiti. With its blend of adventure, culture and relaxation, The Islands of Tahiti offer a truly unique travel experience.
This month head west — at least as far as California, where the second annual Crush It Harvest Festival will be held on the West Pavilion Lawn at The Estate Yountville. The festival is held on Oct. 7, beginning that morning and ending when the sun dips below the valley's horizon.