IN AN AGE WHEN MORE THAN 80 percent of those ages 18–34 spend a quarter of their disposable income on health products and services, the global fitness frenzy has an impact on the nature of festivals as well. Festival-goers wake up to live-music sunrise yoga sessions rather than bleary-eyed from a nasty hangover, splurging for kombucha on tap and indulging in organic foods.
The formats may differ, but the concept behind the myriad wellness festivals worldwide runs along the lines of creating community through well-being, whether it's a week of meditation and yoga or a weekend of DJs and dance parties mixed with lectures and classes promoting mindfulness.
"Though there is no way of tracking festivals, wellness festivals are popular — probably more in the last five years," said Steve Schmader, president and CEO, International Festivals & Events Association, based in Boise. The association is a professional body for festivals and events around the world.
"I think as people in society deal with so much stress, people are looking for outlets," he added. "They are looking to get control over their world."
Following are just a handful of the major wellness festivals around the globe.
WANDERLUST STARTED AS a single event in Squaw Valley, Lake Tahoe, in 2009 and has expanded into a worldwide series of festivals located in the United States, Canada, Chile, Australia and New Zealand.
"It's a celebration, more about balance of life, celebrating community," said Sean Hoess, CEO. "It started as a large-scale music festival built around yoga. From there, there has been a lot of growth."
Hoess and cofounder Jeff Krasno were formerly involved in the music business but were not interested in producing a music event. "At the time, Yoga Journal's style of conference was an inspiration," Hoess said. "We looked at what they were doing and thought there was an opportunity to make a festival around that, make it fun."
The event itself includes a menu of some 300 activities. Attendees can sign up for lectures, yoga classes and meditation, as well as nightly concerts. Other activities, such as guided hikes or paddle board classes, depend on the festival location, whether in the mountains or at the beach.
Speakers included the likes of Deepak Chopra, and musical performances range from acoustic mountaintop meditations to electric main stage performances, from silent disco to Kirtan and sound healing.
"Our mission is helping people find their true north, find their best selves," Hoess said.
Wanderlust also produces some 60 events in urban areas worldwide in places like Golden Gate Park in San Francisco and Prospect Park in New York. Called Wanderlust 108, they consist of a 5k run, a 90-minute yoga class and guided meditation — "a mindful triathlon."
wanderlust.com
ANOTHER LONGTIME FESTIVAL, Bhakti Fest is held at California's 425-acre Joshua Tree Retreat Center and features yoga with top-name instructors, Kirtan music, Ayurvedic practices, workshops and vegetarian/vegan food. There are also seminars on nutrition.
"We're family-oriented," said cofounder Sridhar Steven Silberfein. "No alcohol, no drugs. The festival focuses on what to do to go deeper inside and find the self … understanding the soul."
Mornings start with meditation and a fire ceremony, or homa, during which a priest opens a fire pit and people sit around chanting.
"It's opening the inner spirit so you can have a better day," Silberfein said.
Shakti Fest started two years after Bhakti and is geared more for women — worshipping the divine goddess, according to Silberfein. There are a number of female yoga teachers and seminars led by spiritual elder women.
Bhakti attracts 5,000 with speakers like Deepak Chopra while Shakti, held Mother's Day weekend, attracts 200. Proceeds from the festivals go to charities, including schools in India.
west.bhaktifest.com
THE SUN VALLEY WELLNESS FESTIVAL, now in its 21st year in Idaho, was initially created and produced by the Sun Valley/Ketchum Chamber & Visitors Bureau. In 2006 the Sun Valley Wellness Institute took over.
"What separates us from most other festivals is we're a nonprofit organization," said Heather Lamonica Deckard, festival director. "We have scholarships for people in need." The organization hosts smaller wellness-oriented events, but the Sun Valley Wellness Festival is its centerpiece.
"The focus is wellness of mind, body, spirit and environment," Deckard said.
This year the festival location moved to the Community School Campus in Sun Valley, Idaho. About 3,500 attend throughout the weekend. During the daytime there are wellness presentations as well as movement classes such as yoga, hula hooping and sound meditation classes and hands-on practices like reiki and palm reading. Evenings feature two keynote speakers, with past all-star guest speakers including Deepak Chopra; Robert F. Kennedy, Jr.; Jamie Lee Curtis; and Mariel Hemingway.
"Usually there is a music element to get people out and moving, dancing," Deckard explained. "We had MC Yogi one year; we had Jewel. Last year there was a yoga DJ dance party."
sunvalleywellness.org
PURPOSELY SMALLER IN SIZE than some of the big-name festivals, the annual Telluride WOW (Weekend of Wellness) Festival maintains a relatively straightforward daily schedule, starting with a morning hike and including a music-based fitness class; a session of either Pilates or indoor cycling; and a choice of massage, meditation or a movement class. The festival addresses behavioral health in one-on-one sessions.
telluridewow.live
THE WEEK-LONG INTERNATIONAL YOGA FESTIVAL in Rishikesh, India, regarded as the birthplace of yoga, includes more than 60 hours of varying yoga classes led by worldrenowned masters. Though yoga is the main focus, the festival also presents lectures guided by some of India's premier spiritual and thought leaders and other wellness specialists. Nearly 2,000 participants from 101 countries descended on the festival last year.
The festival takes place at Parmarth Niketan Ashram, the largest ashram in Rishikesh and one of the largest interfaith yoga institutions in India.
The day starts at 4 a.m. with kundalini sadhana — a daily spiritual practice — and ends at 9:30 p.m. with traditional cultural song and dance on the banks of the Ganges River.
internationalyogafestival.org
ONE OF THE MORE PROMINENT wellness festivals on the scene, Wonderfruit, melds music, arts, family, workshops, talks and adventures for four days at the Fields at Siam Country Club in Pattaya, Thailand, and draws some 13,000 people.
Pranitan "Pete" Phornprapha, founder and creative director, Wonderfruit, said in a statement regarding 2017's event, "… Wonderfruit has been all about showing that living sustainably can be easy, fun, and even decadent, but this time we made a huge step forward as we brought together thousands of likeminded people from four continents to explore, enjoy, and make positive change."
Produced by Scratch First, the festival includes talks on environmental awareness, conservation and even crystal healing. It uses sustainable materials, including its Living Stage for performers and DJs, made from environmentally friendly bamboo.
wonderfruitfestival.com
HELD IN UBUD, THE ANNUAL BaliSpirit Festival attracts more than 7,000 people from all over the world. The six-day, seven-night event offers interactive workshops and seminars, a healing center, a children's activity zone and yoga classes, as well as an assortment of live music ranging from rock to Balinese contemporary, from devotional to world beat.
Just as varied are the talks and workshops, with topics running the gamut: shamanism, African drumming meditation, hula hoop dancing, kundalini tantra yoga and Javanese mysticism.
"Healing Huts" showcase healers in the practices of chakra balancing, Balinese healing arts and massage, to name a few. Other workshops focus on yoga and healing practices.
balispiritfestival.com
MUSIC AND WELLNESS CONVERGE in the rainforest of Costa Rica at the annual Envision Festival. Started in 2011, the festival draws top-name talent like Bob Moses, performance artists and keynote speakers, as well as hands-on classes teaching how-to skills for permaculture and herbal medicine. In the past it featured talks from the founders of Burning Man as well as the director of the documentary Cowspiracy. Festival-goers can camp on site or stay at a hotel.
envisionfestival.com
DUBLIN DEBUTED WELLFEST in 2015, and it has become Ireland's largest wellness festival. Held at the Royal Hospital Kilmainham, Dublin City Centre, the festival is based on three pillars of wellness — nutrition and spiritual and physical fitness, with a full lineup of yoga and Pilates classes, talks on mental health, cooking demonstrations and wellness talks.
wellfest.ie
HOSTED AT THE ASSEMBLY ROOMS, the Edinburgh Wellbeing Festival features speakers on fitness and nutrition, herbal remedies, physiotherapy and other health-related topics. Also featured are workshops in everything from How to Build a Successful Wellbeing Business to What Type of Yoga Is Best for You. Classes range from power yoga to Zumba.
edinburghwellbeingfestival.com
THE FIVE-DAY SPIRITFEST, located at Somerset Gift, a green farm and nature reserve outside Swellendam, South Africa, incorporates chanting, meditation and DJ-led dance parties, as well as various styles of yoga from kundalini to ashtanga. Vendors hawk eco-conscious crafts and foods, and presenters from around the world vary from anatomy experts to shamans.
spiritfest.co.za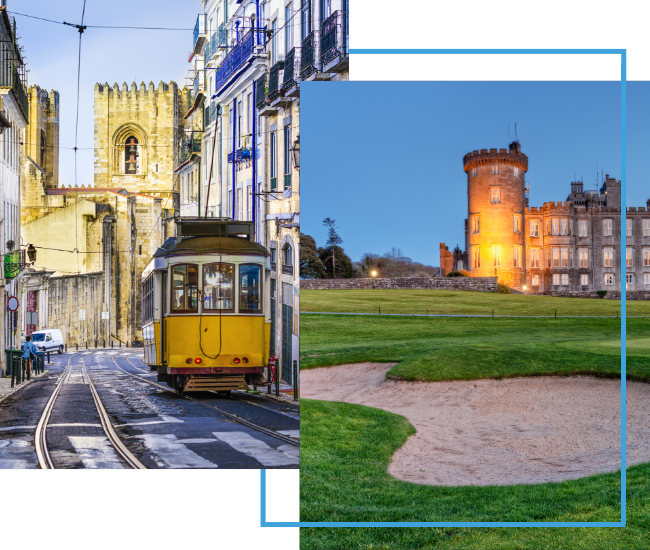 FX Excursions
FX Excursions offers the chance for once-in-a-lifetime experiences in destinations around the world.
Explore Excursions
In addition to intimate settings, smaller staff-to-passenger ratios, and personalized food and beverage options, river cruises have the advantage of providing a deeper dive into a region's culture, food and history. The Rhine, Rhône and Danube in Europe and the Mississippi River and St. Lawrence in North America have much to offer travelers with their itineraries, tying together beloved cities and lesser-known destinations along their routes.
Sponsored Content
IHG Hotels & Resorts is thrilled to announce the launch of a new mobile product feature for members: IHG Wi-Fi Auto Connect. This feature is now available exclusively in the IHG One Rewards mobile app for both iOS and Android users and will automatically connect IHG One Rewards members to WiFi upon arrival at more than 5,000 IHG hotels worldwide — no separate passwords or log-ins needed. This is in addition to the exciting benefits of being an IHG Business Edge member. IHG Business Edge provides small- and medium-sized businesses access to a user-friendly portal that displays comprehensive spending and savings data while providing the convenience of direct booking with a guaranteed discount.
With the holidays right around the corner, travelers are preparing for holiday travels. For those looking for a last-minute getaway filled with holiday cheer, consider Croatia. With a variety of winter activities perfect for travelers and locals alike, the Christmas countdown in Croatia is in full swing. Leading up to Christmas, Advent in Croatia makes it even more worth your while to visit the country with free winter incentives. If you plan on visiting Croatia, here are five cities going all out for the holiday season: