Close your eyes. What can you smell? At this moment, it's the African bushveld: an earthy mix of dust, vegetation, the sweetness of fermenting marula fruit, perhaps a whiff of elephant dung. What can you feel? The heat, relieved by the evening breeze. The padded seat of the safari vehicle, maybe even a slight buzz from the sundowner drink you've just enjoyed. What can you hear? This evening it's the resonant call of a group of ground hornbills, one of the most evocative sounds of Africa. And there … the sharp warning barks of a herd of impala.
Open your eyes. You're in Sabi Sands Game Reserve, a fenceless patchwork of private concessions adjoining South Africa's Kruger National Park, a protected wilderness the size of Israel. Specifically, you're in the concession belonging to Singita Ebony Lodge. You sit in an open safari vehicle parked in silence at the junction of two dirt tracks. The hornbills perch above you in a tree; the impala (medium- sized antelope) tightly bunch in long grass; and there, down one of the tracks, you notice feline movement. Musa, the tracker, sitting on a flip-down seat on the front of the vehicle, points. Marc, the guide, fires up the engine and steers sharply toward the moving shape. We've found a leopard.
This is a game drive and also a wellness treatment. Singita recently rolled out a more holistic approach to wellness across its portfolio of African lodges, from South Africa to Rwanda. All aspects of your stay contribute to the revitalization of your body and spirit.
With 12 expansive, beautifully designed suites overlooking the Sand River, Singita Ebony was the brand's founding lodge, established in 1993. Our suite has its own pool from which we can watch an elephant herd come down to drink on the opposite side of the river, and in which we are watched by vervet monkeys in a tree and by a bushbuck stalking through the undergrowth.
Returning to our suite, the homely scent of the thatched roof envelops us, instantly transporting me back to the safaris of my African childhood. The connection between scent and memory has long been established, and therefore every Singita property emits its own signature scent. Every time you use the perfumed hand sanitizer, you inhale that scent and imprint your memory with the lodge's distinct aroma.
Our leopard also utilizes scent. With Musa now safely within the vehicle, we follow her along the track. She doesn't walk so much as flow. Her beautiful markings present a dynamic replication of light and shadow, dappling each stride she takes. She stops to sniff a particular bush, then curls back her upper lip in a grimace. This is the flehmen response. Another leopard has scent-marked the bush, and she is using the Jacobson's organ in the roof of her mouth to extract information from the scent.
Human senses are nowhere near as sharp as those of a leopard. But inferior as they are, mine are thoroughly revived by my treatment in Singita's spa. My therapist, Tebogo — Tabs, for short — hails from the capital, Pretoria, and brought the holistic approach to the village she now lives in on the border of the reserve. She is raising funds to start a women's soccer team to bring a positive focal point to the lives of local women.
My treatment begins with a foot rub using sand collected from the banks of the Sand River. Holistic philosophy or not, I don't envy Tabs having to touch my feet. She tells me she's dealt with much worse, which I take as a compliment.
Then I climb, without the lithe grace of a leopard, onto the treatment bed for a massage. Face down, I close my eyes. What do I hear? Birdsong. The rhythmic, repetitive call of a Cape turtle dove, and the twitters and trills of a wide range of other species. Tabs places singing bowls on my back and conjures sound from them. Sound is vibration; it reverberates through me. What do I smell? The warm, detoxing oil she massages into my back. The scent of rain, a light shower gently patter- ing outside. What do I feel? Complete harmony with my surroundings.
When the leopard leaves us, she dissolves. Her camouflage mixes with the vegetation. One instant we see her, the next we don't. But also, she'll never leave us, and neither will Singita. All of our senses have committed them to memory.
Sabi Sands Game Reserve
Hazyview 1242
South Africa
tel 27 21 683 3424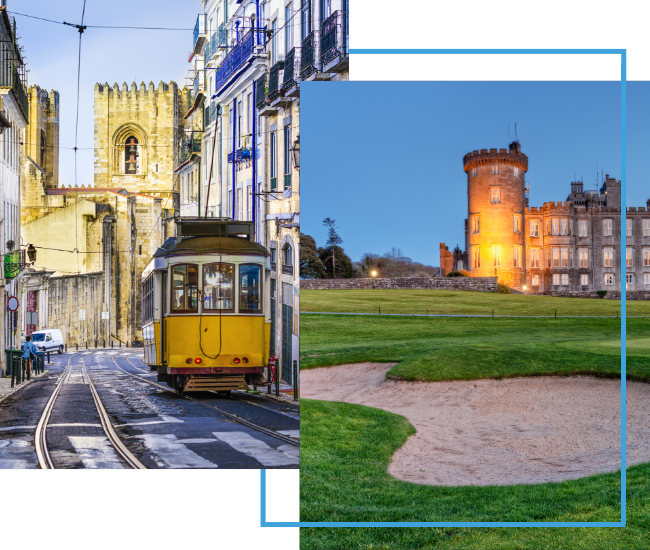 FX Excursions
FX Excursions offers the chance for once-in-a-lifetime experiences in destinations around the world.
Explore Excursions
In addition to intimate settings, smaller staff-to-passenger ratios, and personalized food and beverage options, river cruises have the advantage of providing a deeper dive into a region's culture, food and history. The Rhine, Rhône and Danube in Europe and the Mississippi River and St. Lawrence in North America have much to offer travelers with their itineraries, tying together beloved cities and lesser-known destinations along their routes.
Sponsored Content
Filled with hidden treasures waiting to be discovered, Seoul invites travelers to unearth its many gems, and Seoul Tourism Organization is here to help travelers do just that. Through thoughtfully created initiatives like the Theme Tourism County Competition, Seoul Tourism Organization works closely with local districts to identify and showcase what makes each district unique and charming in all seasons.
With the holidays right around the corner, travelers are preparing for holiday travels. For those looking for a last-minute getaway filled with holiday cheer, consider Croatia. With a variety of winter activities perfect for travelers and locals alike, the Christmas countdown in Croatia is in full swing. Leading up to Christmas, Advent in Croatia makes it even more worth your while to visit the country with free winter incentives. If you plan on visiting Croatia, here are five cities going all out for the holiday season: