As my husband and I prepared for a long weekend away at western Pennsylvania's Nemacolin resort, the weather forecast loomed large. Frigid temperatures were on the way from the Midwest, and one full day of our itinerary focused on outdoor activities, from clay shooting to a safari tour to snow tubing. Even though it was just a short, three-day jaunt, we ended up with luggage upon luggage to fit all our snow and cold-weather gear. We hit snowstorms during our drive there and as we neared home on the way back, but for the time we spent ensconced at Nemacolin, we were truly in a winter wonderland. As I reminisce and write this article, sweltering temperatures continue to reach triple digits with extreme humidity, so the memories from our time in the snow globe world of Nemacolin in winter bring a mental state of cooling relief.
After our day of back-to-back outdoor activities and fun, we were prepared for a day of indoor action and relaxation, starting with a visit to the on-site Woodlands Spa and Salon. All resort buildings connect without one needing to trek outdoors; but as we sat at the breakfast table overlooking the spa across the parking lot, we decided to just sprint outside as it was the quickest option from point A to B. Even though it was a short walk — less than two minutes — the temperature quickly infiltrated to the bone; however, the chill quickly disappeared as we passed through the spa doors. Instead of icicles and our teeth chattering, soothing music, a delicious scent and a décor evoking true serenity took over both our goosebumps and our mental state.
We both scheduled the 110-minute Five Elements Journey, one of the spa's newer signature treatments. As our visit came on the heels of one of the pandemic's spikes, COVID-19 protocols were in full force, with all patrons and staff masked, social distancing measures in effect, and heightened sanitation. I wore a mask throughout the treatment, as did my therapist. It definitely made for an interesting look as I took a walk through the hot and cold hydrotherapy Water Path in a tankini and a mask!
The Five Elements Journey is based on the spa's Feng Shui design, balance and a harmonious flow of energy. The five earth elements — wood, fire, earth, metal and water — factor not only into the design of the spa space but also throughout the treatment itself. All of the elements are included through a ceremonial candle lighting (fire) and palo santo cleansing (earth and wood), the aforementioned walk on the signature Water Path (water), a massage with essential oils and heated bamboo (wood) and a pressure point foot massage using a Kansa wand (wood and metal). One point of the Water Path, which alternates between temperatures, is lined with stones. There's deep breathing in of several oils to determine which scent best meets your needs. And there's also intention and meditation work during the candle lighting aspect. All in all, the treatment truly incorporates natural elements and allows for the spa-goer to reset, recharge and relax while being grounded and connected to earth. The warmth and comprehensiveness of the experience perfectly counteracted the bitter cold of the elements and proved the perfect antidote to the sore muscles we had after the outdoor activities of the day prior.
We met back up, supremely relaxed, in the upstairs lounge, where two loungers were reserved for us, boasting signs that read: "Relaxation reserved for Mrs./ Mr. Inlander." How inviting! I sank right into the lounge chair, not quite ready for the bliss to end. We'd preordered from the menu full of shareables, salads, sandwiches, teas, infused waters, wines, sparkling wines and hot beverages. We split the hummus trio of roasted garlic, grilled eggplant and roasted red pepper hummuses, accompanied with vegetable sticks and vegetable chips. I enjoyed the spinach salad with pesto chicken, baby spinach, strawberries, toasted almonds, goat cheese and a white balsamic vinaigrette. Scott chose the grilled turkey burger with cilantro aioli on a wheat brioche bun. We ate a leisurely lunch, people-watching as other couples and groups dined, relaxed and went in and out of treatments.
The spa menu boasts an array of options, from seasonal offerings and three- or five-hour immersions to facials, contouring treatments, massages, body treatments and salon services. Many feature unique twists and the latest in technology and therapy, offering a full range of specialties to answer any health and wellness need.
We emerged from Woodlands Spa and Salon with our candles in our hands and our intentions in our hearts, ready to take on whatever delight the winter wonderland had in store for us next. Winter, spring, summer or fall, a trip to Nemacolin and its spa is sure to delight, whatever Mother Nature delivers outdoors.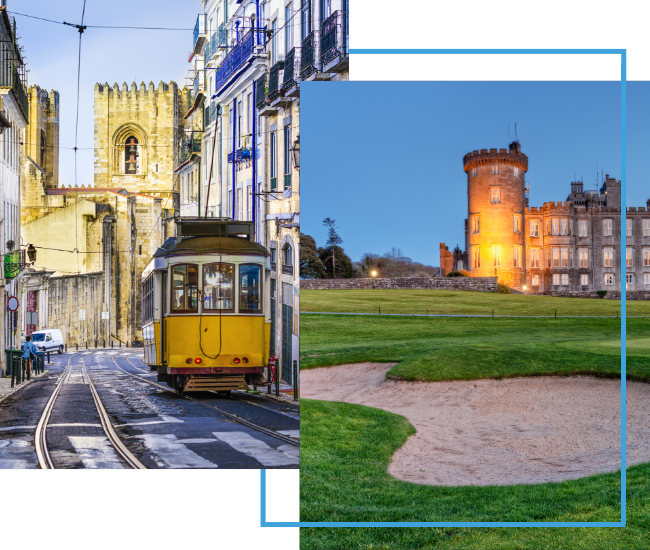 FX Excursions
FX Excursions offers the chance for once-in-a-lifetime experiences in destinations around the world.
Explore Excursions
Mazatlán, Mexico, has long been an attractive home destination for Canadian and American retirees, but, in recent years, young, digital nomads have also discovered the charms of this coastal city, finding inexpensive accommodations, beautiful weather and plenty of bandwidth for working remotely. The laid-back beach scene definitely eases the transition of relocating to Mexico's West Coast.
Sponsored Content
In an increasingly digital and interconnected world, the Global Business Travel Association (GBTA) Convention remains an indispensable platform for business travel industry professionals seeking to make the most of the power of face-to-face connections. Taking place August 13–15 in Dallas, the 2023 GBTA Convention provides the unique opportunity for professionals and companies to join visionaries, thought leaders and industry experts for meaningful networking, cutting-edge insights and inspiring innovation.
For its third year, Global Traveler awards the airline, cruise line and hotel brand best representing diversity, equity and inclusion within the travel industry. Over the past year Global Traveler analyzed many airlines, cruise lines and hotel brands to determine which companies prove most committed to changing the world through diversity and inclusion.