The path to super consciousness begins in Pune. But you can't get there in a Nano. Not, anyway, according to Osho, the so-called "Sex Guru" whose sensual prescriptions for personal growth attracted thousands of visitors to the city in the 1970s and '80s.
Osho died in 1990 — or "left his body," as his followers say — but his 30-acre ashram lives on. Reborn as an international meditation resort amid the lush greenery of Pune's high-end Koregaon Park, it's a sign of the times.
For just as Osho was leaving, foreign capital was arriving. The then-anemic Indian economy, stifled since independence, had finally opened its doors, ushering in the free-market reforms that set it on a blazing path to prosperity. Two decades later, the $1.3 trillion Indian economy is now the world's 11th largest and its second-fastest-growing, having expanded by 8.8 percent between 2009 and 2010.
Mumbai and Delhi may get all the credit, but Pune has played a major role in India's rise. Long an important industrial hub, it fast became a major manufacturing center with a wide variety of sectors represented — everything from food and pharmaceuticals to electronics and automobiles.
Automakers, in particular, have propelled Pune ahead. Beginning with two Indian-owned facilities producing trucks and scooters in the early 1960s, the city's booming industry has grown to include global leaders like DaimlerChrysler, General Motors, Mercedes-Benz, Volkswagen and Fiat, to name just a few.
Every year, Pune's auto plants churn out close to 1.5 million passenger cars and trucks and more than twice as many light vehicles including mopeds, motorbikes and the country's iconic auto rickshaws. And those numbers are sure to increase in the years ahead as new greenfields go up on the outskirts of town.
In 2008, Tata Motors, India's largest automaker, chose Pune as the site of its primary plant for the brand-new Nano, the miniature "people's car" that sells for $2,500. A year later Volkswagen followed suit, opening one of the company's most advanced manufacturing facilities for assembly of its top-selling Polo. And last September, General Motors announced plans to manufacture diesel engines in its new $300 million Pune plant.
It was information technology, though, that sparked the biggest changes Pune has ever seen, transforming the once semi-rural retirement haven into a silicon star. In a matter of months, IT parks sprouted up all around town, turning entire villages into shimmering enclaves of glass and steel. The parks aren't exactly pretty — certainly not compared to Pune's old town — but by employing some 70,000 people, they've helped create a thriving middle class where there wasn't one before.
And while it's true that other Indian cities, namely Bangalore and Chennai, boast bigger IT sectors, Pune accounts for a sizeable — and still growing — slice of that pie. Last year, Pune's IT sector reported more than $5 billion in software exports, outperforming much larger Mumbai.
Mumbai, located just 100 miles to the north, casts a shadow stretching at least that far. Indeed, to many Mumbaikers, Pune is still little more than a quiet getaway with a balmy climate, lush green scenery and just enough entertainment for a long weekend with the kids. And it is.
However, Pune is also increasingly a destination in its own right, and not only for frazzled bankers from Mumbai. The cultural capital of Maharashtra state, the city of 5.5 million boasts a number of museums and heritage sites, including ancient temples and palaces, and colorful open-air markets where artisans display their crafts along the winding alleys of the old town.
Pune's students know this well. With its world-leading concentration of educational institutions, including nine different universities and some of India's top graduate programs in medicine and engineering, the "Oxford of the East," as Pune is known, has long been a magnet for the country's best minds.
As those graduates go on to fill the ranks of Fortune 500s like Infosys and IBM, a flashier side of the ancient city is emerging to cater to their tastes. Trendy restaurants and cocktail bars have filled the empty spaces around upscale Koregaon Park. And luxury boutiques are an increasingly common sight. Last month, Hermes was set to open its first store in Mumbai — but it decided to open in Pune first.
Perhaps nothing says more about Pune's promise, though, than the opening last November of the Marriott's 500th hotel. Marriott isn't the only luxury brand in town. There's a new 277-room Westin in Koregaon Park and a 222-room Hyatt Regency in Pune's rapidly developing eastern corridor, home to a number of India's IT giants.
But the Marriott, 18 floors of gleaming glass and steel plunked down on Pune's bustling Senapati Bapat Road, stands out. Pune's singular city-center 5-star, it's a confident statement about the future — about the business bound to be done in its 40,000 square feet of meeting space and the deals sure to be brokered over scotch and cigars in its Bar 101.
Were he still around to see it, Osho might have lamented the loss of Pune's bucolic peace, replaced, as it has been, by the steady drumbeat of development. But as New Yorkers well know, that's the price of progress.
---
Info to Go
Although it is possible to fly into Pune — Pune International Airport (PNQ), located approximately six miles north of the city, receives international flights from Frankfurt and Dubai — the vast majority of visitors make the drive from Mumbai. private taxi to the city from Mumbai International Airport (BOM) takes about three hours and costs about $40.
---
Diversions
You may be in a Marriott, sipping gourmet coffee and surfing the Web. But there's an elephant holding up rickshaw traffic two blocks away and a 17th-century temple — Chaturshringi (Senapati Bapat Road) — perched atop a hill just around the corner. Named after Pune's presiding deity, Chaturshringi is the city's most-visited religious site. But be sure to carve out time for the Pataleshwar Cave Temple (Jungli Maharaj Road), an eighth-century shrine to the Hindu god Shiva, and the marvelous Dagdusheth Halwai Ganapati Temple located in Pune's old town.
From there it's a short stroll to the Shaniwarwada Fort, once the royal residence of the Peshwas, who ruled the massive Maratha Empire. The Peshwas surrendered to the British in 1818, and a decade later the seven-story palace was gutted by fire, killing many of the 1,000 people inside. But you can still marvel at its granite fortifications and the door fixed with spikes to prevent elephants from ramming it down.
Take a rickshaw ride down Laxmi Road. One of the city's longest commercial streets, it snakes through crowded stalls selling silk saris of every cut and color. Those in search of a more relaxed shopping environment can find it at Cottage Industries Exposition, or CIE (21-23 Bund Garden Road, tel 91 20 4002 4941), a bottomless trove of fine art, precious gems and hand-woven tapestries.
Home to a number of legendary yoga masters, Pune is a widely regarded center of yoga education. At the Ramamani Iyengar Memorial Yoga Institute (1107 Hare Krishna Mandir Path, tel 91 20 2565 6134), 93 year-old B.K.S. Iyengar, considered the world's greatest living yoga master, can still be found, often in the lotus position, at his world-renowned studio. Iyengar caters to an advanced crowd, but options abound for beginners as well.
For some fresh air, head to the beautiful Bund Garden and stroll the five-acre spread on the banks of the Mula-Mutha River. Located less than a mile from the Pune railway station, it's a popular place for bird-watchers, particularly during the winter when many exotic species pass through.
---
Lodging
Hyatt Regency Pune
Opened in 2010 near Koregaon Park, the 222-room Hyatt features a business center with secretarial services and an indoor heated pool. Wiekfield IT Park, Nagar Road, tel 91 20 6645 1234 $$$
Marriott Hotel & Convention Centre
Pune's newest luxury hotel and only city-center 5-star boasts 460 guestrooms, 12 meeting facilities and superb service; within walking distance of major sites. Senapati Bapat Road, tel 91 20 6683 3333 $$$
Vivanta by Taj
Located just 2.5 miles from Pune's airport, the Taj property features 110 well-appointed guestrooms. 11 Koregaon Road, tel 91 20 6602 5555 $$$
Dining
Arthur's Theme
"King Chef" Navtej Singh's authentic French fare is a delight. Try the "Fabian," a barbecued steak topped with a creamy garlic sauce. 6 Koregaon Park Road, tel 91 20 2613 2710 $$
Dario's
Rebecca and Dario Dezio serve up "Italian specialty vegetarian" in a quaint space with courtyard seating and birdsong for music. 19 Koregaon Park, tel 91 20 2605 3597 $
Spice Kitchen
Classic Indian dishes are on the menu at this Marriott standby, where multiple buffets cater to an international crowd. Marriott Hotel, Senapati Bapat Road, tel 91 20 6683 3333 $$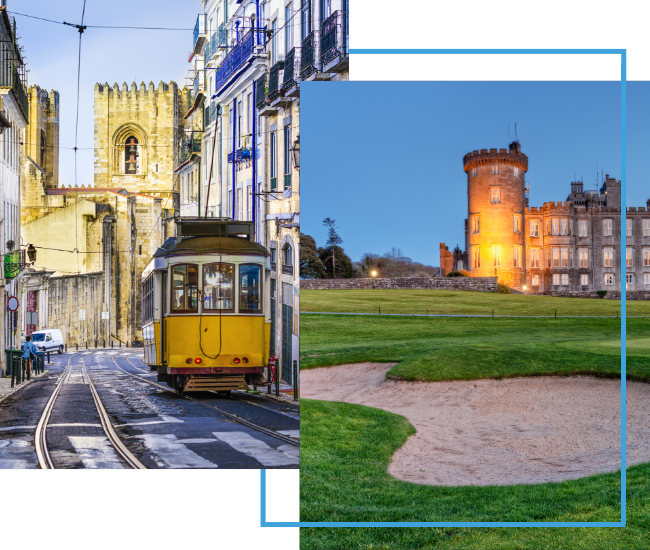 FX Excursions
FX Excursions offers the chance for once-in-a-lifetime experiences in destinations around the world.
Explore Excursions
More than 22 million visitors pour into Bangkok each year, adding to the roughly 11 million residents of the Thai capital famous for its bustling streets. Packed with food carts, markets and cultural spectacles, life in Bangkok is unusually defined by its vibrant street scene, both day and night. That means you don't necessarily need a solid plan when heading out on any given evening.
Sponsored Content
The Islands of Tahiti offer a range of captivating activities for travelers with diverse interests, from hiking to breathtaking waterfalls, riding horses on secluded beaches; swimming with sharks; or immersing in Polynesian culture through traditional dance, music and art. For watersports enthusiasts, the crystal-clear lagoons offer exhilarating experiences like surfing, kiteboarding and paddleboarding. And if you're looking to relax, the pristine beaches, overwater bungalows and tropical sun offer the perfect setting. With 118 islands and atolls to explore, island hopping is an excellent way to experience the full diversity of The Islands of Tahiti. With its blend of adventure, culture and relaxation, The Islands of Tahiti offer a truly unique travel experience.
As first-time restaurateurs, but with plenty of hospitality-related experience, Ria and Kevol (Kev) Graham were not entirely comfortable opening their first restaurant in the Brooklyn neighborhood of Williamsburg, where several upscale restaurants and 5-star hotel dining is just a block away. And to make matters worse, they opened in July 2020, when New York City was in the middle of the COVID-19 pandemic.