WHEN I FIRST VISITED CARTAGENA, I went from touring an exhibit hall to standing on 17th-century stone fortification walls 15 minutes later. I left my hotel tower and walked for miles on the beach the next day. Our closing party took place in the historic walled city, with a convent from 1551 on one side and a full cumbia band flanked by costumed dancers on the other.
Colombia's largest port put the city on the map nearly 500 years ago when it began its role as a major trading center in the New World. The official name is Cartagena de las Indias since the arriving conquistadors named it after the city of Cartagena in Spain. It fended off pirate attacks and spent a dark time as a slave trading center before declaring its independence from Spain and gaining it for good in 1821. It holds an important place in the hearts of Colombians, being a base for Simón Bolívar and the home of novelist Gabriel García Marques.
Through attacks and prosperity, civil wars and drug wars, this city retained its crown as the jewel of Colombia for commerce, then tourism. Lately the appeal has been as a solid real estate investment for both Colombians and foreigners. The skyline therefore changed dramatically in recent years, with new residential high-rises springing up around the more modestly sized colonial buildings inside the walls.
This city on the water now thrives as a major meeting center as well, hosting high-profile events such as the Interpol General Assembly and the Latin American Economic Forum. Attracted to the UNESCO World Heritage walled city and the Caribbean island-hopping options on the water, many tourism conferences and incentive conferences pick Cartagena throughout the year.
It's easy to find your hotel on a map here. Most of the large properties are situated near the water, stretching from the Hilton at the end of Bocagrande past the Sofitel Legend Santa Clara in the center to new properties opening north of Las Americas Hotel and its convention center facing the beach. The International Center of Conventions and Expositions at Las Americas sits across from the 529-room namesake hotel with a wide range of good restaurants. This is one of two major meeting centers in the city, close to the airport and many large hotels, with a capacity of 3,600 people. The Cartagena de Indias Convention Center has more character surrounding it, as it is located on the edge of the old city near colonial-era churches and boutique hotels. This center can host another few thousand attendees, and its fully equipped theater has more than 1,450 seats.
The dual centers for large events aren't the only games in town, however. The 187-room InterContinental Cartagena includes eight varied meeting rooms. A boardroom seats 10, and the grand ballroom offers a banquet capacity of 500. Although steps from the beach, the hotel is part of a development that also includes a shopping mall and casino.
The nearby 341-room Hilton Cartagena has a panoramic view of the water from some dining spots and breakout areas. It boasts an experienced staff, an exhibition hall and 15 meeting rooms. The largest one is a ballroom that can host up to 750 registrants.
For companies preferring a golf getaway, the Conrad Cartagena, also part of the Hilton group, will open its doors in September, bringing an 18-hole golf course designed by Jack Nicklaus to the city's offerings. With seven dining and drinking outlets, a full spa and four swimming pools, this resort with 268 rooms will be a fun spot when the meetings are done. There's plenty of room for business, though, with five meeting rooms, a beach lounge and a ballroom hosting more than 750 for banquets.
Hotel construction tax incentives expiring at the end of 2017 have spurred a flurry of construction. A Hyatt Regency and Sheraton will join the Conrad this year, and still more international brands are on the way, including two from Marriott.
Cartagena is Colombia's most cosmopolitan city, but this is nothing new. Over the years Jews, Italians, French, Turks, Lebanese, Syrians and, of course, Spaniards settled here. Freed slaves and Caribbean sailors mixed with merchants and traders. Lately, new residents from Argentina to Venezuela to Canada have put down roots here. Cartagena is an easy city to reach, with flights on nine airlines coming from North America, South America and Europe to Rafael Núñez International Airport. With Avianca based in Colombia and value airlines like Spirit and JetBlue keeping a lid on prices, fares stay reasonable throughout the year, including in business class.
Exotic and unique but ready with the latest technology, Cartagena is a historic beach city that's truly distinctive as a conference location.
UNIQUE VENUES
Want a special venue for a memorable event? Cartagena overflows with interesting spots. Several plazas inside the stone walls are big enough for a full band stage, while smaller groups can have a cocktail hour at sunset on the walls themselves. The Castillo de San Felipe de Barajas fort from 1657 and the 17th-century Plaza de la Proclamación in the old city also offer evocative reception spots at night. Barefoot cocktails in the sand aren't hard to arrange with so many miles of sandy beaches to pick from. Small incentive groups often enjoy a daytime island excursion or sunset cruise.
With new skyscrapers going up each year, roof decks with a view are abundant, and most hotels include a spot that overlooks the crashing waves or the city skyline. Colombia is known for its coffee, and the locals' preferred bar items are beer; rum; and aguardiente, an anise-flavored clear liquor. There are only a few vineyards, all growing grapes at high elevations. Find the best selection of these and other South American wines at the top luxury hotel in the city, Sofitel Legend Santa Clara Cartagena, at its Restaurant 1621 or El Coro lounge bar. The hotel frequently offers tastings and special wine events.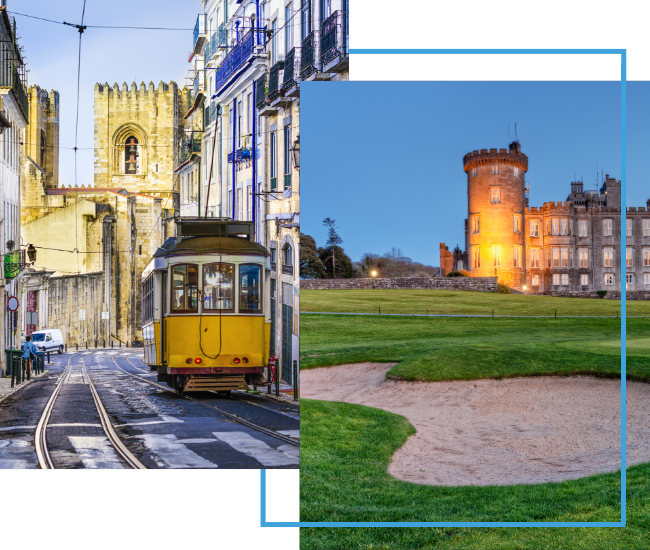 FX Excursions
FX Excursions offers the chance for once-in-a-lifetime experiences in destinations around the world.
Explore Excursions
There is something magical about sipping a glass of local wine while watching the sun slip into the Aegean Sea as the afterglow tinges traditional, white-washed Cycladic houses with glorious shades of rose, purple and gold. Ancient Greeks believed Helios, the Sun God, caused sunsets by driving his fiery chariot into the sea. Standing at water's edge in Mykonos, watching the sky slowly turn from purple to inky black, you almost believe it.
Sponsored Content
Exclusive Sailing with Global Traveler
The prospect of a post-visit treasure hunting session inside the shops of landmark museums such as the Louvre in Paris, the Uffizi Gallery in Florence and The British Museum in London can be irresistible. However, some of Europe's smaller and more unusual museums boast retail spaces with a surprising "wow" factor, often as well-curated as the galleries.