THE BASICS
Name: Luc Bondar
Title: President, United MileagePlus and vice president, Marketing & Loyalty
Company, city: United Airlines; Chicago, Illinois
First job: At 14 I worked at a bottle shop carrying boxes of booze to people's cars. My first career job was in retail sporting goods.
A LITTLE BIT MORE
What actor or actress would play you in a movie of your life?
Either Hugh Jackman or Chris Hemsworth
What would you be doing professionally if you weren't in your current industry?
Leading marketing for a global sports brand — Nike and Adidas, Quiksilver
What historical figure, dead or alive, would you love to have dinner with?
Bill Gates
THE BUSINESS
What is your most recent project, and what was the inspiration behind it?
In the face of recent challenges, we've been shaping the industry in ways others are following. Our corporate development team created a new model for loyalty-backed finance, raising close to $7 billion using MileagePlus, a model now used by Delta, Spirit and American. We removed change fees, giving customers the flexibility they sought so they could book with confidence. And we built our CleanPlus platform, leading our industry globally in building a relationship with Clorox and the Cleveland Clinic to assess our policies to reduce the spread of COVID-19. Every decision is backed by science in the interest of the safety, health and well-being of our employees and customers.
What is your favorite aspect of the job?
It's people and performance. I love the interaction with customers. When flying for business, I introduce myself to customers and spend time with any million-milers on the flight. Our employees also offer great ideas. I get the whole spectrum of feedback every day, from fabulous to constructive to critical.
What's the biggest business risk you've ever taken?
I have a high risk tolerance, so things that seem risky to others just feel like the right thing to do. I've swung for the bleachers with provocative marketing campaigns, removing miles expiry, eliminating change fees. Building a new model for loyalty-backed finance was risky, but we had the data to back it up, and I was confident we could land it. You only get the big rewards if you're willing to take on the big risks.
Who is someone you admire profession- ally in the travel industry?
I've had the honor of working with two once-in-a-lifetime leaders at United: Oscar Munoz, a leader with great empathy who made transformational changes to turn the business around, and now Scott Kirby, a leader with clarity and directness who's explicit in the goal of making United the undisputed best airline in the history of aviation.
AS A TRAVELER
Tell us about a travel nightmare: Getting stuck in the U.K. after the Icelandic volcano. The day I was to leave the industry was grounded, and I spent the next 13 days in my hotel, trying to work out how to get out of there.
Share a comical travel experience: On day 13 of being stuck in London, a colleague and I sat in a bar with our laptops and booked a taxi, hotel night, ferry, taxi and train to get to Paris. I booked a train from Paris to Barcelona, where I could catch a flight. You couldn't book train tickets from the U.K., so I used a VPN and pretended I was booking from France; everything was in French, which I don't speak, so I used Google Translate to decode every web page. But then the French rail system went on strike, so I ended up with a 14-hour bus ride to Barcelona, with no toilets on board. I made the mistake of having a few beers with my colleague before catching the bus. That was one of the most uncomfortable bus rides of my life.
What is your preferred method of travel — planes, trains, automobiles, cruise ships — and why? I love to fly: the magic of getting on in one place, hopping on this incredible feat of engineering and getting off in a different culture and time zone. I love trains because it's a different way of seeing a country, particularly on long train journeys where you see the geography change.
What has been the best example of customer service you've experienced during your travels? When I fly United with my family, I'm just a passenger; and I appreciate the amazing care our team takes, especially for our four little kids. It's the little things I see all the time: customers in need, flight attendants helping them. We hold a plane for customers so they can make their connection with the introduction of our Connection Saver program that automatically identifies departing flights that can be held for connecting customers.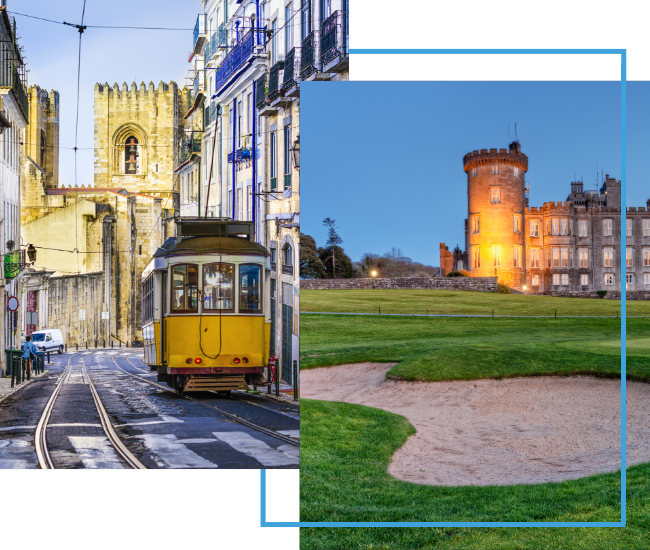 FX Excursions
FX Excursions offers the chance for once-in-a-lifetime experiences in destinations around the world.
Explore Excursions
The Perelman Performing Arts Center (PAC NYC), the cultural cornerstone and final public element of the World Trade Center site, opened this September.  The new performing arts center in Lower Manhattan provides a dynamic home for the arts, serving audiences and creators through flexible venues enabling the facility to embrace wide-ranging artistic programs.
Sponsored Content
Are you looking to enhance your business trip with a little leisure? Look no further than Portugal, a country renowned for its captivating blend of history, culture and natural beauty. And with TAP Air Portugal, you can effortlessly transform your business trip into an unforgettable bleisure adventure. Discover why Portugal and TAP Air Portugal are the perfect combination for an enriching and rejuvenating experience.
Whether you call secondhand fashion treasure troves "thrift stores," "fripperies," "charity shops," "vintage boutiques" or something else, shifting the paradigm from "old clothes" to "new finds," you may find the best, most conversation-starting souvenirs inside these shops and neighborhoods located in the world's most fashionable cities and a few unexpected places.