The beach is not the place to work, to read, write or think," wrote Anne Morrow Lindbergh in her memoir Gift from the Sea, a collection of reflections on life and relationships.
Indeed, from the moment we sink our bare toes into warm sand, hear the sound of crashing waves and breathe in the salt air, we transform … we let go of our stress and set off on a journey in search of peaceful moments. We go to the beach, quite simply, to set our spirits free.
Scientific studies show the beach is one of the best places to alleviate stress and heal our brains. The negative ions in the ocean air actually calm our brains. Our minds drift and our breathing slows as the rhythm of the waves lulls us into a meditative state. When we walk barefoot in the sand, the neural network on our feet picks up electrons from the surface, making us feel energized and vibrant.
Now, as we look toward a post-pandemic chapter, we seek a refreshing change of pace, a change of place. With thousands of miles of coast, the United States offers a great diversity of shoreline options — you don't have to travel far or stick to well-known resort towns and overcrowded beaches. Here's a look at some of our hidden gems with a somewhat lower profile.
ANNE MORROW LINDBERGH drew inspiration for her memoir from the shells she found along Captiva Beach on her frequent visits. Tucked into the southwest coast of Florida, connected by bridge to Sanibel Island, Captiva Island boasts a laid-back vibe. The tiny barrier island — just five miles long and half a mile wide — beckons with clear blue water, gentle sea breezes and white-sand beaches famous for shelling. Bring a bucket and shovel and wander Captiva Beach to collect your own treasures from the sea. More active pursuits include biking, water sports, boating, fishing, golf and tennis, but you'll also find abundant birding. Be sure to stake out a spot to watch the glorious sunsets over the Gulf. Captiva offers eclectic dining spots and a wide variety of accommodations, from hotel suites to cottage rentals. The closest airport is Southwest Florida International Airport in Fort Myers.
ONE OF THE MOST beautiful, secluded stretches of the Eastern Seaboard, Assateague Island spans 37 miles along the Maryland and Virginia coasts, bordered by the Atlantic Ocean to the east and Sinepuxent and Chincoteague bays to the west. The protected sanctuary offers a true change of perspective with a wealth of habitats and ecosystems, from sandy beaches and dunes to pine forest, tidal land and even desert. Part of the Assateague Island National Seashore, the windswept barrier island is home to herds of miniature deer and the famous Assateague wild ponies, descendants of domestic animals that reverted to a wild state.
Camping among the dunes on Assateague is magical, with a few hundred feet of sand, sun and sky to yourself. Set up a tent or RV or rent an Assateague Cottage, a tiny sleeping house carted in on a trailer. During the day, swim, fly a kite, hike or bike the trails, kayak or canoe, or go crabbing and clamming on the bay side. At night, gaze at a gorgeous canopy of stars (you can see the Milky Way). The north entrance to Assateague Island National Seashore lies at the end of Route 611, eight miles south of Ocean City, Maryland.
FOR AN AUTHENTIC TASTE of summer in New England, revel in the free spirit and quaint elegance of Block Island, about 12 miles off the coast of Rhode Island. Added to the Nature Conservancy's list of "The Last Great Places," the lush, green island boasts 17 miles of beaches and 28 miles of trails, offering everything from pristine stretches of sand to hidden coves and magnificent bluffs. Migratory birds traveling the Atlantic Flyway stop to rest at undeveloped natural areas. Secluded Mansion Beach on the eastern side of the island proves one of the most picturesque, and its big waves make it perfect for body surfing and boogie boarding. After a day at the beach, browse the shops in town, dine on the porch of a historic hotel or groove to live entertainment on a beach.
Visitors arrive by vehicle ferries (reserve far in advance) or passenger ferries from points in Rhode Island, by commuter or private plane or private boat. Plan to take it slow: Most choose bicycles or mopeds for island transportation.
WITH A STUNNING SETTING on the shore of Lake Michigan, Chicago's beautiful beaches offer an escape from city activity. Sure, the freshwater lake doesn't offer salt air or true tides, but there are waves, caused by strong winds or rapid changes in atmospheric pressure pushing the water from one end of the lake to the other. The downtown beaches offer great skyline views but are more popular and crowded. Montrose Street Beach, on the north side of Chicago, is less crowded and has an adjacent dog beach and park. You can access the Lake Michigan Water Trail for kayaking, canoeing and other nonmotorized board or paddle sports. The more secluded Loyola Beach, on the far north side, proves perfect for reading, lounging and relaxing, with a little of everything: playgrounds, grassy areas, walking and bike trails, and plenty of sand.
OREGON GUARANTEES ITS BEACHES remain free and open to all; that translates to quite a selection along the 363 miles of coastline, drawing campers, hikers, crabbers, clammers and tide pool explorers. Up north, Cannon Beach and Seaside are popular, but an up-and-comer is Manzanita, a sweet little beach town with a seven-mile stretch of soft, white sand just right for strolling barefoot. Enjoy spectacular walks along the Pacific, or venture into the chilly waters for surfing, kayaking, stand-up paddle boarding, kiteboarding or boogie boarding. In town, peruse the shops and galleries and a variety of pubs, cafés, bistros and whiskey bars.
If you're driving the Oregon coast, the most accessible route to Manzanita is Highway 101, which provides some of the most breath- taking views on the Oregon coast. Once you arrive in Manzanita, you can navigate around town on foot.
FOR A CLASSIC SOCAL BEACH vibe, head to the bohemian San Diego neighborhood of Ocean Beach. The scene includes a secluded beach, a dog beach and beaches designated for surfing and swimming. Ocean Beach Pier provides sweeping ocean views and a great spot for fishing. The OB beaches are not nearly as crowded as the more commercialized Mission Beach, and the vibrant coastal enclave offers antiques shops, boutiques, organic groceries, taquerias and brewpubs.
Farther north in San Diego County, along historic Highway 101, Encinitas harbors half a dozen beaches whose features range from the white sand of Moonlight Beach to the rocky bluffs of Swami's, a legendary surfing spot. The eclectic Encinitas vibe mixes 1960s beach culture and vintage cars with New Age meditation gardens and yoga studios.
Whatever beach vibe you crave, get your feet into the sand and set your spirit free.
LODGING
Coast Cabins
Discover an oasis of calm in these freestanding deluxe cabins located within a short walking distance of Manzanita's restaurants, day spas, shopping and the sandy beach.
635 Laneda Ave. Manzanita, Oregon
$$$$
South Seas Island Resort
The resort offers guestrooms, suites and villas; gorgeous Gulf or marina views; 2.5 miles of beach; and a 300-acre nature preserve.
5400 Plantation Road Captiva Island, Florida
$$$$
Spring House Hotel
Settle into Block Island's grandest and oldest hotel, built in 1852, and immerse in authentic New England Victorian charm. The 33 guestrooms in the main build- ing offer panoramic island or ocean views.
52 Spring St., Block Island Rhode Island
$$$–$$$$
DINING
Keylime Bistro
Enjoy breakfast, lunch or dinner in an island paradise atmosphere. Try the crab cake Benedict, seafood antipasto or shrimp scampi — but save room for the award-winning Key lime pie.
11509 Andy Rosse Lane Captiva, Florida
$$–$$$
Restaurant 1879
Unwind with an unhurried dinner at The Atlantic Inn's restaurant, where the lofty location offers stunning water views. Enjoy delicious local seafood, artisan bread and fresh, homegrown herbs and vegetables, complemented by an award-winning wine list.
The Atlantic Inn, 359 High St. New Shoreham, Block Island Rhode Island
$$$
The Winery at Manzanita
After soaking up the sun at the beach, sip handcrafted wine on the ocean-view deck or gather around the firepit in the evening and make s'mores. Enjoy Pacific Northwest wine, beer, cider and snacks.
253 Laneda Ave. Manzanita, Oregon
$$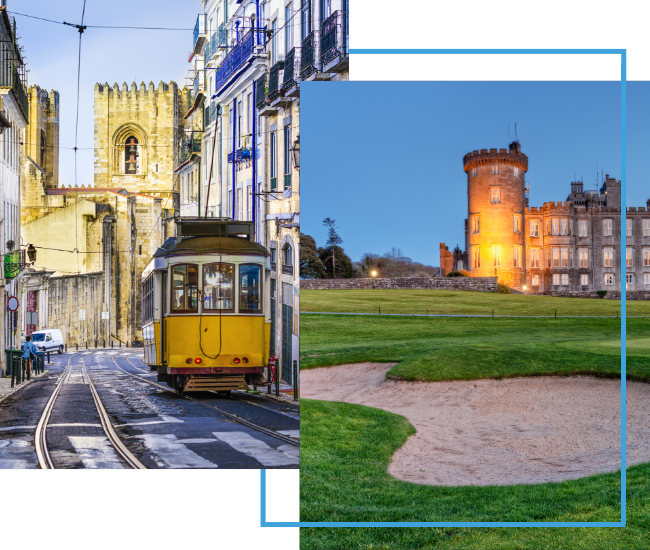 FX Excursions
FX Excursions offers the chance for once-in-a-lifetime experiences in destinations around the world.
Explore Excursions
One thing  surprising about the Prince Edward Island capital is its abundance of shops specializing in affordable, fashion-forward jewelry rendered in sterling silver, vermeil, 14K gold and semi-precious stones. Whether you prefer delicate pieces or bold wearable art, you can be assured the pieces for sale are inspired by the maritime island setting and, therefore, specific to the place where they are created. Here are a few shining, woman-owned examples:
Sponsored Content
Exclusive Sailing with Global Traveler
Norway, a haven for visionary artists, architects and designers, showcases an exceptionally diverse array of cultural attractions. This year, the country commemorates exciting milestones and unveilings captivating enthusiasts of the arts, from iconic scenic routes to new museums to gallery openings. Up Norway features these new offerings in personalized itineraries catered to aesthetes.