THE BASICS
Name: Kristin Carlson
Title: Managing director
Company, city: Tahiti Tourisme North America; Los Angeles, California
First job: Account coordinator, The Fontayne Group
Where to next: The Islands of Tahiti, of course!
A LITTLE BIT MORE
What actor or actress would play you in a movie of your life?
I've been mistaken for Christina Applegate (the Kelly Bundy days), Kristin Chenoweth, Pink (trust me, I can't sing) or Kelly Ripa. Kelly is probably the best bet!
What would you be doing professionally if you weren't in your current industry?
Toss up: private investigator or sports reporter
What is your favorite book, movie or television show?
1985's Witness or Far from Heaven of 2002
What historical figure, dead or alive, would you love to have dinner with?
I grew up on airplanes, and my dad's aviation career (on the business side) allowed me to visit 60 countries by the time I was 18. Combine that with my fascination with mystery, and I'll go with Amelia Earhart.
THE BUSINESS
What is your most recent project, and what was the inspiration behind it?
As of January, our U.S. office, previously Tahiti Tourisme United States, became Tahiti Tourisme North America. We are now responsible for arrivals to The Islands of Tahiti not only from the United States but also Canada and Mexico. We need to immerse ourselves in these two markets and once again make the all-important trade connections. The inspiration was our previous success in the United States, the largest market of travelers to the destination, and to take advantage of our economies of scale and expertise.
What is your favorite aspect of the job?
The community of those who work for and cherish The Islands of Tahiti is like no other. I've been in other companies in my long tenure in the travel industry, and in some roles I've come in contact with people for whom it's "just a job." This is not the case with the Tahiti travel industry. There's a passion you don't see in other areas of the world or other companies. Even competitors come together as colleagues for the greater good of the country and to share its unique characteristics. With the effect of COVID-19 on the travel industry, this has kept me positive and waking (almost) every day with a smile.
What's the biggest business risk you've ever taken?
I left one job after more than a decade for a new opportunity at another company with a higher title and salary. Ultimately the division folded, and I was laid off. Yet that time of looking for a job brought me to Tahiti Tourisme, the opportunity of a lifetime. It never gets old telling people what I do, and they say, "That sounds like the best job in the world!"
Who is someone you admire professionally in the travel industry?
I've had the pleasure of working with Diane Moore for more than 20 years, during our time together at Crystal Cruises and when I joined Tahiti Tourisme in 2011, when she was at the helm of Paul Gauguin Cruises. Her intelligence, warmth and spirit are evident in everything she does. She served as a role model, personally and professionally.
AS A TRAVELER
Tell us about a travel nightmare: In 1986 I was traveling home from a summer vacation in Greece and Yugoslavia with my brother. All Pan Am flights from Athens to JFK were full, so we took a flight on Saudia, with a lengthy layover in Jeddah. They weren't used to seeing female, blonde, American teenagers at JED and whisked us to a private room and found us the first flight out. In hindsight it was an experience, not a nightmare.
Share a comical travel experience: When I was 6 years old, my mother and I went to London for a weekend trip. At Heathrow, my mother went to the counter to get us food, telling me to sit at the table and wait, keeping an eye on me from the line. I kept switching tables, and it took her a while to realize I was not familiar with the European custom of communal tables, and every time another diner sat at my table, I moved. We get a chuckle out of it to this day!
What is your preferred method of travel — planes, trains, automobiles, cruise ships — and why? I love planes, and given my father's role with Pan American Airways, I acquired a taste for caviar at a young age! I also got the cruise bug quite early. Interline discounts were quite generous in the 1970s and '80s, and my dad took my brother and me on incredible trips, planting my love of ocean travel which led to my 13-year career at Crystal Cruises.
What has been the best example of customer service you've experienced during your travels? I traveled to Tahiti to celebrate my 50th birthday with a group of family and friends. We booked a day of snorkeling with rays and sharks and gourmet local lunch on a private motu. In addition to Hinano, Tahiti's national beer, and Champagne, Moana Adventure Tours served a delicious frosted chocolate cake. How do you keep a chocolate cake from melting in the middle of summer on a white-sand beach in Bora-Bora? That's customer Service!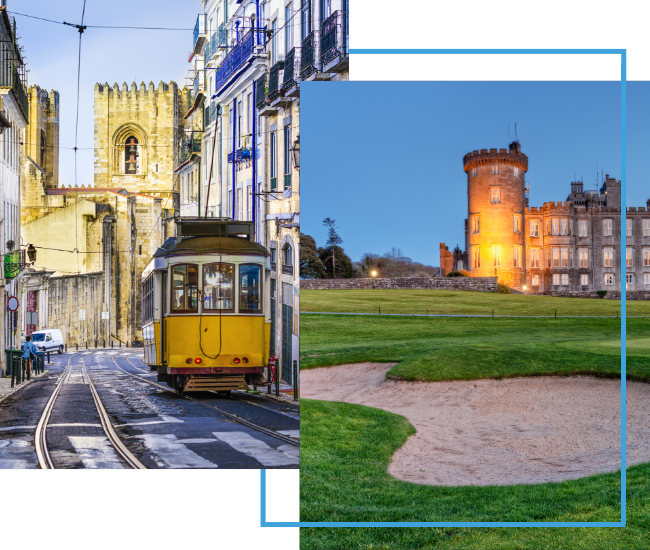 FX Excursions
FX Excursions offers the chance for once-in-a-lifetime experiences in destinations around the world.
Explore Excursions
There is something magical about sipping a glass of local wine while watching the sun slip into the Aegean Sea as the afterglow tinges traditional, white-washed Cycladic houses with glorious shades of rose, purple and gold. Ancient Greeks believed Helios, the Sun God, caused sunsets by driving his fiery chariot into the sea. Standing at water's edge in Mykonos, watching the sky slowly turn from purple to inky black, you almost believe it.
Sponsored Content
Exclusive Sailing with Global Traveler
The prospect of a post-visit treasure hunting session inside the shops of landmark museums such as the Louvre in Paris, the Uffizi Gallery in Florence and The British Museum in London can be irresistible. However, some of Europe's smaller and more unusual museums boast retail spaces with a surprising "wow" factor, often as well-curated as the galleries.