A HILLTOP CASTLE SITUATED at a bend in the Vistula River, a medieval Old Town accented by a quirky clock tower from which a trumpet player toots his horn every hour, and a reputation for hearty beer and pierogies comprise the heart of Kraków. This city in southern Poland was mostly spared from destruction during World War II and therefore retains a healthy amount of its medieval charm. But despite the city's rich and sometimes painful history, Kraków embraced the vicissitudes of each era and quietly moved to the forefront of major industries.
Poland welcomed a large talent pool of tech entrepreneurs in recent years, with new startups popping up throughout the country and a designation by the World Bank as the third-best place to launch and grow a startup company. A young, skilled workforce — most of whom can speak English fluently — and low rents enticed major companies to move parts of their operations to Poland. Kraków draws employees with its small-town feel and slower pace of life, a stark contrast to busier cities like Warsaw.
Among the startups, CallPage, a website widget that promises companies a 75 percent increase in sales call conversions from website visitors, boasts a client list that includes giants like BMW, Virgin and UPC. Its next goal is to expand to the United States, a feat fueled by recent investments from Innovation Nest and Market One Capital.
FaceMetrics, another Kraków-based tech startup, created a handful of mobile applications to help users meditate, sleep more soundly and manage stress. The company is currently working on a new app called Nicola that will alert parents if their children are spending too much time on their iPads and will encourage them to shut off the technology and read instead. By using a tablet's camera feature to monitor the child's gaze, emotions and facial expressions, Nicola will determine whether the child is actively using the technology or becoming fatigued.
California-based SignalFx opened a new research, development and support office in Kraków, citing the city's pool of qualified engineers and proximity to multiple universities as reasons to set up in the region. The cloud- monitoring company seeks to offer better global support to its customers from its new center in Kraków.
Elsewhere in technology, the SOLARIS National Synchrotron Radiation Center opened in fall 2018 as one of the world's most advanced particle accelerator research centers. With a campus located about five miles outside of Kraków's Old Town, the center welcomes scientists to conduct synchrotron radiation research in various disciplines such as nanotechnology, crystallography and pharmacology.
To prepare Kraków and the province of Małopolska (of which Kraków is the capital) for the influx of new companies and employees, Kraków Airport developed a detailed 20-year plan to create up to 10,000 new jobs, expand the airport's main terminal and construct a new 9,000-foot runway. Based on the plan, airport officials anticipate a capacity of up to 12 million travelers each year by 2036.
As of May, Kraków Airport became a new base airport for Hungarian airline Wizz Air, offering access to 12 new routes to locations like London, Nice and Oslo. During the summer, LOT Polish Airlines will increase its service to Chicago O'Hare, while American Airlines will debut an identical route five times per week starting May 7, 2020, making it the only U.S. airline to fly to Kraków.
CHECKING IN WITH SUPRATIM DAM
International Marketing Manager, CallPage
Please describe CallPage for those who aren't familiar with the company. CallPage is a tool to help businesses grow through call tracking, analytics and generating inside sales calls from a website. We leverage web visitors and turn them into happy customers. Founded in 2015, CallPage is trusted by more than 3,000 companies across the globe. Our team consists of 30 experts in technology, sales, marketing and customer success.
Our widget offers the website visitor a real-time callback in 28 seconds while analyzing their behavioral data to optimize the potential to make a sale. Additionally, CallPage presents sociological insights and analytics about the user, thus unifying creative marketing, inside sales and rigorous statistics for the best chance of success.
How has the tech/startup industry changed in Kraków in the past five to 10 years? What has been the catalyst for change?
Tech and innovation have always been at the heart of Kraków. It is home to some of the leading universities in science and innovation. A decade ago the startup scene was still nascent, but with the success of homegrown startups, Kraków now has a developing ecosystem of supporting local entrepreneurs in building world-class products and fueling innovation. Access to talent, relatively lower costs, access to European and global markets, a charming city vibe and a vibrant tech infrastructure are some of the catalysts for this huge boost in the last few years.
Investments are on the rise, both from private and public sources; and although these are still early days, Kraków as a city for startups is at the cusp of something big, and we at CallPage are incredibly proud to play a role in this unfolding saga.
How does CallPage fit into Kraków's tech scene? How does the tech environment contribute to CallPage's success?
Having built a successful company from the ground up, we at CallPage contribute both as mentors and partners to other startups. While raising funding is not a sign of success per se, it is a testament to our belief of what we have set out to achieve: Help businesses close more deals and facilitate their sales processes.
The talent here is motivated and raring to go, and success stories of other startups only help us to set the bar higher and push further. Also, the kind of innovation taking place here is impressive and at par with other top tech cities around the globe.
What do you see for the future of tech and startups in Kraków?
At CallPage, we are confident the startup scene here will flourish and continue to see stupendous growth. We believe great ideas and implementation of those ideas inspire and motivate others to work smarter and deploy solutions that have a direct impact on our lives.
DIVERSIONS
From majestic, medieval edifices to ancient legends of dragons, Kraków is a city built on history. Start in the fanciful Old Town where the main square is made for people-watching. Stick around for the hourly trumpet call from the top of St. Mary's Basilica, a tune that cuts off mid-melody to commemorate the death of a trumpeter reportedly killed during a 13th-century Mongol attack on the city.
Atop the unmissable Wawel Hill stands Wawel Castle, one of Poland's largest, where a confluence of architectural styles appropriately represents the castle's current purpose as an art museum.
Outside Old Town lies one of Kraków's most visited districts: Kazimierz, or the Jewish Quarter. The area, formerly its own town in the Middle Ages, became a Jewish community in the 15th century. During World War II, Nazi soldiers forcibly removed Jewish residents from the neighborhood, with only 10 percent of the Jewish population surviving the raids. Now the area preserves this important history while also celebrating its evolving alternative vibe with funky cafés, cool bars and thought-provoking street art, all among centuries-old synagogues.
Rent a bike to experience one of the best ways to explore the areas surrounding Kraków. Follow the bike path along the banks of the Vistula River, eventually reaching the nearby countryside, where you can peacefully cycle for miles.
COMING AND GOING
U.S. citizens with a passport valid for at least six months do not need a visa to enter Poland for stays of less than 90 days.
OFFICIAL LANGUAGE: Polish
LODGING
BETMANOWSKA MAIN SQUARE RESIDENCE
It doesn't get more central than these luxurious apartments and suites which overlook Kraków's storied Market Square in the center of Old Town.
Rynek Główny 44, Old Town
$$
METROPOLITAN BOUTIQUE HOTEL
Nearly equidistant between the Jewish Quarter and Old Town, Metropolitan is housed in a renovated 19th-century building and comprises 51 guestrooms and eight suites.
Joselewicza 19 $$
PURO HOTEL
Designed, built and operated by Polish teams, this Polish brand of hotels has two outposts in Kraków and boasts a bohemian- modern aesthetic. Think spacious, open, green and artsy.
Ogrodowa 10, Old Town; and Halicka 14A, Jewish Quarter
$$
JUST THE FACTS
Time zone: GMT +2
Phone code: Country code: 48
City code: 12
Currency: Polish złoty
Key industries: Agriculture, manufacturing, energy, tourism
DINING
ART RESTAURANT
"Polish cuisine reinvented" is the slogan at Art, a contemporary eatery just down the hill from Wawel Castle. The winner of the 2019 World Luxury Restaurant Award also hosts nightly live music.
Kanonicza 15, Old Town $$$$
OLD TOWN RESTAURANT WINE & BAR
Dive into traditional Polish dishes like goulash, dumplings and pork knuckle, washed down with a hearty serving of Polish vodka.
Świętego Sebastiana 25, Jewish Quarter $$
ZIELONA KUCHNIA
A half-mile from Old Town discover this clandestine garden restaurant where dishes represent the culture in a lighter sense, like homemade herb gnocchi with goat cheese and Polish beef steaks.
Ambrożego Grabowskiego 8, Piasek $$$
INFO TO GO
John Paul II Kraków-Balice International Airport lies approximately seven miles from the center of Kraków. Public transit makes it easy to access the city, as a train travels directly from the airport to Kraków's central train station in 20–30 minutes for about $2.33. Purchase tickets from automatic machines on the train platform (via card) or from the conductor on board (in cash only).
Three bus lines (208, 252 and 308) also connect the airport with the city in 50 minutes. Departure times are listed in the arrivals terminal. Purchase tickets at ticket machines at the bus stop or in the arrivals terminal (both by card) or from the bus driver (by cash only); a one-way ticket costs about $1.19. Travelers also can hire a rental car or book a private bus or taxi in advance via the airport's website.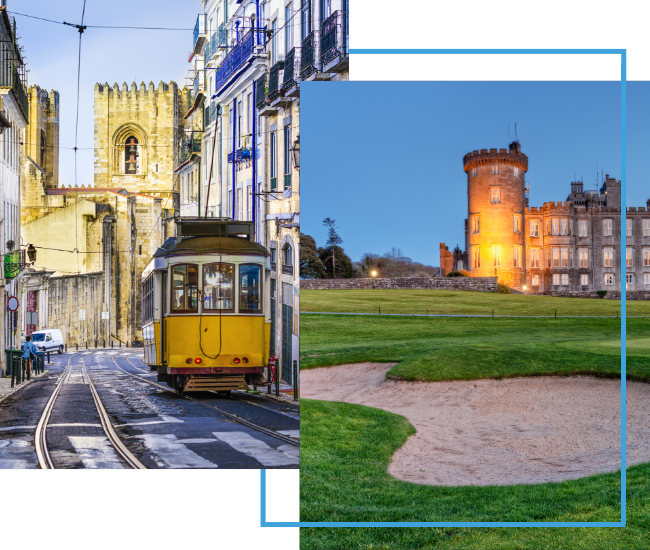 FX Excursions
FX Excursions offers the chance for once-in-a-lifetime experiences in destinations around the world.
Explore Excursions
Norway, a haven for visionary artists, architects and designers, showcases an exceptionally diverse array of cultural attractions. This year, the country commemorates exciting milestones and unveilings captivating enthusiasts of the arts, from iconic scenic routes to new museums to gallery openings. Up Norway features these new offerings in personalized itineraries catered to aesthetes.
Sponsored Content
Are you looking to enhance your business trip with a little leisure? Look no further than Portugal, a country renowned for its captivating blend of history, culture and natural beauty. And with TAP Air Portugal, you can effortlessly transform your business trip into an unforgettable bleisure adventure. Discover why Portugal and TAP Air Portugal are the perfect combination for an enriching and rejuvenating experience.
As a peripatetic traveler, I am always trying to balance the pleasures of dining well with a life-long challenge to control my weight. It's not always easy, because I consider tasting typical, authentic regional dishes among the highlights of most journeys, and those foods are rarely known for "healthful" rankings! So, I started staying at spas way back in the 1980s — before they were ubiquitous — because meals were assured to be pure, clean and wholesome.