THE BASICS
Name: Jeffrey Goh
Title: CEO
Company, city: Star Alliance, Frankfurt and Singapore
First job: Lecturer of law; Liverpool, U.K.
Where to next: Straddling Asia to/from Europe
A LITTLE BIT MORE
What actor or actress would play you in a movie of your life?
Henry Golding, an actor who can play the empathetic side as well as the less polished side when necessary.
What would you be doing professionally if you weren't in your current industry?
Professionally, a lawyer, but my own wine bar is a serious contender.
What is your favorite book, movie or television show?
Our Iceberg Is Melting by John Kotter, about the inevitability of change and the need to embrace it, urgently, either to remain relevant or to survive, or both.
What historical figure, dead or alive, would you love to have dinner with?
Lee Kuan Yew (late prime minister of Singapore) remains an inspiration for his strategic leadership, incisive insights and as someone who built a country with no natural resources from scratch. And he was a lawyer.
THE BUSINESS
What is your most recent project, and what was the inspiration behind it?
Foremost among recent projects is Star Alliance Biometrics, a seamless and touchless way for customers to navigate through airports, with the twist that one registration can be used universally within the Alliance among participating airports and airlines. It can render accurate facial recognition even when masks are worn. It was inspired by our constant mission to improve the customer experience but gained new impetus and relevance in COVID times. Regarding COVID and its enormous impact on our cherished travel industry, we worked closely with industry partners, including other global alliances, advocating to regulators to follow data science when making travel restriction decisions, as well as developing effective communication to get passengers flying again — with the underlying message their health and hygiene safety is top of mind. We've created powerful videos to this effect, one of which ran on globaltravelerusa.com August–September. Now that the United States is re-opening inbound travel for fully vaccinated passengers, we expect a strong resurgence in business travel, which is excellent news for our corporate travel partners. Of course, while international flying is a necessary underpinning of global business, we also advocate a responsible approach to more sustainable travel.
What is your favorite aspect of the job?
The challenge in managing the needs and aspirations of 26 member airlines within a global context, each with its own cultural aspects and individualized business models, while working closely together to improve the customer journey.
What's the biggest business risk you've ever taken?
The decision to develop the Digital Services Platform, the first Alliance undertaking of a middleware solution that enables all our member carriers to connect their digital product applications with each other: seat selection across all carriers, baggage tracking and many others.
Who is someone you admire professionally in the travel industry?
Calin Rovinescu, former CEO of Air Canada and former chairman of the Chief Executive Board of Star Alliance. He steered Air Canada from the brink of bankruptcy to being one of the most valued and admired companies, placing Air Canada firmly on the global map.
AS A TRAVELER
Tell us about a travel nightmare: Confusion over COVID-19 rules culminated with a night spent on an airport bench airside, only to be told the next morning, after a sleepless night, that everything was okay after all.
Share a comical travel experience: The flight attendant who showed me to the incorrect seat eventually became my partner.
What is your preferred method of travel — planes, trains, automobiles, cruise ships — and why? It depends: planes for speed; trains for scenery; cruises for leisure.
What has been the best example of customer service you've experienced during your travels? The simplicity of a smile that says nothing is too much trouble.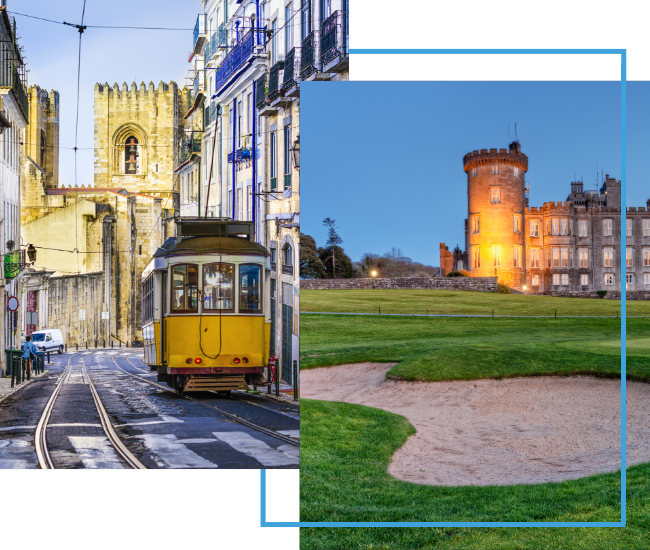 FX Excursions
FX Excursions offers the chance for once-in-a-lifetime experiences in destinations around the world.
Explore Excursions
More than 22 million visitors pour into Bangkok each year, adding to the roughly 11 million residents of the Thai capital famous for its bustling streets. Packed with food carts, markets and cultural spectacles, life in Bangkok is unusually defined by its vibrant street scene, both day and night. That means you don't necessarily need a solid plan when heading out on any given evening.
Sponsored Content
From the moment you step onboard Air Tahiti Nui's Tahitian Dreamliner, you will be transported to The Islands of Tahiti. The French Polynesian carrier considered every detail to awaken its passengers' senses, creating the feeling you are already on the Islands while 30,000 feet in the air.
As first-time restaurateurs, but with plenty of hospitality-related experience, Ria and Kevol (Kev) Graham were not entirely comfortable opening their first restaurant in the Brooklyn neighborhood of Williamsburg, where several upscale restaurants and 5-star hotel dining is just a block away. And to make matters worse, they opened in July 2020, when New York City was in the middle of the COVID-19 pandemic.