THE BASICS
Name: Jeff Foland
Title: President and CEO
Company, city: The Parking Spot; Chicago, Illinois
First job: Mechanical engineer at Allison Gas Turbine, working on aircraft engine and military programs
Where to next: At this point, anywhere! Let's go! Like many, I'm ready to get traveling again. My family and I have had the privilege to travel many places but have not yet taken a safari. As such, we plan to travel to Africa for a safari in the near term.
A LITTLE BIT MORE
What actor or actress would play you in a movie of your life?
I would say Tom Hanks. A sincere, friendly and down-to-earth guy who doesn't take himself too seriously but is focused and intense when he needs to be.
What would you be doing professionally if you weren't in your current industry?
Since I probably can't ride my Harley professionally, I'd be helping lead a company in an industry where change occurs rapidly and technology- enabled growth is an imperative for value creation. I like to help create and grow things and find challenging environments stimulating.
What is your favorite book, movie or television show?
I have many, but one book I particularly liked was Dark Matter by Blake Crouch. Maybe it's my engineering background, but I'm quite fascinated by books that deal with quantum physics and its application in the future.
What historical figure, dead or alive, would you love to have dinner with?
Wow, that's a tough question. There are so many. I'd probably say Elon Musk. He's a big thinker and dreamer who wants to change the world.
THE BUSINESS
What is your most recent project, and what was the inspiration behind it?
Helping navigate through these challenging times for the travel sector. While it's been rather difficult making value-accretive decisions in the ever-changing environment, it's been equally rewarding work given the team I'm surrounded by every day.
What is your favorite aspect of the job?
Unquestionably, it's the people I get to deal with every day: a dedicated team focused on driving meaningful change and achieving our full potential while also understanding what it means to have a little fun along the way.
What's the biggest business risk you've ever taken?
I was partner at a successful firm and left to help lead a company in bankruptcy in the travel sector. I love the challenge of turnarounds and value creation, and it was a quite adventurous and rewarding journey.
Who is someone you admire professionally in the travel industry?
Everyone, literally. Couldn't pick just one. It's a tough space, always fraught with challenge and change, yet it is equally invigorating given how it impacts all of our lives.
AS A TRAVELER
Tell us about a travel nightmare: I was on a private flight to New York City when suddenly both pilots came back to the passenger cabin to inform us, "Don't worry, landing gear is inoperable, but we think everything will be okay; we've handled it in a simulator before."
Share a comical travel experience: A number of years back I got to my airline gate an hour early and decided to do a little work. Put the earphones in and proceeded to conduct a number of calls. Next time I turned around I realized the gate area was empty … I'd missed the flight while sitting there the entire time! Whoops. Guess I was a little too engaged in those calls. Not terribly funny at the time, but in retrospect I get a laugh out of it.
What is your preferred method of travel — planes, trains, automobiles, cruise ships — and why? I love all forms of travel and consider myself a car and motorcycle junkie. I cruise often as well. But flying remains my first love. There's nothing like soaring above the clouds and arriving at far-away locations.
What has been the best example of customer service you've experienced during your travels? Other than our service here at The Parking Spot, which is top-notch, the service experienced with the United Global Services program is superb. From dedicated service staff to rides across the tarmac in a premium auto when running late for connections, it's tough to beat, in my experience.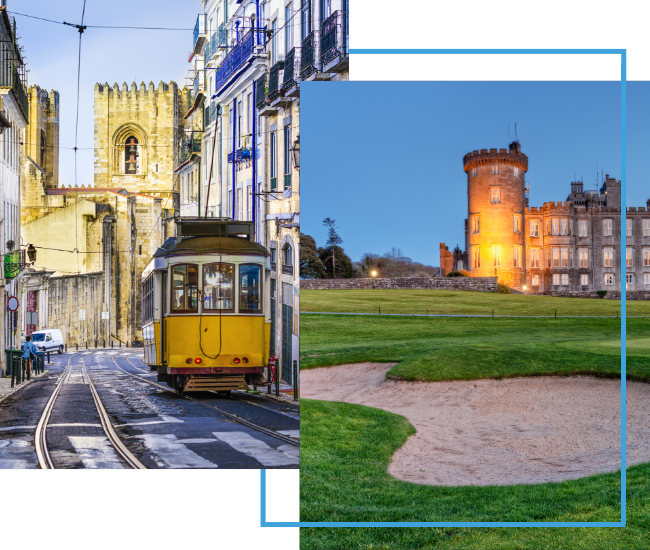 FX Excursions
FX Excursions offers the chance for once-in-a-lifetime experiences in destinations around the world.
Explore Excursions
The Perelman Performing Arts Center (PAC NYC), the cultural cornerstone and final public element of the World Trade Center site, opened this September.  The new performing arts center in Lower Manhattan provides a dynamic home for the arts, serving audiences and creators through flexible venues enabling the facility to embrace wide-ranging artistic programs.
Sponsored Content
Experience the life-changing destination of Greece by exploring its island gems in the Ionian Sea. Scattered off the western coastline of Central Greece, to the south of Peloponnese, the Ionian Islands are an island group comprising large and small islands.
Whether you call secondhand fashion treasure troves "thrift stores," "fripperies," "charity shops," "vintage boutiques" or something else, shifting the paradigm from "old clothes" to "new finds," you may find the best, most conversation-starting souvenirs inside these shops and neighborhoods located in the world's most fashionable cities and a few unexpected places.